On
This
Day,
The
Award-Winning
Wikipedia
Reader
Articles
Finally
Goes
Universal
August 14, 2012
The Apple Design Award-winning app
Articles
, which has long been
my Wikipedia reader of choice
both on my iPhone and my iPad, has just gotten a pretty neat update. Wait, make that updates, plural. Just moments ago, two separate updates were pushed by Articles developer Sophiestication Software to the iPhone and iPad editions of the app. Separate, but similar. The update to
Articles for iPhone
brings the ability to share articles on Twitter and add the current article to the in-app "Read Later" queue. Also, it introduces a URL scheme for searching Wikipedia via Articles, which should work nicely with
Launch Center Pro
. Below are a few URL arrangements that exemplify the new scheme:
Search for "Art" by content on the english Wikipedia: x-articles://?search=Art&scope=content&language=en
Search for "Mona Lisa" by title on the german Wikipedia: x-articles://?search=Mona%20Lisa&scope=title&language=de
Search for "hokusai" with the currently selected search options: x-articles://?search=hokusai
As for the update to
Articles for iPad
, it also brings all of the above improvements ... and then some. Of course, the addition of the ability to "Read Later" the current article means one thing: that the ability to add in-page Wikipedia links to the "Read Later" queue, previously an iPhone-only feature, has also been added to Articles for iPad. Also newly added to Articles for iPad is the ability to search text within an article. But the biggest change for Articles for iPad is that, strictly speaking, it's no longer just Articles for iPad. That's because it's now a universal app that's compatible with not only iPad but also with iPhone and iPod touch. Sadly, iCloud support for syncing bookmarked and open articles as well as "Read Later" articles is not included in the updates. But I suppose it's coming very soon. Coinciding with the updates to Articles for iPhone and Articles for iPad is an update to
On This Day
, which is another
Wikipedia-based app
from Sophiestication Software. The update to the stylish "today in history" app delivers the following improvements:
Tap and hold an entry to share it on Twitter or copy it to the Pasteboard
Hide events, births or deaths
Sort events ascending or descending
Display english or german events
Enhanced in-app article reader
In addition to these updates, Sophiestication Software is offering
back-to-school
discounts on all three updated apps. From today until September 17, the now universal
Articles is available for $1.99
(previously $4.99),
Articles for iPhone for $0.99
(previously $2.99), and
On This Day for $0.99
(previously $1.99). Three updates and three discounts applied to three quality apps on this day! Not bad. Not bad at all.
Mentioned apps
$1.99
Articles - The award winning Wikipedia Reader
Sophiestication Software
$0.99
Articles - The award winning Wikipedia Reader (iPhone & iPod touch)
Sophiestication Software
$0.99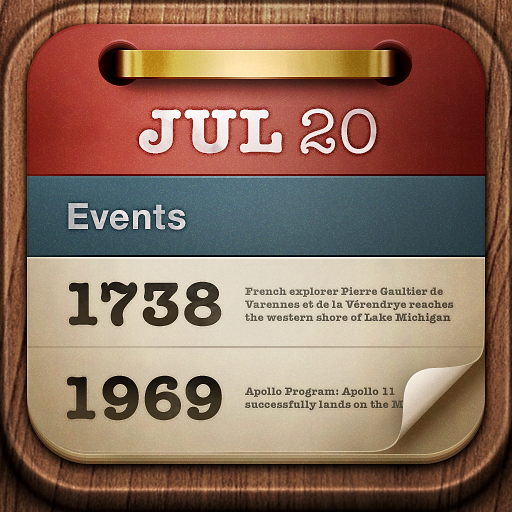 On this day... - The stylish Event Calendar
Sophiestication Software
$2.99
Launch Center Pro
App Cubby
Related articles