Kill
Zombies
By
Running
Them
Over
With
A
Giant
Ball
In
Zombie
Rollers
October 18, 2012

Zombie Rollers ($0.99) by Chillingo Ltd makes it possible to say that zombies can be killed by rolling over them in a giant bubble.
It's October, so it definitely is the time for zombies. We have the return of the TV show, "The Walking Dead", probably lots of zombies during Halloween, and of course, plenty of undead-themed games for your iOS device.
Now, when we think of zombies and how to get rid of them, we usually think of the traditional methods, like shooting them in the head. But the quirk about Zombie Rollers is the fact that it tosses out the traditional methods out the window! Your weapon of destruction is a big bubble, which you'll roll around in and smash zombies with. Talk about thinking outside of the box … er, bubble.
Zombie Rollers features visuals that are optimized for Retina devices. During actual gameplay, it's a bit 3-D, which is nice. The music is also spooky, which is fitting. Of course, it's a bit more spunky when you're actually rolling around in the ball, because you know, carnage and stuff.
There are several unique characters that you can unlock throughout the game, though it can be quite difficult to do so. You start out with the most basic character, and will have to earn a certain amount of points to get the others. The same applies to the levels that are in the game as well — there are a total of nine maps, including several mini-games, but you will have to earn a certain amount of points from the previous one to unlock the next.
Gameplay is extremely fun. You start out on foot, but you there will be a zombieball next to you. Hop in it and let the zombie massacre begin! There are three ways to control your character on screen: tilt, joystick, and drag. All of the control schemes work well, though I've been preferring tilt myself.
The zombieballs that you find yourself in will only last for a brief amount of time. Once the time runs out, you will find yourself on foot, vulnerable to the hordes of flesh-eating zombies. What do you do? Find the next zombieball, of course. This is the hardest part of the game, because there aren't any hints that will lead you to it. You will have to run around on foot, avoiding being eaten, and find your next bubble. Crates are dropped on the map at regular intervals though, which provide power-ups and zombieballs. It's just up to you to find them in time.
There are different zombieballs to use as well. The normal one is nothing special, but you will have the bouncy beach ball, zombie-attracting meatball (for bigger combos), and the greaseball, which can be maneuvered easier than the rest.
Power-ups are available that can buy you some time as you look for the next zombieball. These will include atomic bombs that will nuke the area around you, or freeze zombies temporarily. You will also have to save a friend occasionally, whose location will be indicated on the screen.
I kind of wish that the game provided some indicator on the screen to tell you where the next bubble is going to be, because I'm having a bit of a hard time finding it before being a snack for the zombies. But I suppose that this is the challenge that should appeal to many.
There is Game Center support for leaderboarboards and achievements, so you can see who among your friends is the best at rolling over zombies.
I am finding the game to be a fun challenge, and perfect for the season. Chillingo does not disappoint with another hit title. If you're in the mood for rolling over some zombies, then make sure to pick up Zombie Rollers for $0.99 in the App Store today. It's available for your iPhone and iPad as a universal app.
Mentioned apps
$0.99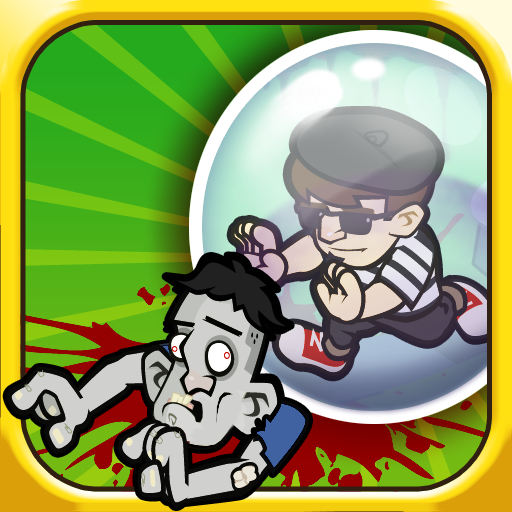 Zombie Rollers
Chillingo Ltd
Related articles