Apple
TV
First
Look:
Watch
Your
Favorite
Shows
on
Sling
TV
See
what
you
might
be
missing
without
this
TV
app
Apple TV
June 16, 2016
Sling TV is a solid option for watching the shows, sporting events, and channels you love on your iPhone or iPad. But, now you can check out the newly-arrived Sling TV for your Apple TV. Announced at the WWDC 2016 keynote, your favorite live television and on-demand shows are only a click away.
Here is a rundown of what you can enjoy with the app on Apple TV:
With Live TV you can watch over 25 channels including ESPN, AMC, Lifetime, and Disney Channel.
With the Extras feature you can get up to 65 channels including TCM, Sundance, truTV, and WE tv.
With the Beta Multi-Stream Service you can watch FOX favorites like "FOX Sports" and FX.
With the HBO Extra feature you can check out shows like "Game of Thrones," "The Sopranos," and "Sex and the City."
Sling TV – Live and On Demand
DISH DIGITAL LLC
My TV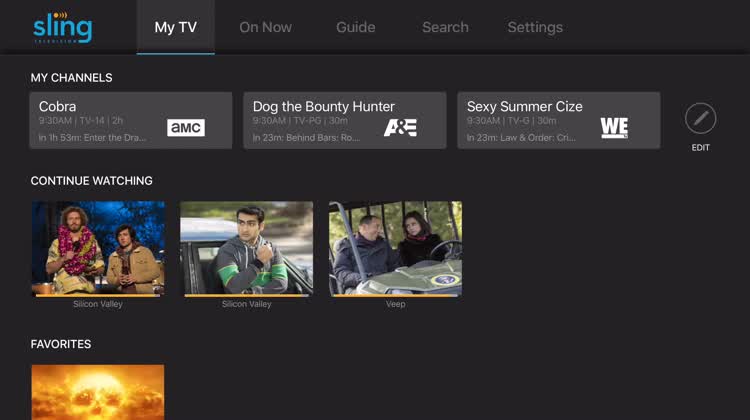 The My TV section makes it easy to get to the channels and shows you watch the most. Add your preferred channels so that you can start watching with a click. Continue watching shows you have already started and save those you love to the favorites area.
On Now
The On Now section is terrific to browse through if you are not sure what you are in the mood to watch. You can see what is playing quickly in the sports, kids, lifestyle, action, comedy, drama, and news categories. Or, scroll through the Everything on Now area until you see a show that looks good.
Channel Guide
The Guide section provides all available channels and shows for a complete picture of your viewing options. Scroll through the channels and when you arrive at one, the shows will pop up below. From those that are on the schedule to shows that are now available, you have flexible choices.
Get
Sling TV – Live and On Demand
Sling TV on Apple TV is a great alternative to traditional television services. The app is clean, crisp, and simple to use. The channel and show options are extensive with something for everyone in the house.
If you want to give Sling TV a try, there is a free seven-day trial. After that, the cost is just $20 per month for over 20 channels, with options for adding extras.
Free
Sling TV – Live and On Demand
DISH DIGITAL LLC
for more on sling TV, check out: