Great
iOS
Apps
for
Movie
Buffs
Satisfy
your
movie
mania
with
these
iOS
apps
App-dicted
September 26, 2016
With its stunning display and great sound, your iPhone, iPod touch, or iPad lends itself well to the enjoyment of movies. But more than just playing films for your entertainment, your iOS device is well-suited to the typical tasks of a movie buff, from watching previews to reading reviews, from booking tickets to looking at information on stingers, and practically everything else in between.
You just have to know the right apps to use for your cinematic pursuits, which we happen to have listed right here.
This, though, is less a list of the top 10 apps for movie buffs than a list of 10 apps that you can routinely use together to help you get your fix with some flicks.
So, in accordance with a classic musical film, let's start at the very beginning, a very good place to start.
See what movies are coming soon and out now
iTunes Movie Trailers
iTunes Movie Trailers
In a world … where more than a handful of movies are released in a week … and lots more are expected to come out in the foreseeable future … it often pays to watch trailers to get a feel of what movies are going to look and feel like. (You can turn off your trailer voice now.) And there's arguably no better way to watch trailers on iOS, short of scrupulously searching and subscribing on YouTube, than using the iTunes Movie Trailers app from none other than Apple.
YouTube is host to tons of trailers, but you have to find them amid other types of videos
Free
YouTube
Google, Inc.
iTunes Movie Trailers
Apple Inc.
Featured and favorited
Check out the trailers for featured films, both yet to come and already out. Favorite a film for quicker and easier access.
At the top and in theaters
See what's hot or not based on movies' popularity, box office performance, Rotten Tomatoes rating, and iTunes sales. Take a look at the trailers for films that are showing near you.
Release dates and genres
Find out what's out this week, or any week in the recent past or near future, for that matter. You can also check out trailers for movies under your preferred genre.
Release date
Oct. 12, 2011
Compatibility
iPhone, iPod touch, and iPad
Get
iTunes Movie Trailers
Find out what movies are fresh or rotten
Movies by Flixster

Movies by Flixster
Intrigued or delighted by a movie enough to actually see it? Well, you might want to first know what the critics or even what mere mortals like us ordinary viewers are saying about it. And the most convenient way to do that is through Movies by Flixster, which integrates content from the popular film review aggregator Rotten Tomatoes.
Movies by Flixster, with Rotten Tomatoes
Flixster, Inc.
Want to see or not interested?
Browse now-showing movies or upcoming attractions. Excited to catch a film? Tap "Want to See." Think you'd rather pass on it? Tap "Not Interested."
Reviews from critics and users
See at a glance if a movie is worth seeing by looking at its Tomatometer rating, which quantifies the reviews of professional film critics: 60 percent or up means it's "fresh," otherwise it's deemed "rotten." You can also check out what the general public thinks by reading the user reviews.
Compatibility
iPhone, iPod touch, and iPad
Get
Movies by Flixster, with Rotten Tomatoes
Keep track of your movies to watch
TodoMovies 4
TodoMovies 4
With the myriad of movies both released and yet to be, it can be a bit difficult to keep track of the ones you've seen and want to see. Good thing there's TodoMovies, which, as its apt name suggests, is a to-do app for movies.
TodoMovies 4
Taphive GmbH
To-watch list
Search and discover movies to add to your watch list. You can even set a notification to remind you when a movie comes out.
Watched list
Manage your to-watch and watched lists, or build your own custom lists. Items in lists can be easily sorted by the order you added them, by theatrical release date, or by alphabetical order.
Release date
March 27, 2014
Compatibility
iPhone and iPod touch
Price
Free, with in-app purchase for unlimited custom lists and no ads
Get
TodoMovies 4
Get your movie tickets
Fandango Movies
Fandango Movies
Once you've decided on what movies to see, the next thing to do would be to dash into your favorite theater to get your tickets. Oh, wait, you don't have to. You can book tickets for a movie screening at your convenience with the official iOS app of one of the leading online advance movie ticket sale sites, Fandango.
Fandango Movies – Times & Tickets
Fandango
The spotlight is on
If the movie you want to see is a recent wide release, chances are it's on the Spotlight section of the app. Scroll through the section, or simply do a quick search, to find the right movie page, pick a theater and a showtime, and tap Buy to purchase your tickets.
The theaters are open
Find and choose from the nearest theaters that offer Fandango ticketing on a list or a map. Add your favorite theaters to quickly access them in the app. You can also tap Go Now to find a movie playing at nearby theaters within the next hour.
The notifications are pushed
Enable push notifications so you don't end up running late to your screening, and you don't miss out on exclusives and giveaways.
Compatibility
iPhone, iPod touch, and iPad
Get
Fandango Movies – Times & Tickets
Know the best times to pee during a movie
RunPee.com

RunPee.com
There are times when you just can't help but respond to the call of nature while at the movies. So, if you really have to run and pee but don't want to miss important or eventful scenes, the official iOS app of RunPee.com is your essential (albeit unattractive) cinema companion as it provides information on "Peetimes" — points in a movie's runtime at which it's OK to empty your bladder.
The length of a film should be directly related to the endurance of the human bladder.
- Alfred Hitchcock
RunPee.com
Dan Florio
The timer is running
Don't worry: You don't have to use your phone mid-movie and run the risk of being glared at by the people around you who take umbrage at your device's bright light. You can just set the app's timer at the start of the movie so that you get alerted via vibration when a Peetime is imminent.
While you were peeing
Each Peetime includes a detailed synopsis of the scene you may have missed while you were relieving yourself, which is often a moment of respite from the drama, action or comedy of the rest of the movie.
Release date
July 25, 2011
Compatibility
iPhone, iPod touch, and iPad
Get
RunPee.com
Stay through the movie credits
After Credits
After Credits
In the present film industry era dominated by the movies in the Marvel Cinematic Universe and the like, it's all but an imperative to remain seated in the theater even after the credits start rolling. But how do you know if a movie actually has a mid- or post-credits scene? And if it does, is the scene worth the wait? Enter: After Credits.
After Credits
Aung Thar
Don't leave the theater yet
Find out if a movie has so-called stingers or credit cookies. If you don't mind being spoiled, you can read a synopsis of each mid- or post-credit scene. You can also vote whether a scene is worth waiting for or not and even submit stinger information for unlisted movies.
Don't press stop yet
The app isn't just about movies that are showing in theaters. It also offers stinger information on past releases. So if you missed the famous shawarma scene at the end of the credit roll of "The Avengers" and just want to read about it, you can.
Release date
June 2, 2012
Compatibility
iPhone and iPod touch
Get
After Credits
Watch movies at home and on the go
Yidio
Yidio
Of course, in this day and age, you no longer have to actually go to the movies to watch movies on demand. You can enjoy movies — especially past and direct-to-video releases — anytime, anywhere right on your iOS device. But with the plethora of streaming apps available today, checking which movies are available on which services can be a drag. Fortunately, Yidio is here to help.
Yidio
Yidio LLC
What's up?
Yidio boasts a central interface for searching and browsing across various free and paid video streaming services. As a result, it's easy to find out which services offer a particular movie for streaming and to go straight to the app of your preferred service to watch the movie.
What app?
Yidio lets you refine your searches to include only movies that are available on certain services. It also includes handy links to open and install supported apps, including Netflix, Hulu Plus, Amazon Prime, and more.
Release date
July 10, 2013
Compatibility
iPhone, iPod touch, and iPad
Get
Yidio
Explore more about movies
IMDb Movies & TV
IMDb Movies & TV
Being a movie buff doesn't just involve watching films. It also entails knowing anything and everything about movies. And if you're a self-confessed film junkie, you hardly need be told that the place to get movie-related news and information is the Internet Movie Database aka IMDb.
IMDb Movies & TV
IMDb
Top movies, trending celebrities and more
IMDb isn't touted as the world's largest movie database for nothing. The home page of the site's official iOS app alone already offers access to various types of content, including top news, popular titles, actor birthdays, trending celebrities, lists, photo galleries, and more.
Trivia, quotes, goofs and more
The movie page contains basic information including runtime, rating, genre, plot summary, cast, and crew. But then it also features such goodies as trivia, quotes, goofs, technical specifications, and other miscellaneous details.
Release date
Dec. 9, 2009
Compatibility
iPhone, iPod touch, and iPad
Get
IMDb Movies & TV
Discover movie connections
Solyaris
Solyaris
Want a more visual way to explore more about films and discover their connections? Check out Solyaris, which provides a canvas on which you can create and connect constellations of movies and stars. Your mission, should you choose to accept it: Be a good enough navigator of Solyaris to use it in providing visual proof that, as the old chestnut in Hollywood goes, any arbitrary actor has only six or fewer degrees of separation from Kevin Bacon.
Solyaris - Discover Movies
Beat Raess
Reach for the stars
To initiate a big bang on your blank Solyaris canvas, you can browse popular titles and movies in theaters, or you can just search for a specific movie or person.
Check out the constellations
Expand the universe of Solyaris by tapping, double-tapping, and dragging, and then see how movies and persons are connected to one another.
Release date
Dec. 7, 2011
Compatibility
iPhone, iPod touch, and iPad
Get
Solyaris - Discover Movies
Play a meow-nificent movie trivia game
MovieCat!
MovieCat!
So you fancy yourself a movie buff, huh? Go ahead and prove it by playing MovieCat. This cat-themed movie trivia game features a huge litter of challenges across various types and categories. Play MovieCat and have furry fun while testing your catlike reflexes in answering multiple choice questions, daring yourself to get purr-fect scores, and trying not to lose each of your nine lives.
MovieCat! - Movie Trivia Game
OtherWise Games LLC
And the Os-cat goes to ...
Brush up on your A-cat-demy Award knowledge by answering questions about award-winning movies and actors.
Double fur-ture
Figure out what movies a pair of pictures represent and then puzzle out which actor they have in common. Do so as quickly as you can, because the game has no paws, I mean, pause button.
Clawstume design
The game also has you guessing the movie that features the outfits worn by the cat-nequins. This and the aforementioned challenges are but a few of the mini games you can play in MovieCat.
Developer
OtherWise Games
Release date
Sept. 11, 2010
Compatibility
iPhone and iPod touch
Price
$1.99, with in-app purchase for additional puzzle pack
Get
MovieCat! - Movie Trivia Game
MovieCat is also playable on iPad in a separate HD version
$2.99
MovieCat! HD - Movie Trivia Game
OtherWise Games LLC
Just like a hit movie, MovieCat has spawned a sequel
$1.99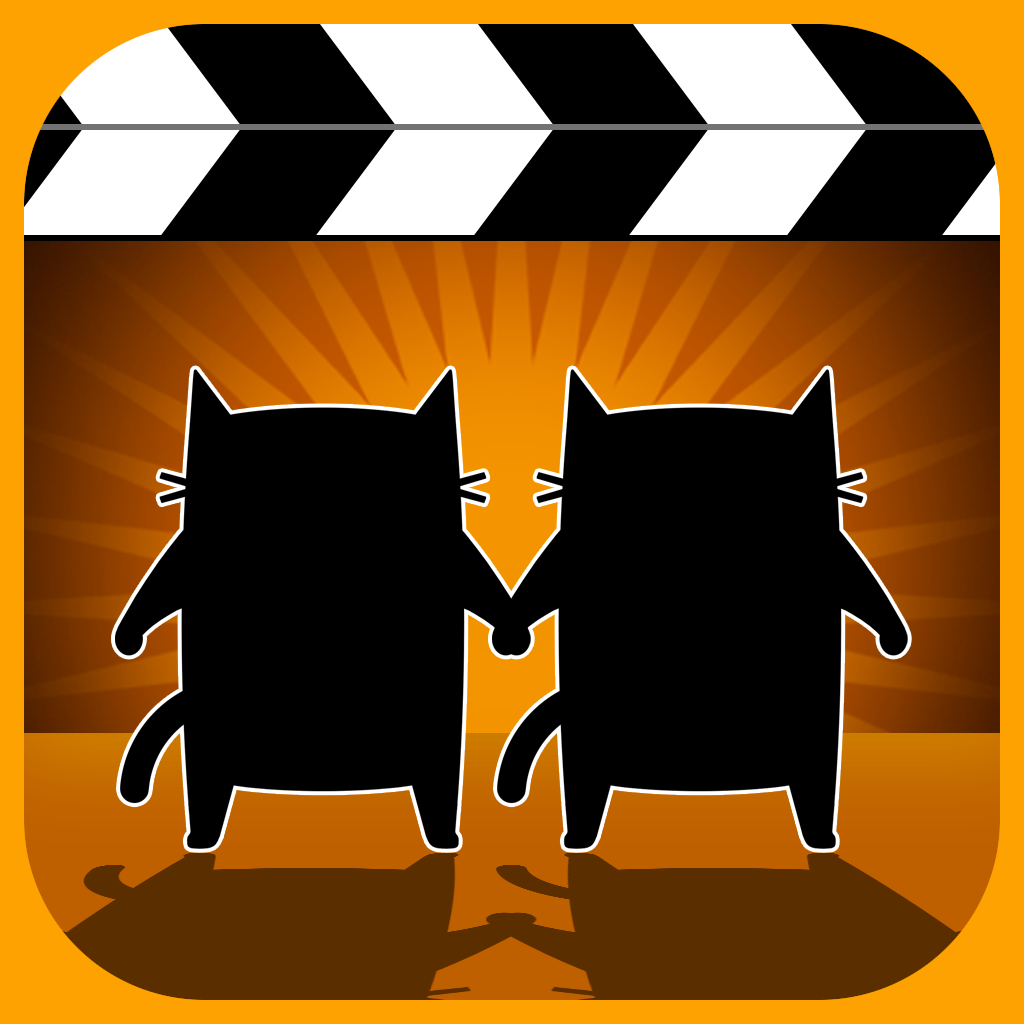 MovieCat 2 - The Movie Trivia Game Sequel!
OtherWise Games LLC
If this article were a movie, this part would be the stinger. But there's actually nothing to see here, except for this important reminder: Sit back, relax, and enjoy being a movie buff with these iOS apps.