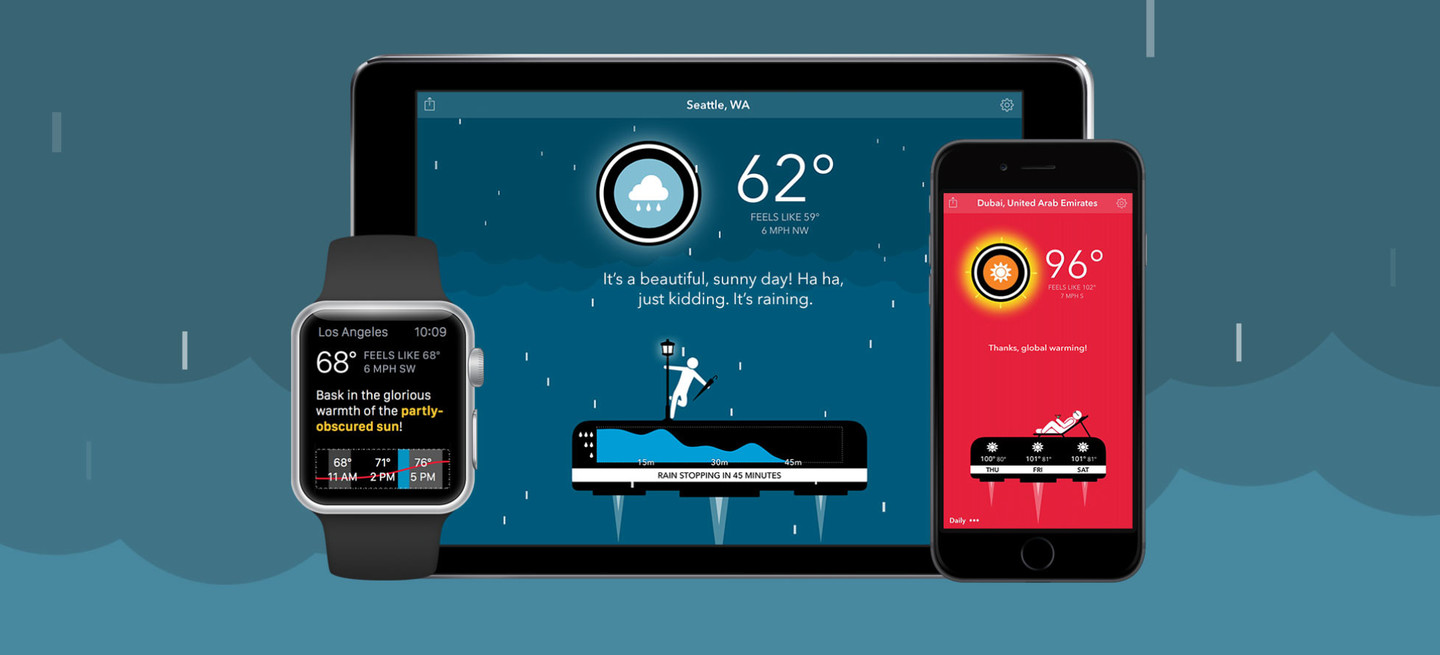 Hey
Human!
Carrot
Weather
is
Ready
for
iOS
10
With
a
New
Update
Not
your
usual
weather
app
Laugh with your forecast
Carrot Weather isn't exactly a run-of-the mill app that will tell you local conditions and a forecast. Like others in the series, the star of the show is the snarky Carrot computer.
Definitely be prepared to laugh. Instead of just providing the usual conditions and forecast, the Carrot robot delivers the weather with trademark sharp and sardonic wit.
And the app has just been updated to version 3.0.
Share a laugh via iMessage
Share a laugh via iMessage
Share a forecast via iMessage.
Most importantly, the app can now be used in iMessage. Along with being able to check the weather while having a conversation, you can even share the funny forecasts with just a tap.
The app's Notification Center widget is also vastly improved. Along with being able to toggle between a light and dark mode, you can select exactly what data to view.
With the rich notifications, weather watchers can expand any notification they receive to view more information. For example, you can view the graph of expected rainfall for the next hour or see the full text of a weather alert.
Watch the weather
There are more complications to select from on the Apple Watch.
Apple Watch users can also take advantage of some great new features in watchOS 3 that also arrived to the public yesterday. Along with faster and more reliable background updates, the app can be placed in the Dock for fast access.
There are also new watch face complications to select from, and you can even select to display different data points on different watch faces. Finally, premium subscribers can view rain/severe weather alerts along with other forecast information.
Wrap-up
Carrot Weather is designed for the iPhone/iPod touch and all iPad models. It can be downloaded now on the App Store for $3.99.
While the basic Apple Watch app is free, you can upgrade to the premium features for an extra $2.49 per year with an in-app purchase.
The app is even available on the tvOS App Store and the Mac.
$3.99
CARROT Weather - Talking Forecast Robot
Grailr LLC
Also available on the Apple TV
$3.99
CARROT Weather: Talking Forecast Robot
Grailr LLC