Vintage
Car
Fans
Will
Cheer
the
JUUK
Vitero
Apple
Watch
Band
Collection
Accessories
January 25, 2018
One of our favorite Apple Watch band makers, JUUK, recently introduced a new product line. The JUUK Vitero lineup has been inspired by vintage sports cars and features racing strips and tire tread patterns.
Featuring 6000 series dual-color hard anodized aluminum, the JUUK Vitero watch bands are for the 42mm Apple Watch only and feature a unique "Y" link design
Each watch band includes a solid 316L stainless steel double push-button butterfly deployment buckle and fits wrists up to 217mm (or 8.54 inches). Best of all, the band only weighs 55 grams.
One of the things I dislike about metal watch bands is the often complicated process of removing or adding links. As with the previously released Ligero collection, each JUUK Vitero band includes a proprietary adjustment tool. This tool makes it easier to adjust the size of the band with no outside help necessary.
At launch, the JUUK collection comes in 10 color combinations, including ruby silver, cosmic gray, and citron. My review unit features a matte silver Vitero band with a sapphire blue strip as shown below: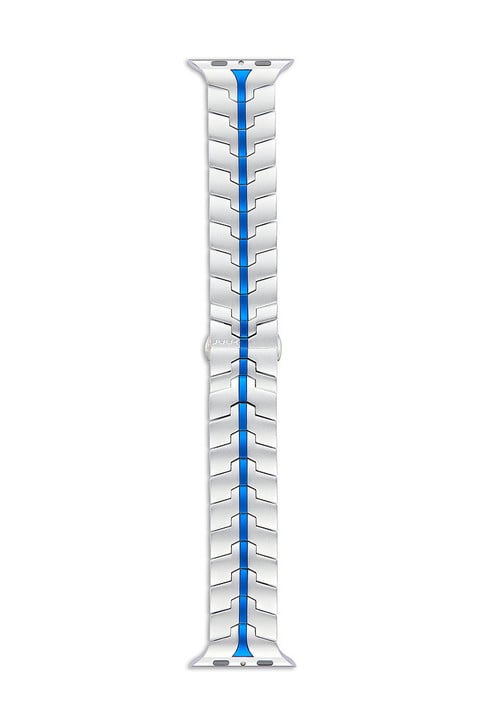 If you're looking for a beautiful, modestly priced metal band for your Apple Watch, you can't go wrong with the JUUK Vitero. It's available now through the JUUK website starting at $119.