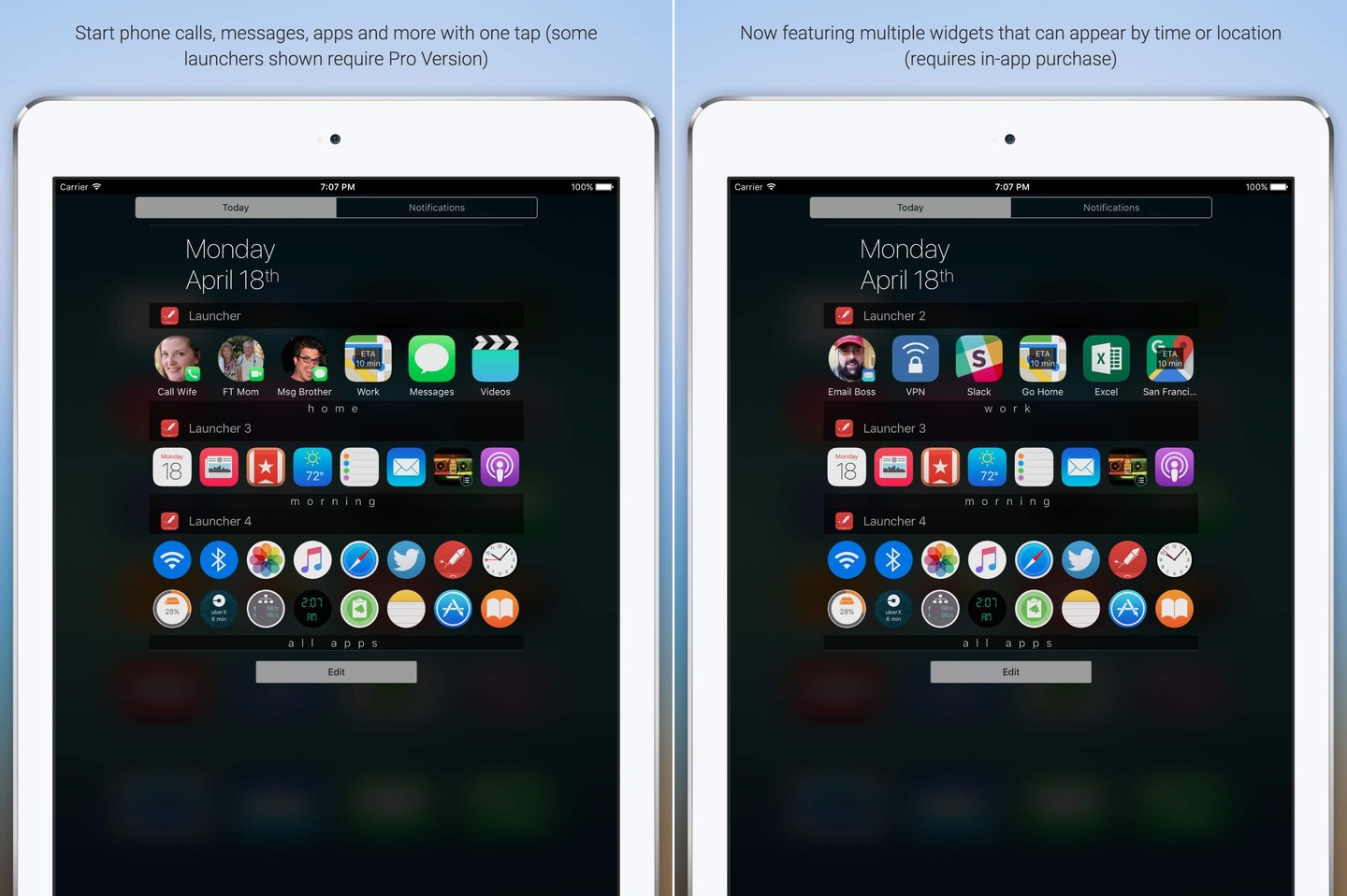 Launcher
2.0
Could
Further
Bolster
Your
iOS
Workflows
The
second
major
release
of
the
Notification
Center
widget
app
has
further
enhanced
an
already-impressive
piece
of
iOS
software
App-dicted
May 5, 2016
I have to admit, despite working almost exclusively from iOS, Notification Center – the pull-down interface Apple brought to iOS a few years back – has never figured centrally in any of my workflows. In fact, even now I use it solely for checking the battery life of my Apple Pencil. And that's about it.
Launcher, however, is out with its 2.0 update, and the release brings a bunch of new features to the application. Because of this, I'm beginning to think this application could become a big part of my iOS setup, and I imagine many of our readers will start to feel the same.
I have a good feeling Launcher is going to really help some of my iOS workflows.
Federico Viticci at MacStories has a great write-up of Launcher 2.0, and he's been using the app to its full potentil recently. Despite its troubled past at the hands of the infamous App Store approval team, Viticci notes that Launcher 2.0 is "the next logical step for Launcher," and adds some dynamic (and much-appreciated) new features into the equation.
For starters, users can now create multiple widgets for Notification Center, and these can be backed up to iCloud (and restored on different devices). In his piece, Viticci writes:
The creation and management of multiple widgets are sensible and don't add complexity to the app. There are some nice touches, such as a way to copy an existing widget into a new one if you want to a create a slightly different version of it. New in today's update, you can also make launchers different from one another by choosing from square or round icons, as well as create your own custom icons from scratch. If you choose to display launcher icons at their smallest size, you'll be able to have up to 35 launchers in a single widget, which means, in theory, that you could set up 210 shortcuts in Notification Center with Launcher 2.0 alone.
However, this isn't all the update brings. Users can also set widgets to show or hide based on time, day, or even location. Because of this, specific widgets can be configured for home, for work, for weekdays, or for weekends. Launcher's interface will dynamically change based on any conditions preconfigured by the user, making for a more efficient use of space inside of Notification Center itself.
And there's also further icon customization, along with the usual bug fixes and improvements.
Launcher 2.0 definitely makes navigating iOS far quicker, but for power users, the ability to string commands together (across iOS apps) coud result in huge productivity gains, too. In this respect, Launcher fits nicely alongside a number of further iOS apps, including Workflow, which are helping users get the most out of their iPhones and iPads.
I've been using Launcher 2.0 for a short time, and I'm already impressed. You can download the application free of charge, and as mentioned, the software is supported by feature-unlocking IAPs. I'm going to spend the next few days exploring the many ways Launcher might be able to fit into my iOS workflows, and I have a good feeling the app will be able to help me out in a number of different ways.
Use the link below to take Launcher 2.0 for a spin on your iOS device.
Free
Launcher with Notification Center Widgets
Cromulent Labs, Inc