Magic
Golf
is
More
Greedy
Than
Enchanting
This
cute
miniature
golf
game
is
not
a
hole-in-one
February 5, 2018
Magic Golf (Free) by Qwiboo is a miniature golf game featuring a cute rabbit and stages that feel like a magical toy box. If you enjoyed games like Super Stickman Golf 3 and Vista Golf, then you may get a kick out of Magic Golf as well.
I'll admit it now — I'm not a huge fan of golf, at least regular golf. I find it boring and slow, personally. However, when you bring up miniature golf, I'm all ears! There's something about these cute mini courses that makes me want to pick up a club and take a swing, even though I can either be lucky or terrible. I think it's the puzzle aspect of it. However, I don't often go out for mini golf, so I usually get my fix through games. The Super Stickman Golf series is one of my favorites, but I'm always eager to check out other mini golf games too. So when I saw Magic Golf, I was enthused to pick it up.
App Feels Like
Free
Super Stickman Golf 3
Noodlecake Studios Inc
Free
Vista Golf
Shallot Games, LLC.
Graphically speaking, Magic Golf is definitely pretty to look at. The game's rendered in 3D and it's full of bright and vibrant colors that are appealing to the eyes. The various stages feature what looks like a children's playroom, complete with all sorts of toys and gadgets laying around on the textured, wooden floor. On the courses themselves, it's easy to recognize the different types of obstacles that await you, as well as where your rabbit ball can actually go. Animations are smooth and fluid, so I had no issues with lag on my iPhone 8 Plus. The music is rather whimsical and it's all completed by the cute sound effects. Like Qwiboo's other games, Magic Golf is definitely aesthetically pleasing and charming with sound design.
Like most mini golf games on the App Store, Magic Golf is level-based, with thousands of levels from just the developers. In addition to the huge offering from Qwiboo, Magic Golf has a level editor so players can create their own stages, and then submit them to the rest of the community to download and enjoy.
In the regular mode, players must go through each stage chronologically, as the next level does not unlock until you clear the one before it. Up to three stars can be earned on each stage, and the objectives change up every so often. Stars can be earned by completing the stage in a number of specified strokes (par), collecting all of the golden carrots, or finishing before time runs out. Besides the par and countdown, you can play the game at your own pace if you don't care about being perfect with stars.
The level editor allows you to create your own stages, and they can be either "Collect the Carrots" or "Time Attack" mode. You construct your course by putting together varying course tracks, corners, and obstacles together as your heart desires. Then top it off with some decorations. Once you're satisfied with your creation, you can go live with it after naming it and giving it a theme.
Controls in Magic Golf are simple and intuitive. To hit the ball, just pull back on it and aim. An arrow behind the ball indicates the direction you're hitting it towards, and the arrow color changes from green to red depending on power. Then just release your thumb to hit the ball. When it stops moving, that's when you can hit it again. You can also swipe anywhere on the screen besides the ball to adjust the camera angle, in case you need a better view of the course.
While these controls work, I think it could have put the trajectory arrow in front of the ball, rather than only behind. That way it could be easier to aim and see where the ball is actually going to go. Right now, you can only see it from behind, and it doesn't go far enough for you to know where it ends up. I've missed a few pars because I was off by a nanometer or some other ridiculously close measurement.
However, since Magic Golf is a free game, there are limitations to how much you can play at a given time. After every five holes, there's a chest with a timer before it can be opened. This also prevents you from accessing the next five holes, at least until the chest is opened. You can use purple gems to unlock the chest early, or watch an ad to shorten the timer by thirty minutes.
While there are in-app purchases for gems and costume tokens, there's no way to get rid of the ads or timers before getting the next set of holes to play. This is annoying and feels a bit greedy, which is disappointing.
On top of all of the levels that you can play in the game (after waiting a while or paying), there are also costumes that you can unlock for your rabbit. Unfortunately, you need a certain amount of tokens for three rarities (common, rare, and epic) before you can pick out a costume. These are purely cosmetic, and don't affect the gameplay itself in any way. If you don't have enough tokens, you can also buy the costumes through in-app purchases.
The maker of Aqua Globs, Ball King, and Bike Baron has a new mini golf game.
The Good
Magic Golf is a cute golfing game that would appeal to both adults and kids alike. The graphics are bubbly and endearing, the sound is fun, and the gameplay is simple yet challenging. Controls are natural and streamlined for the most part, and there are a ton of levels to get through. Plus, having a level editor means the chance to see the creativity from others.
The Bad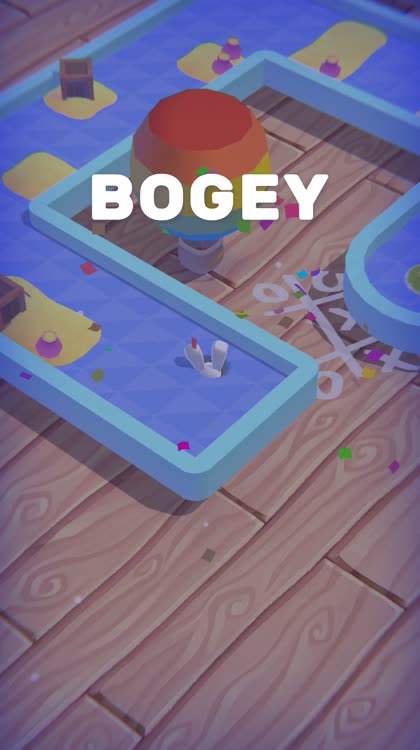 While I wanted to like Magic Golf a lot, there's just too many flaws that prevent it from being good. It's rather annoying that I can't accurately see where the ball will end up, and it's messed up a lot of my strokes so far. Having the aim trajectory arrow in front of the ball, rather than behind, would help out a lot.
The game feels a bit too greedy with the implemented timer system. It's just ridden with timers to advance in stages, along with free chests. And with no option to get rid of the timers and ads, pushing players to get more gems to progress, is just irritating. And with there being thousands of levels, it's a bit of a letdown to only see seven costumes available.
The verdict
There's a few nice things about Magic Golf that make me want to like the game. As an avid fan of adorable things, the visuals and sound design are done well and make the game friendly enough for the whole family. The stages can be straightforward or challenging. And having a level editor opens up a whole new world of possibilities when it comes to stages. But all of the good is tainted by the greediness of the timers and the push towards in-app purchases, with no option to just get rid of timers and ads altogether. I wanted to like the game, but this current version just feels like a cash grab.
FREE
Magic Golf
Qwiboo Ltd