Pass
down
the
field
with
a
team
of
Headshot
Heroes
Score
a
goal
and
try
to
hit
the
keeper's
head
Pocket Gaming
April 11, 2016
Headshot Heroes, from Chillingo Ltd., is a lively soccer game where you simply pass and score. The trick is, you must only pass to your players and do so quickly. When you reach the goal line, go for a powerful headshot to the goalkeeper to collect his head.
Headshot Heroes
Chillingo Ltd
Pass down the field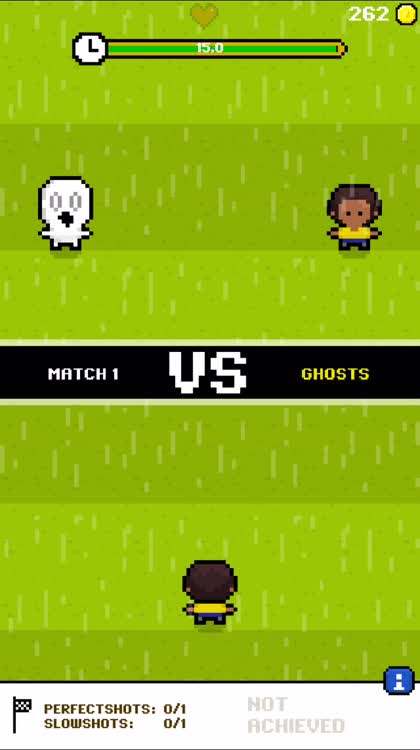 With a simple tap, just pass the ball to the upcoming players on your team one a time. Move quick and make sure you do not accidentally pass to the opposition. When you reach the goal line, take your shot to score.
Don't forget to aim
Make sure that the power bar is at the highest level possible before attempting your goal. And, do not forget to aim so that the opposition on line doesn't get the ball instead. You score for perfect shots, headshots, and combos that include both.
Teams, challenges, and more
There are over 65 teams to choose from, various objectives to earn coins, in-game achievements, and many heads to collect with those powerful headshots. You can use your earned coins to play with the different teams, such as ghosts or bandits.
Get
Headshot Heroes
Headshot Heroes is an energetic game with nice 8-bit cartoon style graphics. The games go fast, so it is fun for a quick challenge when you have a few minutes. But beware, Headshot Heroes is also a little addictive. It is upbeat, fun, and a hard to stop when you figure out how to score those headshots.
Headshot Heroes is designed for iPhone and iPad. It is available on the App Store for free with in-app purchase options for additional coins and to remove the ads.
grab the game on the app store for free
Free
Headshot Heroes
Chillingo Ltd
check out some recent game reviews while you're here: