Siri
Movie
Easter
Eggs
Every
Film
Buff
Should
Know
Apple's Software
February 20, 2017
The release of "The Lego Batman Movie" marks something of a milestone for Siri: Apple's intelligent personal assistant has made its feature-film debut. That's right. Siri has taken on a movie role, and that role is none other than the cheeky computer system used by the title character in the aforementioned 3-D computer-animated superhero comedy film. But Siri is actually no stranger to cinema, since it's long been helping iOS device users with movie-related stuff and even offering a movie-related joke or two every now and then. In this article, we'll highlight a few of the best Siri movie Easter eggs along with some of the things that you can ask Siri to satisfy your film cravings.
Siri makes its feature-film debut in "The Lego Batman Movie."
Lights, camera, information
Lights, camera, information
Siri has access to a database of movie information so comprehensive that you can ask it about certain aspects of films, including principal actors, director, plot synopsis, running time, and age rating. Consequently, you can ask Siri questions like the following:
Who starred in The Perks of Being a Wallflower?
Who directed Manchester by the Sea?
What is the movie Hidden Figures about?
How long is Rogue One: A Star Wars Story?
What is the age rating of Sausage Party?
Actors, directors and more
Actors, directors and more
Several of the aforementioned film aspects also count as categories from which you can ask Siri for recommendations or suggestions. You can even throw in queries relating to movie genres, production companies, and 3-D releases. Here are some things you can ask Siri:
Show me movies starring Amy Adams
Movies directed by Denis Villenueve
Movies rated PG
Show me comedy movies
Show me movies from Pixar
Show me 3-D movies
Siri, what's that movie with …
Siri, what's that movie with …
Did you know that you can also ask Siri to identify movies that meet certain parameters across different categories? This is especially useful if you're thinking about that movie where an actor appears with another actor — or even that movie that stars a particular set of actors. Try asking Siri these:
What's that movie with Amy Adams and Clint Eastwood?
What's that movie starring Amy Adams, Christian Bale, and Jennifer Lawrence?
Movies starring Jennifer Lawrence and Bradley Cooper
Sci-fi movie starring Amy Adams and directed by Denis Villeneuve
G-rated movies starring Seth Rogen
3-D movies directed by Robert Zemeckis
Trailers and soundtracks
Of course, watching the trailer is still one of the best ways to find out more about a movie. And Siri has long been able to help you with that. Just tell Siri something like, "Show me the trailer for Gone Girl" (or "Show me the trailer for Gone Girl directed by David Fincher," if you want to be more specific), and the trailer will play shortly.
If you're subscribed to Apple Music, you can also ask Siri to play the score or soundtrack album of a particular movie, e.g. "Play the soundtrack of Harry Potter and the Chamber of Secrets."
Tip: When the title of a movie you're asking about is similar to the titles of other movies, Siri will show you options and ask you to choose the one you mean. To bypass this, you might want to be more specific with your query in the first place by mentioning the year of release, the actor, or the director.
Fresh or rotten?
Can't decide whether to see a particular movie or not? Then perhaps you'd like to know what professional critics think about it. In that case, just ask Siri something like, "Show me the reviews for Finding Dory," "How are the ratings for Kubo and the Two Strings?" or "Do people like John Wick Chapter 2?" and Siri will serve the movie's "freshness" percentage along with a sampling of blurbs from the popular movie review aggregation service Rotten Tomatoes.
Tip: Ask Siri, "Can you recommend a movie?" and it will show some films with a perfect Rotten Tomatoes score of 100 percent.
Fantastic films and where to watch them
Fantastic films and where to watch them
If a movie you want to watch has been out for quite some time, chances are you can already buy or rent it on iTunes. Just tell Siri something like, "I want to buy Revolutionary Road on iTunes," or simply ask Siri anything that will prompt it to show the info card for the movie you want, and then tap the Buy or Rent button.
If you're looking to watch something that's still fairly new or is otherwise showing in theaters, Siri is more than capable of assisting you on that front, with location-based queries such as:
Find some movie theaters near me
What's playing at the movies tomorrow?
What's playing at ArcLight Hollywood?
What movies are playing today?
Are there any 3-D movies playing around here?
Where is Split playing around here?
Ready to get tickets?
So you really want to escape from the real world and into the reel world by spending about a couple of hours in a dark room with a bright wall? Well, you can skip the line at the box office and have Siri purchase tickets in advance for you instead.
First things first: Siri's movie ticketing feature is powered by Fandango and requires the official iOS app of the popular movie ticketing company, which you can download from the App Store for free.
Free
Fandango Movies - Times + Tickets
Fandango
With the Fandango app on your iOS device, you can simply say something like, "Buy two tickets to see The Great Wall tonight in LA," "Three tickets to see La La Land," or "Four tickets to see Zootopia at the City Theater at 8 p.m.," and tap to make your selection and complete your booking in the Fandango app. You can also initiate movie ticketing by tapping a theater with showtimes in Siri's info card for a movie.
Once purchased, your movie tickets will be stored in the Wallet app, which you can then open to show your tickets when you arrive at the theater.
And the Oscar went to …
Siri is also something of an Oscars history buff, and you can ask it to list and identify movies that won the major Academy Award categories of best picture, actor, actress, supporting actor, supporting actress, and director. Here are some examples of questions you can ask Oscar-loving Siri:
Movies that won best picture
Movies that won best actor
Movies that won best actress
Movies that won best supporting actor
Movies that won best supporting actress
Movies that won best director
What movie won best picture in 2008?
Who won best actor in 1936?
Who won best actress in 1985?
Who won best supporting actor in 2001?
Who won best supporting actress in 1999?
Who won best director in 2014?
Note: In response to questions that ask about actors, actresses, and directors, Siri identifies only the movies for which they won and not the individuals themselves.
Fun with Siri at the movies
Fun with Siri at the movies
For several years now, Siri has been responding with tongue-in-cheek plot synopses when asked to tell something about certain sci-fi films, including "Star Wars," "Alien," "Blade Runner," "The Terminator," "The Matrix," "Star Trek," and "Inception." Just ask Siri about any of these movies and prepare for its witty answer.
What's more, Siri has a catalog of comebacks when asked to "Open the pod bay doors," the pivotal command given to and opposed by the sentient computer HAL in the classic epic sci-fi film "2001: A Space Odyssey."
Siri also has a variety of answers to the question, "What do my pets do when I'm not at home?," which alludes to the animated film "The Secret Life of Pets," the November 2016 home video release of which marked Siri's first promotional tie-in.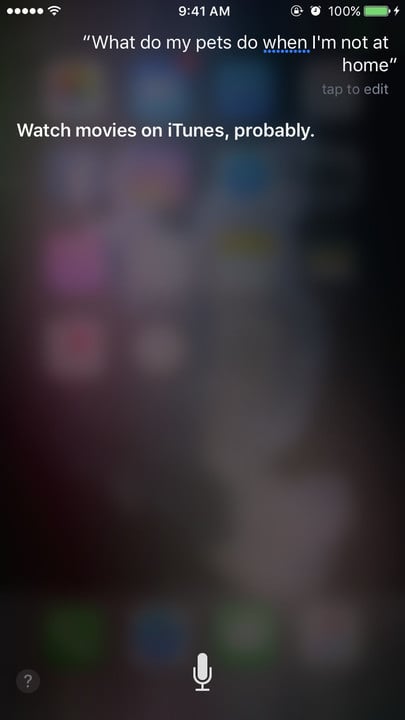 And then there's "The Lego Batman Movie." In honor of its feature-film debut, Siri has been programmed to respond jokingly to "Hey, Computer" or "Hey, 'Puter," which is how Lego Batman (voiced by Will Arnett) addresses the virtual assistant in the film. Siri also has some pretty funny things to say when asked, "Hey, 'Puter, are you in The Lego Batman Movie?"
We hope you enjoy these Siri movie Easter eggs and film-related tips and tricks. If you have more to share, please do so in the comments section below.