Sling
TV
Celebrates
its
Second
Birthday
with
a
Free
Preview
Weekend
Connected Theater
February 9, 2017
Streaming service Sling TV is celebrating its second birthday, and you can receive a great gift.
Free preview
Anyone who isn't a current Sling TV customer can take advantage of a free preview of Sling Orange this weekend starting at 9 a.m. ET Saturday, Feb. 11 and continuing through Sunday, Feb. 12. You'll need to head here to signup, but no credit card is required.
Sling Orange only allows one device to be viewing content and includes 28 live TV channels including big names like ESPN, CNN, BBC America, AMC, Lifetime, TNT, and TBS. You can subscribe after the free trial for $20 per month. If you're looking to watch more than one stream at a time, the Sling Blue service offers 44 channels for $25 per month. There are also a number of add-on bundles for an additional cost.
Current subscribers will be happy to hear that Sling will be providing a free preview of HBO and Starz later this month. Stay turned for the exact timing.
Sling also announced that its DVR service, which began testing late last year, is expanding to Android TV and other Android devices. After that, the capability will land for Apple TV users.
Using the companion Sling TV app, users can access the live streaming content on an iPhone, iPad, and Apple TV. Here's a look at the service on the big screen.
Free
Sling TV – Live and On Demand
Sling TV LLC
Sling TV – Live and On Demand
Sling TV LLC
My TV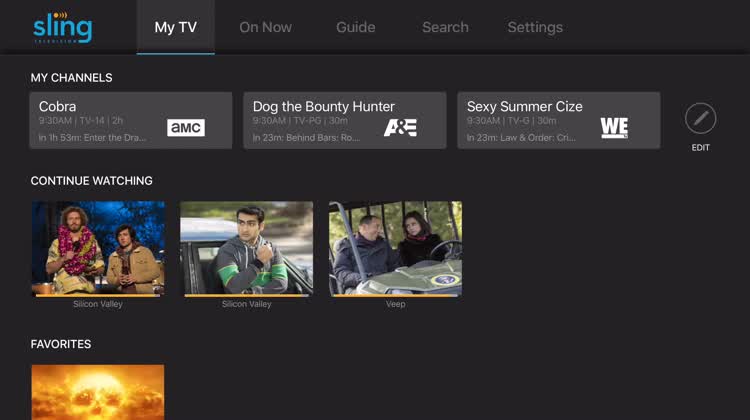 The My TV section makes it easy to get to the channels and shows you watch the most. Add your preferred channels so that you can start watching with a click. Continue watching shows you have already started and save those you love to the favorites area.
On Now
The On Now section is terrific to browse through if you are not sure what you are in the mood to watch. You can see what is playing quickly in the sports, kids, lifestyle, action, comedy, drama, and news categories. Or, scroll through the Everything on Now area until you see a show that looks good.
Channel Guide
The Guide section provides all available channels and shows for a complete picture of your viewing options. Scroll through the channels and when you arrive at one, the shows will pop up below. From those that are on the schedule to shows that are now available, you have flexible choices.
Get
Sling TV – Live and On Demand