Pack
Your
Skateboard
and
Join
the
Ultimate
Stickman
Skate
Battle
Pocket Gaming
May 17, 2017
Whether you're a skateboarder or just wish you were, you have to check out this latest title by Djinnworks. Pack your skateboard and join the ultimate Stickman Skate Battle, a new multiplayer experience. You'll take on your friends and people from around the world in one-on-one matches that take place in astonishing, beautifully hand-designed skate parks. This is a game that will keep your fingers tapping and sliding for hours.
In Stickman Skate Battle, you'll perform spectacular tricks and combinations, trying to beat your opponent to nab his coins and a chance to participate in the best high-stake world events. Just a few of the awesome features that await you include weekly tournaments, Free Ride, one-on-one matches, challenges, and domination. The action is fast-paced and fluid, running at 60 frames per second on all devices.
This game provides real-time multiplayer PVP action, with 10 beautifully designed and hand-crafted skate parks. There are 22 different characters to unlock, including Stickman, Spaceman, Foxy, Beach Girl, Ghost, and many more. Each character has its own skill set. You'll also unlock 32 skateboards, with different abilities, including Danger, Natural, Arrow, and Hoverboard.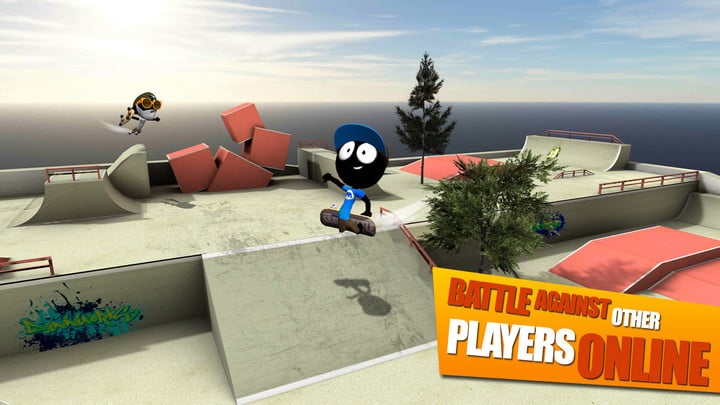 During your skating, you'll learn 15 different special tricks including Christ Air, Method, Rocket Air, Stiffy, and many more. There are 10 events to enter, battling against players from around the world. Stickman Skate Battle offers you full controller support. The game includes leaderboards, tournaments, daily prizes, player invitations, friend challenges, revenge matches, leagues, and much more.
Stickman Skate Battle runs on your iPhone, iPod touch, and iPad. The game is available now for free on the App Store.
Free
Stickman Skate Battle
Djinnworks GmbH