What
I
Dislike
About
Apple
Music
Cupertino's
music
streaming
service
might
be
good,
but
it
isn't
perfect.
Here's
my
list
of
features
which
could
be
improved.
It's good, but it ain't perfect.
In case you didn't know, I like Apple Music. But that doesn't mean I love it unconditionally.
It's good, but it ain't perfect.
There isn't much I don't like about Apple Music. As you saw in my earlier piece, "What I love about Apple Music," there's a lot about the music-streaming service which brings a smile to my face. Its user interface (UI) and overall ease of use, its Apple Watch integration, the For You tab, and much more will see me continue to use the service even once my three-month free trial has expired. However, there are nevertheless a couple of aspects which I wish Apple would improve. Let's take a look at them now.
Importing your data ...
... is a bit of a nightmare.
Importing your data ...
Like me, you might have moved to Apple Music from another music-streaming service, such as Spotify or Rdio. Though there are a few possible options for migrating your data from one of these services into Apple Music, it's not possible to easily transfer your digital library from one music-streaming service to Cupertino's new offering.
Transferring your data into Apple Music from a different streaming service is ... a real headache.
This means your years of Spotify or Rdio playlists, as extensive as they may be, will be lost once you take the plunge and dive head-first into Apple Music's three-month free trial. This could put hardcore music fans off switching to the service.
Add to a playlist
Here's another Apple Music "quirk"
Add to a playlist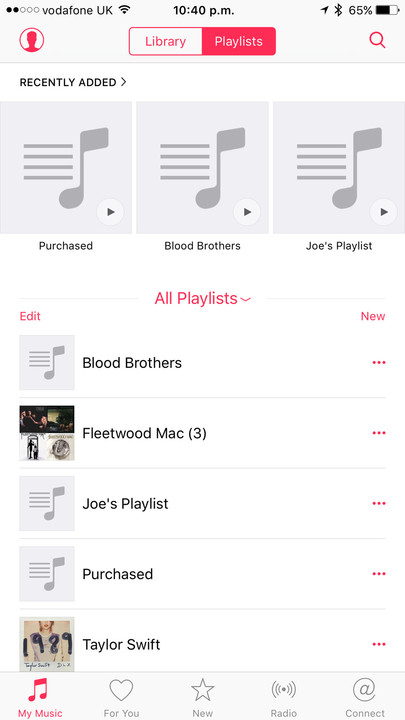 Apple Music isn't without its share of design quirks, despite the overall promise of the service. One such problem concerns the cumbersome process of adding tracks to playlists. It seems iOS device owners can only add tracks to playlists which have already been created, rather than to a brand new playlist in Apple Music.
This means new playlists must be created from a selected interface beforehand, and renders on-the-go playlist curation and creation a more complex task than it should be. Apple will likely correct this in iOS 8.4.1 (or even iOS 9), but this is nevertheless another aspect of Apple Music which I find incredibly annoying.
(To create a new playlist in the iOS Music app, navigate to My Music, then swipe right for Playlists. From here, choose the button labeled New, which appears in the upper-right-hand side of the interface.)
Where's the Web app?
I want to access Apple Music from anywhere! But I can't
Where's the Web app?
Apple Music can be enjoyed on an iOS device, or on a desktop computer using the iTunes app for OS X and Windows. But what about the Web? At the minute, no Web interface for Apple Music is available for subscribers, meaning office computers will likely go without access to Cupertino's music streaming service for some time. Given the availability of iCloud.com's various Web apps, I'm guessing support for Apple Music is incoming. Hopefully we won't have too long to wait before the service is accessible from the Web only.
There are other problems, too ...
... more than we could possibly list here!
There are other problems, too ...
As a new service, it's unsurprising to see that Apple Music ships with its share of quirks. I've encountered more than a handful during my use of the service: at times, tracks play muted, songs or albums are unavailable, and saving albums to the app's "My Music" interface downright doesn't work. Given time, Apple will surely iron out these problems (and more), rendering Apple Music a more stable experience for music fans. For now, as a "first generation" service, there are bugs aplenty in Apple Music. Don't be surprised if you come across a few during your use of the service.
(Don't feel put off; Apple Music is nevertheless a great service — in case you didn't see, I really do love it. But there are problems, as you'd expect from any first-generation product. In time, Apple Music will be great. Though for now, proceeding with caution is perhaps the best course of action music aficionados can take.)