The Minions are back and ready to run. Complete missions and collect fruit in this fun adventure.
Minion Rush
by Gameloft
watch trailer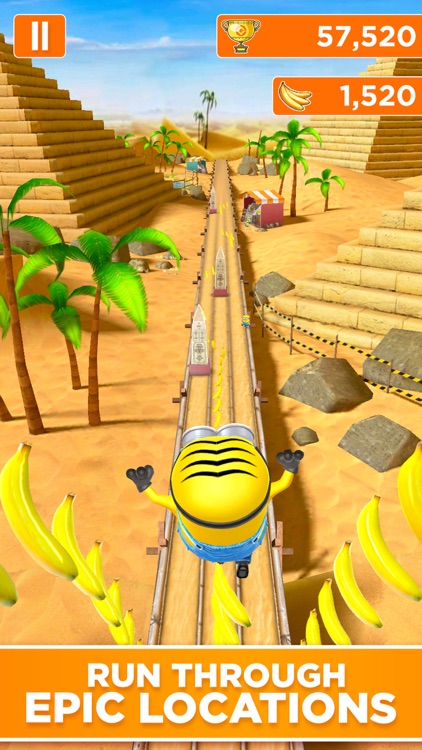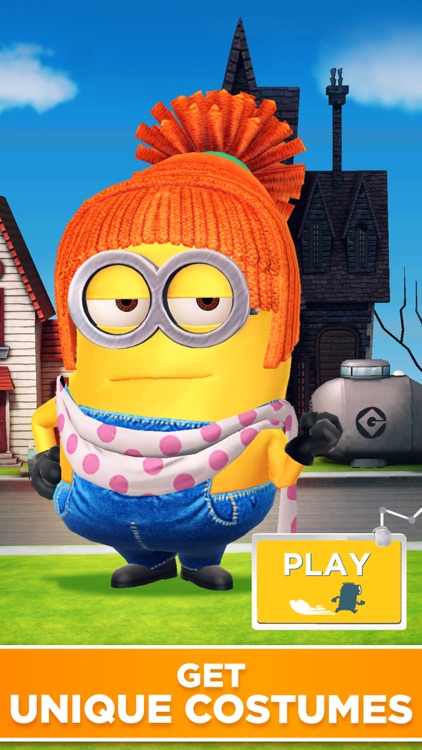 FREE

in the App Store
Get ready to race in Despicable Me: Minion Rush. You will jump, swerve, and slide as you run to meet the level objectives and collect fruit. You can customize your Minion with weapons and power-ups, battle evil villains, and compete against others in Minion Races mode. There are hundreds of missions with obstacles and surprises along the way in this fun adventure.
Change lanes and jump over rockets. Bananas are everywhere, but so are rockets that will end your run. Change lanes to avoid the rockets, or jump over them when there's no way around.
Roll under electrical fields. Don't get zapped. Make sure you roll your minion under the electrical fields that block your path.
Smash other minions. Sometimes, your goal is to commit despicable actions by smashing other minions out of the way.
What is it about?
The mischievous Minions are at it again in this fun, playful adventure. In Despicable Me: Minion Rush you will complete challenging missions, collect tasty bananas, and unlock neat power-ups. Connect to Facebook to taunt your pals or just race through the kooky locations. Search for surprises, customize your Minion, and take on the big bosses this enjoyable game.
For those who...
Love the Minions
Enjoy upbeat adventures
Like fast-paced runners
Not for those who...
Dislike the Minions
Enjoy shooting or puzzle games
Like casual games
Why we love it
Despicable Me: Minion Rush is a truly fun game with gorgeous graphics and amusing animations. You will uncover nifty secrets, engage in boss battles, and enjoy running to complete your many missions. For an upbeat, entertaining adventure on iOS; Despicable Me: Minion Rush is a hard game to put down.
Minion Rush is FREE but there are more add-ons
$1.99

Stack of Tokens

$4.99

Pile of Tokens

$9.99

Crate of Tokens

$0.99

Small Stack of Tokens

$19.99

Mountain of Tokens

$0.99

Worker

$14.99

Truckload of Tokens

$4.99

Golden Banana

$49.99

Bank Vault of Tokens

$1.99

Singer
App Store Description
OVER 840 MILLION PLAYERS GLOBALLY!

Race with the Minions in the award-winning, fan-favorite runner, Minion Rush!
Run as fast as you can while jumping, dodging, rolling and knocking Minions off the track in despicably action-packed levels.
Rush to collect Bananas and play exciting Special Missions to increase your score as you enjoy unexpected Minion moments.

ALL THE FUN OF THE DESPICABLE ME MOVIES IN THE OFFICIAL GAME!

• Race as DAVE, CARL OR JERRY! And coming soon straight out of Despicable Me 3 -- MEL!
• Wear incredibly UNIQUE COSTUMES, such as Lucy, the Surfer or the Ninja Minion.
• Speed through ICONIC LOCATIONS inspired by the Despicable Me movies, like Bratt's Lair, the Anti-Villain League and ancient Egyptian temples in The Pyramids.
• Power up your Minions by riding the FLUFFY UNICORN or GRU'S ROCKET.
• Play SPECIAL MISSIONS to discover new content and new Costumes in each update!

____________________________________________

You can download and play this game for free. Please be informed that it also allows you to play using virtual currency, which can be acquired as you progress through the game, or by deciding to watch certain advertisements, or by paying with real money. Purchases of virtual currency using real money are performed using a credit card, or other form of payment associated with your account, when you input your iTunes account password. You will not be asked to re-enter your credit card number or PIN. Once your iTunes account password is entered, your account will allow in-app purchases for 15 minutes. To restrict or disable in-app purchases, you can change the settings on your device.
This game contains advertising for Gameloft's products or some third parties which will redirect you to a third-party site. You can disable your device's ad identifier being used for interest-based advertising in the settings menu of your device. This option can be found in Settings -> Privacy -> Advertising.
Certain aspects of this game will require the player to connect to the Internet.
______________________________________________

Find out more about the game on the official site -- http://www.minionrush.com
Follow us on Facebook at http://gmlft.co/MinionRush_FB
Check out our videos and game trailers on http://gmlft.co/MinionRush_YT
____________________________________________

Visit our official site at http://gmlft.co/website_EN
Check out the new blog at http://gmlft.co/central

Don't forget to follow us on social media:
Facebook: http://gmlft.co/SNS_FB_EN
Twitter: http://gmlft.co/SNS_TW_EN
Instagram: http://gmlft.co/GL_SNS_IG
YouTube: http://gmlft.co/GL_SNS_YT

Privacy Policy: http://www.gameloft.com/en/privacy-notice
Terms of Use: http://www.gameloft.com/en/conditions-of-use
End-User License Agreement: http://www.gameloft.com/en/eula