Your digital notebook.
Outline -your digital notebook
by Gorillized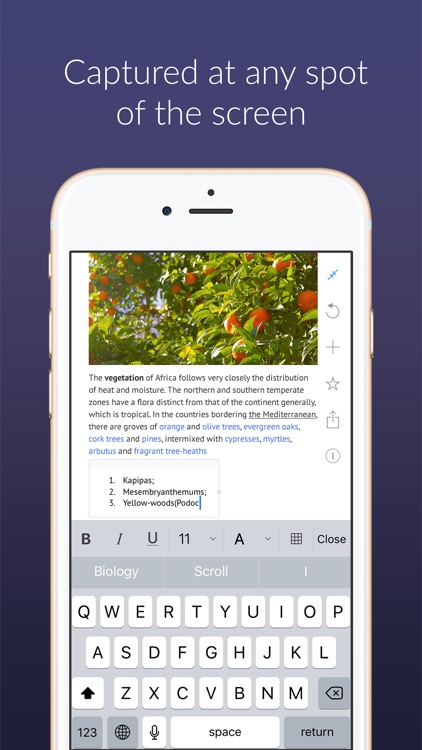 What is it about?
One note app to write, organize & print. OneNote compatible & Office 365 powered.
For those who...
It's for students, teachers, business professionals, and anyone else in need of a notebook.
Not for those who...
Outline+ is only compatible with OneNote 2010 and 2013, and SharePoint Server 2010 and 2013.
Why we love it
If you prefer visual notes, this is the app for you. You won't find a more powerful and intuitive solution.
Outline is $9.99 but there are more add-ons
Free

OneDrive for Business

Free

WebDAV Sync
App Store Description
One note app to write, organize & print. OneNote compatible & Office 365 powered.

Capture notes at any spot on a page and drag around the place, organize in the world's most natural hierarchy, print to PDF, publish to web, and sync across devices with your favorite cloud.

Freedom but clear structure. Power features but focus on note-taking. Beautiful UI.

ONENOTE'S BEST FRIEND
- Import from OneNote, to give those notes a new start beyond OneDrive or SharePoint
- Export to OneNote, just in case
- Go beyond import/export and do a real time collaboration on notes with colleagues who use OneNote (your iPad and their PCs)

CLOUDS
- Choose where you want to store your notes: Office 365, WebDAV, Dropbox, iCloud, Box, personal OneDrive, or SharePoint Server / Online
- Consider a no-cloud option too: some notes need offline and cloud-free privacy

UI
- Find everything a note needs by the hand: text, lists, tables, handwriting, and drawing
- Put that stuff anywhere in a note and then move around / re-size / edit it all, the way you like
- Personalize notebooks with artful covers
- Keep notes structured in a natural hierarchy of pages, sections, and notebooks (and section groups, yes)
- Access a note fast via recents, search, and note links

Whether it is your meeting minutes, research, document annotations, or ideas, give those a chance to go beyond the limits.

Your notes are essential and do matter more than formats, storage, platforms, or even the app for note-taking.

---

"From a feature set and user interface perspective, Outline is impressive" - TechRepublic.

"Outline for iPad really provides the full editing experience you would have in OneNote or even on your Mac." - iPhone Life.

"Outline a grants you the basic and much-needed capability to create new notebooks and sections" - CNET.

Featured on Product Hunt in "Alternatives to Evernote" collection: producthunt.com/e/alternatives-to-evernote

---

Learn more about note-taking best practices: check out fb.com/outlineapp