The PayPal app that turns your iPad into a mobile point-of-sale system
PayPal Here : Point of Sale
by PayPal, Inc.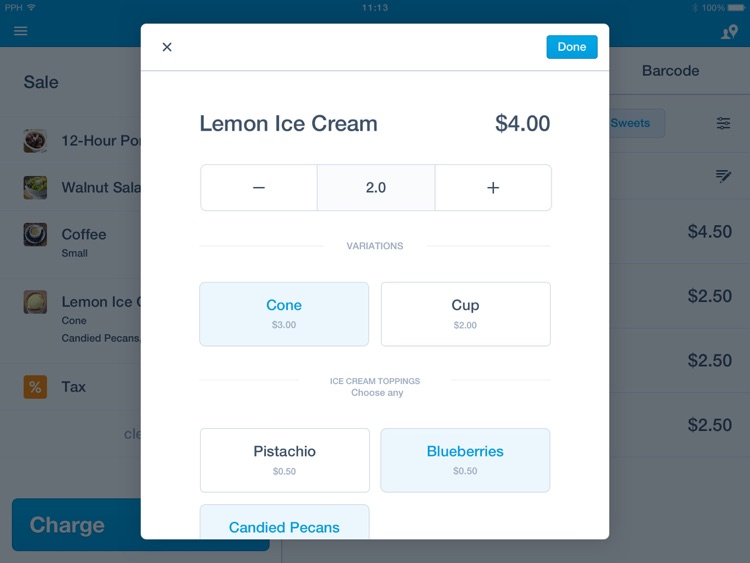 FREE

in the App Store
PayPal Here is very similar to Square Register, except that funds are usually available right away in your PayPal account. Also, customers have more options to pay you - credit/debit card, checking account, or directly from their PayPal balance. If you have a PayPal debit card, you're able to access funds much faster, in most cases, than with Square Register. All card swipes and PayPal transactions have a 2.7 percent rate with no hidden fees or commitments.
What is it about?
PayPal is a terrific way to get paid online, but what about in person? With PayPal here, you can do that, transforming your iPad into a great point-of-sale system. The app is free, and so is the magstripe card reader. If you want to accept chip cards with full security and fraud protection, a small up-front fee gets you a Bluetooth reader that works perfectly for your business. Accept payments, manage your online and mobile transactions, and get help straight from the app. You get your money fast, especially if you have the PayPal Debit card.
Why we love it
PayPal is a great option for collecting credit card and other payments. The PayPal Debit Card makes it easy to use your funds right away, and offers what might be the only cash back incentive program for small businesses that don't use a major credit card.
App Store Description
Get paid on your iPhone®, iPod® or iPad® with our free app and a card reader that's right for your business. Accept credit and debit cards, send invoices, track cash and check payments. It's only 2.7% per US card swipe, chip or contactless transaction. No long-term contracts, commitments or monthly fees.

WHY PAYPAL HERE?

• More options, more business: gives your customers the flexibility to pay how they want.
• All in one: PayPal Here™ is part of our trusted suite of business payment solutions, helping you manage all your in-person, online and mobile payments through one central account.
• Help when you need it: You can contact us directly from the app, by phone at 877-569-1136 or by visiting www.paypal.com/here

START GETTING PAID:

1) Download the app
2) Sign up for PayPal Here
3) Choose the card reader that's right for your business

PayPal Mobile Card Reader
– Accepts magnetic stripe cards
– Connects with your phone or tablet audio jack

PayPal Chip Card Reader
– Accepts chip cards, NFC payments like Apple Pay™ and magnetic swipe cards
– Reduce liability for certain types of fraud
– Connects via Bluetooth

SECURE PAYMENTS:

PayPal Here uses an encrypted card reader, backed by our best-in-class risk-management and fraud protection. All payments go right into your account for secure, reliable, and easy transaction processing.

GET YOUR MONEY FAST:

Payments processed with PayPal Here are transferred to your account usually in minutes. With the PayPal Debit card, you can access your funds at thousands of ATM's nationwide, plus get 1% cash back on all eligible debit card purchases.

DETAILS:

• Get a free app and PayPal Mobile Card Reader
• Invest in the PayPal Chip Card Reader to accept chip cards, contactless (like Apple Pay™), traditional swipe payments – all in one device.
• Pay only 2.7% per swipe, chip or contactless transaction for all major US credit cards including American Express, Visa, MasterCard, and Discover
• Let customers quick-pick a standard tip or enter their own
• Manage and view your sales history
• Text and email custom receipts
• Add multiple users on one device