It's Twiterrific
Twitterrific 5 for Twitter
by The Iconfactory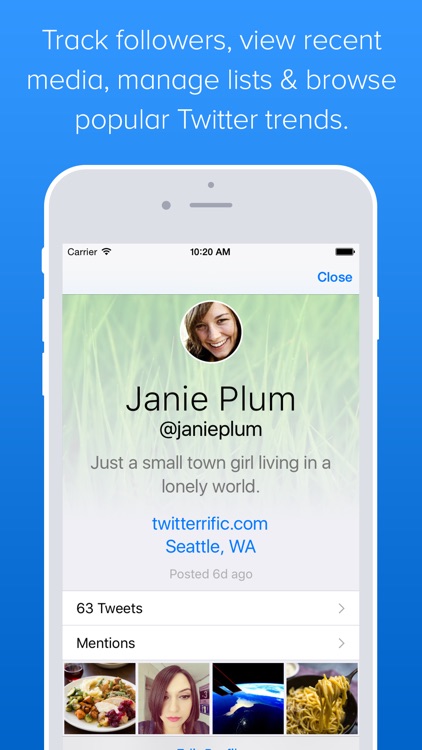 FREE

in the App Store
Twitterific is a cute little Twitter app that is perfect for those looking for the most basic, fun experience. The menu has your timeline, mentions, and messages. A lot of the other features found in other apps are not included. For non-serious Twitter users, who just want a good-looking app that lets them stay updated with their friends, this is the one for you.
Enter Center Stage. There are several ways to access Center Stage. The main one is by tapping the Center Stage icon at the top of the timeline, just below the Compose icon. You can also enter Center Stage from the media viewer: After tapping the thumbnail of a photo, video, or GIF to view it, you can tap the Center Stage icon at the lower right corner of the screen. Moreover, you can go to Center Stage from a user profile just by tapping any of the media thumbnails and then tapping the Center Stage icon.
Browse Center Stage. In Center Stage, the tweet to which the currently displayed photo, video, or GIF is attached is displayed at the bottom of the screen, which you can retweet and like. Swipe down on the image or on the tweet to hide the tweet. Tap on the screen to hide the on-screen controls and focus on the current image, and then tap again to bring them back. Swipe left and right to go from one media entry to the next, automatically skipping all tweets that don't have media attachments. Tap the rewind button to jump back to your original reading position without marking the intervening tweets as read. Tap the close button at the top or the body of the tweet at the bottom to exit Center Stage.
Zoom and pause. Zoom photos, videos, and GIFs by pinching on them. Pause and play videos and animated GIFs by tapping on them.
What is it about?
Twitterific offers some unique features, including the ability to switch between dark and light themes with two fingers. Other features include ​sound effects to swipe gestures, an in-app notification when the theme changes, and timelines that can scroll to the marker without displaying it, and more.
For those who...
Love Twitter, but not the official Twitter app
Like switching quickly between themes
Not for those who...
Enjoy using the official app
What's a theme?
Why we love it
Twitterrific has long been a favorite on the App Store. If you're looking for unique features, consider this universal app.
Twitterrific 5 for Twitter has stickers
like these
and more
Twitterrific 5 for Twitter is FREE but there are more add-ons
$4.99

Everything

$2.99

Remove Ads

$2.99

Push Notifications

$3.99

Everything

$0.49

Tip Jar Subscription

$0.99

Chickadee

$4.99

Parrot

$1.99

Bluebird

$2.99

Tweet Translation

$19.99

Peacock
App Store Description
Twitterrific is the award-winning, elegant Twitter client that's easy to understand and a delight to use. Tweeting has never been simpler or so much fun!

Browse Twitter free from the clutter of promoted tweets. Use Muffles to hide tweets containing words, phrases, people and hashtags from the timeline that you don't want to see. Customize fonts, avatar sizes, image thumbnails and more via the theme panel. Quickly respond to tweets, change accounts or view conversation threads with a minimum of effort using gestures. Rich media support including multiple images & Twitter animated GIFs.

Robust VoiceOver support means Twitterrific is fully accessible for users with vision impairments. Extensive keyboard shortcuts make Twitterrific a breeze to use with an external keyboard.

Feature Highlights:

• Browse Twitter free from the clutter of promoted tweets
• Quickly delete and edit existing tweets with ease
• Muffles - Hide unwanted words, phrases, hashtags, users, or URLs from view
• Center Stage - Media-centric timeline that puts images front & center
• Theming - Customize fonts, avatar, image and text size
• Automatic switch to dark theme at night
• Universal app for iPhone, iPad & Apple Watch
• Live streaming of tweets over wifi
• Robust multi-image support
• List management support
• Native push notifications
• Tweet translation
• 3D Touch support
• VoiceOver support
• External keyboard support

Apple Watch Features:
(Full Apple Watch functionality requires Twitterrific's in-app push notifications)
• Track your Twitter stats in real time
• Receive notifications for Replies, Mentions, RT's, Favs, DM's & more
• Handoff passes user profiles, composed tweets and more to the iOS app
• Reply to Mentions, Replies & Direct Messages
• Get info on new followers, follow them back or block them
• Force press to compose new tweets via Siri Dictation

For a complete list of Twitterrific features, visit Twitterrific.com for more information!

An optional auto-renewing Tip Jar subscription is available for $0.49 per month (price varies by territory). Payments will be charged to your iTunes Account after confirmation. Subscriptions are automatically renewed unless auto-renew is turned off at least 24 hours before the end of the subscription period. Accounts will be charged for subscription renewals within 24 hours prior to the end of the current period. Subscriptions may be managed in your iTunes Account's Settings after purchasing.

Twitterrific's privacy policy: http://twitterrific.com/ios/privacy