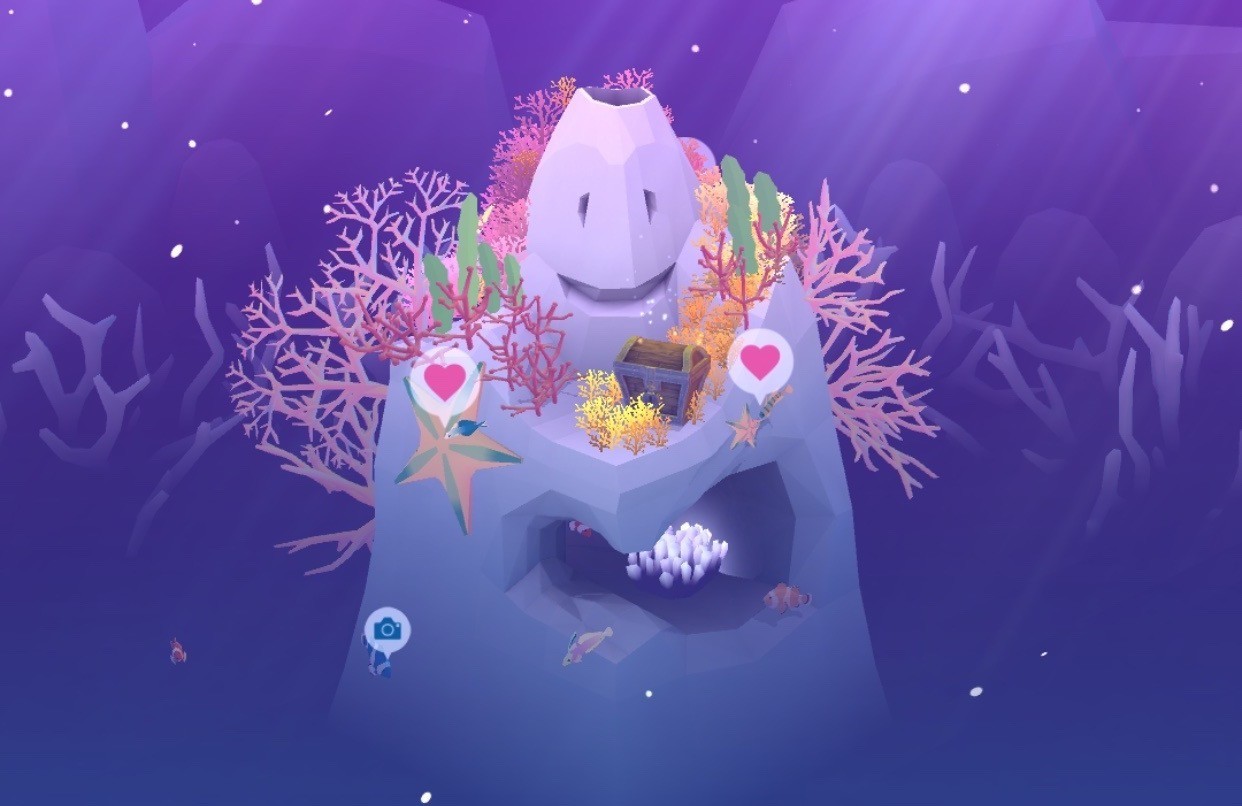 Abyssrium
Lets
You
Help
a
Lonely
Corallite
Fill
the
Ocean
With
Joy
Unwind
with
this
delightful
idle
tapper
So much cuteness!
Pocket Gaming
December 2, 2016
I am absolutely a sucker when it comes to idle tap games, and Abyssrium is one of the best I've seen.
I fell under the spell of Cookie Clicker on the web a few years ago, and continue to try and recapture the joy of incomprehensibly-large numbers with automatic progress and leveling up in as many idle tap games as I can ever since.
Lately, though, most of the games I've played in this genre have been fantasy-flavored role-playing games, like Dungeon Boss and Soda Dungeon. Great games, sure, but definitely of a piece.
Abyssrium, however, out this week on iOS after a nice stint on Android, takes things in a different direction: fishies!
A Lonely Corallite
You'll start off in Abyssrium with a smiling rock under the sea. This corallite is the main stage upon which your various fish and plants will strut and fret. Each tap on the corallite will get you vitality points, shown as hearts. Ever-increasing vitality hearts will let you upgrade your corallite so that each tap now brings more vitality points per tap.
Adding coral, seaweed, starfish, and other embedded sea life will increase your tap earning potential, and creating free-swimming fishies of various stripe (and fin!) will allow you to harvest hearts as well.
You'll also be able to purchase bigger and better upgrades along the way, too, like a volcanic eruption for your less-lonely corallite that will give you 10 auto-taps per second at whatever your current tap rate is, or a special skill that shoots out tasty plankton for your open-ocean aquarium denizens to feast upon, thereby giving even more vitality points.
The Joy Of an Automatic Tap
The Joy Of an Automatic Tap
The joy of a game like this is watching the numbers increase ever upward. The developers have to create new ways of denoting large numbers; in this case, they add a letter value at the end of your point score. You'll start with an unadorned number of vitality points, but as you ramp up your undersea heart farm, your "heart bank," so to speak, will get larger and larger, even if you don't actually tap the screen. You'll see A, B, C, even D values climb higher and higher, all allowing you to increase the tapping power of your fishes, plant life, and actual finger-to-screen taps. It's a ton of fun and one of the best parts of a game like this.
I love that I'm not leveling up a warrior, thief or mage, but rather adding beautiful sea life to my virtual aquarium. I love the little corallite's various musings on life, how to increase my point values, and just cute little sayings. The music is zen-like calming without ever becoming cloying or annoying. Abyssrium is a delight to experience, first and foremost.
Complexity is Fun
All the upgrading and "gameplay" occurs across the bottom of the screen in Abyssrium. Tap the Stone tab to upgrade your corallite and to unleash special powers. Tap the Coral or Fish buttons to upgrade or add more sea life to your simulated ocean spot, or tap the Magic button to watch videos or spend gems for even more Vitality points. Tap into the Store and purchase more Gems, various packages full of virtual goodies, or earn Gems for watching ads and sharing on Facebook.
Dig deeper into Abyssrium and you'll see a host of mechanics that add more layers of enjoyment to the gameplay. Whenever you create a new fish, you'll be able to take a picture of it. The pleasure doesn't stop at just panning around the seascape to find the best angel to capture your little piscine buddy. Share your photograph on social media and you'll get a little reward in the form of more heart points. Better yet, the Abyssrium dev team has created a photo contest in which the best photo each week (shared to Instagram with a specific tag) can win a massive amount of gems, the hard currency in this free-to-play title. Gems let you make progress faster with upgrades—both functional and cosmetic—to your corallite and environment.
Tap the VR button and slide your iPhone into a pair of virtual reality goggles while in photo mode and you can simply gaze around at your fish and plants in a full 360-degree environment. This takes Abyssrium into a whole new level of awesome as you get to feel the full scope of a three-dimensional fish tank.
Under the Sea
Bottom line, Abyssrium lets me relax with fish and an adorable stone upon which I can place various plants and sea life. Gaming doesn't always have to be active to be pleasurable, and while I enjoy upgrading everything to its highest level, sometimes I just like to sit with VR goggles on my face and enjoy the scenery and sound.
If you're looking for a delightful idle tapper that isn't mired in Dungeons and Dragons mechanics, check out Abyssrium; I hope to see your photo of the week within the app soon.