Apple
Unveils
a
Trio
of
AirPods
User
Guides
Get
educated
about
Apple's
wireless
earbuds
Charging and more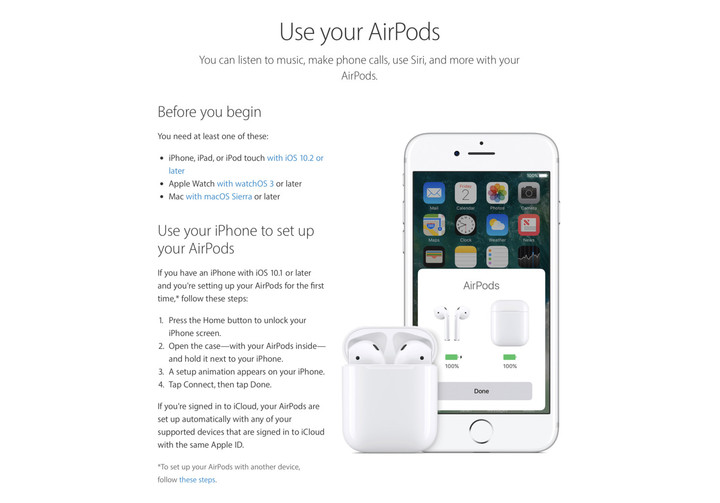 Read up if you're interested in learning more about the wireless AirPods.
Here are all three AirPods user guides:
The guides cover a number of topics including how to charge the AirPods and case, adjusting features, and setting up with your Apple devices.
Thanks to the Apple-designed W1 chip, the AirPods can provide up to five hours of music playback before needing to be recharged. Recharging in the carrying case can provide 24 hours of music.
On a Mac, iOS device, or Apple Watch, no pairing is needed as the AirPods will automatically connect and easily switch when needed.
Waiting is the hardest part
Waiting is the hardest part
You can purchase the AirPods now directly from Apple for $159.
But if you didn't order them as they went on sale, you'll need to be patient. Currently, any order placed from Apple is expected to ship in around four weeks, which would be sometime in January.
There is a bit of good news, though, as Apple said it expects to have stock at some Apple Stores next week.
To use the AirPods, you'll need to have the latest version of macOS, iOS, or watchOS installed on your device.