Barclays
begins
supporting
Apple
Pay
in
the
United
Kingdom
At
long
last,
customers
with
the
bank
will
be
able
to
add
their
debit
and
credit
cards
into
the
iOS
Wallet
app,
and
use
them
with
Apple
Pay
at
NFC
terminals
iWallet
April 5, 2016
Finally, Barclays, one of Britain's largest banks, has activated support for Apple Pay, following a months-long holdout against the Cupertino-developed mobile payments system. The news means Barclays customers can indeed begin adding their cards into the iOS Wallet app, and can use these virtualized cards to pay for goods using their iPhone, iPad, or Apple Watch.
It's finally happened
The news was indeed anticipated, with a report in January noting that Barclays could roll-out Apple Pay support as soon as March 2016. Beforehand, a number of additional banks in the country, including TSB and Tesco Bank, had joined Apple's initial partner banks for the launch of Apple Pay across the pond. Yet oddly, Barclays had held out, potentially in an attempt to foster growth of its own mobile payments service, Paym.
Now, however, as you can indeed see in the below screenshot (via MacRumors), Apple Pay is supported by Barclays. Provided customers are running iOS 8.1 or later, they'll be able to add Barclays debit or credit cards into the iOS Wallet app and use them at Apple Pay terminals.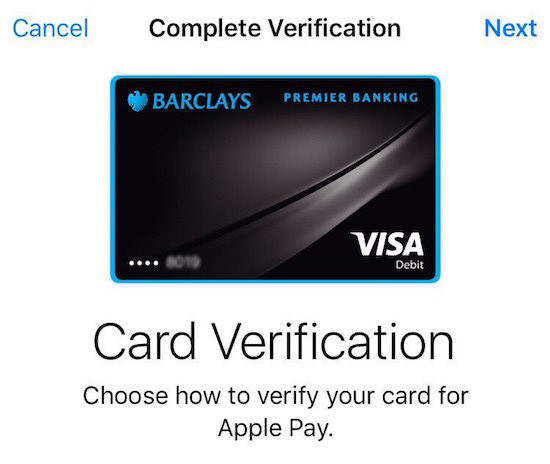 How to add a debit or credit card into the iOS Wallet app
It's quick and easy, and as of today, this method supports Barclays cards, too!
Launch the iOS Settings app.
Choose "Wallet and Apple Pay" from the menu options.
Choose "Add Credit or Debit Card."
Follow the on-screen instructions to scan your card and add it into the iOS Wallet app.
So, there you have it. If you have a Barclays card and are based in the United Kingdom, check out Apple Pay now and start using it on your iOS devices or Apple Watch.
On your iPhone, it's also possible to quickly reveal your cards through double-pressing the Home button.