ICYMI:
AppAdvice's
Best
Free
iPad
Apps
of
2016
Include
Apple
Pencil
Apps,
Puzzle
Games
The
top
free
iPad
apps
and
games
of
the
year
App-dicted
December 31, 2016
Our Best Free iPad Apps of 2016 list features plenty for everyone from a Disney game to two apps for Apple Pencil. Find out which one was the best of all.
The Best of the Best
Autodesk Motion

The Best of the Best
AutoDesk has long been a popular choice for digital designers. In 2016, the world said hello to the company's latest creation, SketchBook Motion.
Whether you're creating something from scratch or using existing images, SketchBook Motion has you covered. Ideal for Apple Pencil users. Save your creations as impressive iMessage stickers, lightweight GIFs or high-quality MP4 movies.
SketchBook Motion
Autodesk
What Will You Create
With SketchBook Motion, your creativity is your only limitation. What will you create today?
A Winner
An App Store Best of 2016 Award Winner, SketchBook Motion brings life to your incredible images. Watch all the elements of your design move, multiply, and grow. ​
Create iMessage Stickers
With SketchBook Motion you can design and then send iMessage stickers with ease. Create your masterpiece using the easy-to-follow SketchBook Motion tools to get started.
Get
SketchBook Motion
The Runner-Up
Gboard

The Runner-Up
There's been a lot of third-party keyboards created for iOS. Perhaps none are as impressive as Gboard. The free app works just like a regular keyboard but also provides built-in Google search, GIF options, email scheduling, glide typing, and more.
Gboard — a new keyboard from Google
Google, Inc.
Track or schedule emails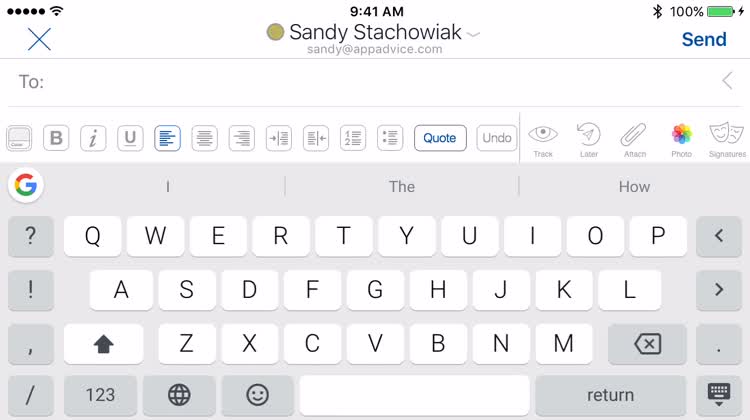 If you would like to send your email with a read receipt, just tap the Track button. Or, if you would like to your message to be sent at a later date or time, the Schedule feature works well. You can also attach files or photos and include a signature.
iOS 10 emojis
In iOS 10, the built-in emojis have been given a new look and improved diversity. Gboard now supports the iOS 10 emojis, from facial expressions and animal avatars to symbols and flags.
In-app Google search
Tap the Google icon to search directly within the keyboard app. This eliminates app switching to find news, weather, scores, or locations. You will see your search results along the bottom and can add your pick to your message.
Get
Gboard — a new keyboard from Google
Finalists
Did Your Favorite Make Our List?
Finalists
Free
Disney Crossy Road
Disney Electronic Content, Inc.
From the makers of Dots and Two Dots
Free
Dots & Co: A New Puzzle Adventure
Playdots, Inc.
Free
Mr. Crab 2
Illusion Labs AB
Writing the way it should be
Free
Bear - beautiful writing app for notes and prose
Shiny Frog di Matteo Rattotti e C. S.N.C.
Where will your Apple Pencil take you?
Free
Millie Marotta's Coloring Adventures
Amphio Limited
Free
Toca TV
Toca Boca AB
Free
Stack
Ketchapp
Learning code is no longer difficult
Free
Swift Playgrounds
Apple Inc.
What were your favorite free iPad titles in 2016? Leave your comments below.
Here are all of our 2016 "best of" lists: