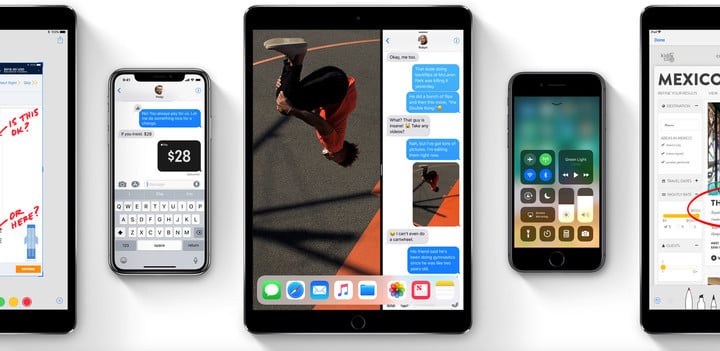 There's
No
Need
to
Be
Concerned
by
the
Number
of
iOS
11
Updates
Apple's Software
December 14, 2017
Apple officially released iOS 11 to the public almost three months ago. And then the updates started coming. So far, there have been eight released for the iPhone and iPad software.
A look at the number of iOS updates in the first three months after officially arriving.
Credit:
Apple 3.0
That's a record number of updates in the first three months, going back as far as iOS 4. And Philip Elmer-DeWitt's Apple 3.0 recently took a look at whether that's a bad sign.
Elmer-DeWitt offers a complete look at the history of iOS 11 releases so far:
iOS 11 was officially released on September 19, 2017.
iOS 11.0.1 was released on September 26, 2017, as the first update to iOS 11. The update contained bug fixes and improvements, including a fix for a bug that prevented emails from being sent from Exchange servers.
iOS 11.0.2 was released on October 3, 2017. It mainly fixed a "crackling earpiece" issue that affected some iPhone 8 and 8 Plus units.
iOS 11.0.3 was released on October 11, 2017. It fixed an issue with the audio and haptic feedback on iPhone 7 and 7 Plus, and an issue on iPhone 6S where the touch input was unresponsive if the device's display had been serviced with non-genuine Apple parts.
iOS 11.1 was released on October 31, 2017. It added over 70 new emoji, fixed the KRACK Wi-Fi vulnerability, reintroduced the 3D Touch multitasking gesture and incorporated other bug fixes.
iOS 11.1.1 was released on November 9, 2017. It fixed a keyboard autocorrect bug and "Hey Siri" malfunction.
iOS 11.1.2 was released on November 16, 2017. It fixed a display issue where the iPhone X screen would become unresponsive due to a rapid temperature drop, as well as fixing an issue with distortion on Live Photos and videos captured with iPhone.
iOS 11.2 was released on December 2, 2017. It added Apple Pay Cash, enabled faster 7.5W wireless charging, and introduced new "Live" wallpapers for the iPhone X. Two new pop-ups have been added to explain the new functionality of the Wi-Fi and Bluetooth Control Center toggles.The TV app now includes a Sports section, and the update also included bug fixes for the calculator bug, the I.T autocorrect bug and the December 2 crash bug.
iOS 11.2.1 was released on December 13, 2017. The update fixed remote access for HomeKit devices following a major security glitch, and also fixed camera autofocus for iPhone 8, 8 Plus and X devices.
Instead of fearing the worse and believing that the sky is falling and Apple's iOS software team is slacking, Elmer-DeWitt surmises that the increasing number of updates has been growing at a steady pace with each major iOS software release. And more than likely, that's due to the continuing complexity and growing number of features of the software.
That's hard to disagree with. While all of the bugs are definitely annoying to users, Apple seems to have been very quick to offer a fix for most of the issues, including the possibly serious HomeKit issue.
With hundreds of millions of iOS devices being used, there are going to be issues no matter what.
Opening up the beta testing program to the public has been a huge help and has definitely led to more stable iOS releases overall. Compared to where iOS was just a few years ago, the tasks that the software can accomplish on the iPhone and iPad has taken a huge leap forward. That's going to continue in the upcoming release cycle, bugs and all.
So the bottom is line is to keep calm and update on.