Track
Your
Fitness
Goals
With
Google
Calendar's
Apple
Health
Integration
Thanks to its latest update, Google Calendar for iOS now lets you connect your fitness goals in the app to Apple Health. Just refer to the following steps to learn how you can do just that.
How to connect fitness goals in Google Calendar to Apple Health
In the Google Calendar app, tap the plus button.
Through the fitness goal creation wizard, select your preferred exercise type, frequency, duration, and time of day.
Tap the Connect button when prompted to connect the fitness goal to the Apple Health app.
Enable access to Workouts data from Apple Health and then tap Allow.
Thereafter, unless the Google Calendar app's access to Apple Health has been revoked, this step will no longer be required when connecting another fitness goal to Apple Health.
Tap the checkmark button to complete adding the fitness goal.
Now you might be asking: What good does it do to connect fitness goals to Apple Health? Well, for one thing, your fitness goals will be marked as done automatically based on activity in Apple Health and the fitness apps connected to it — no need to manually tell Google Calendar that you've finished a session. For another, with the help of Google's machine-learning algorithms, future times for your fitness goals will be scheduled more efficiently based on when you're actually doing your workouts and when you're most likely to complete them.
With this integration, future goal times will be even more tailored based on when you're most likely to complete them. Say you set a goal to run at 6:30 every other morning but aren't actually hitting your stride until 7:15 — Google Calendar has you covered and will adjust accordingly. So not only can Calendar keep track of your activities and performance, it can also help you find the best time to do them.
- Google
To keep you motivated, you can now also see your progress with Google Calendar's new visual performance tracker for fitness goals.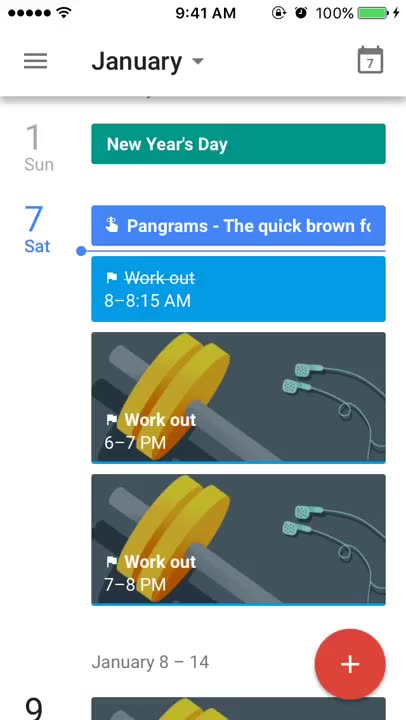 Free
Google Calendar: make the most of every day
Google, Inc.
Learn more about Google Calendar