Help
Those
Furry
Friends
in
Chipmunks'
Trouble
Guide
the
cute
little
creatures
home
in
this
new
puzzler
Pocket Gaming
May 3, 2016
For a new, enjoyable, puzzle adventure comes Chipmunks' Trouble. Your mission is to guide each adorable chipmunk to its correctly-colored home. There are dangers lurking ready to capture your furry little friends, so roll them home to safety.
Chipmunks' Trouble — funny puzzle
Egor Nemov
Guide the chipmunks home
Each of the four chipmunks needs your help to get home. Just swipe to guide the chipmunk dressed in blue to the blue house and the one in yellow to the yellow house, and so on. Swipe in whichever direction necessary to roll those chipmunks to their goals.
It gets puzzling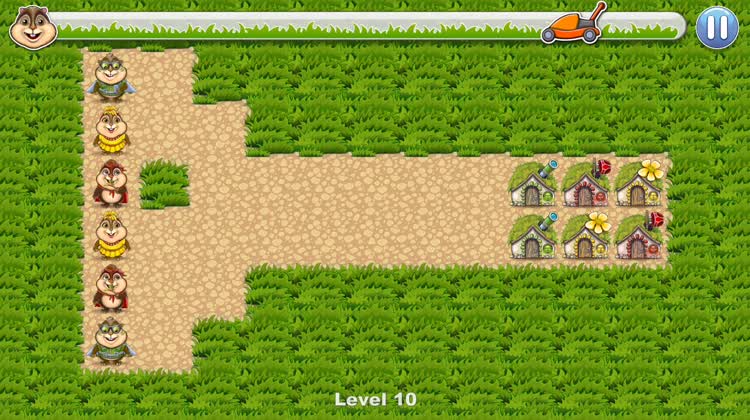 The game starts simple, but soon you will find your chipmunks in puzzling situations. You may need to move some out of the way in order to get others to the correct house. While your moves are not limited, your time is, so keep an eye on the lawn mower at the top showing how much time you have left.
Tons of fun levels
The game has 100 levels for you to roll through that include three unique locations. You will move from a cute country house to a winter wonderland to the driest of deserts on your journey. Each level contains surprises and new obstacles, so see if you can tackle them all.
Get
Chipmunks' Trouble — funny puzzle
Chipmunks' Trouble is a fun puzzler with colorful graphics and bubbly music. You will need your puzzle-solving skills, however, when the levels become more difficult. So, plan your paths, prepare to roll, and watch out for the lawn mowing time keeper.
Chipmunks' Trouble is designed for iPhone and iPad. It is available for free on the App Store and is ad-supported.
Help the chipmunks today, the app is available for free:
Free
Chipmunks' Trouble — funny puzzle
Egor Nemov
in other news, check out: