Oh
My
Demogorgon!
Stranger
Things:
The
Game
is
a
Rare
Treat
for
Gamers
Get
ready
for
Stranger
Things
2
with
this
retro
action
adventure
game
October 4, 2017
Stranger Things: The Game (Free) by BonusXP is an old-school action adventure game that takes place in the Stranger Things universe. If you enjoyed titles like Thimbleweed Park and Death Road to Canada, then you'll get a kick out of the Stranger Things game, especially if you're a fan of the hit Netflix series.
It's October, so it's time for spooky and eerie things. Stranger Things debuted on Netflix about a year ago, and it received much love from fans. It took me a while before I hopped on the Stranger Things hype train, but after I finished it, I was hooked and needed more. I'm eager for the second season of Stranger Things later this month, but it's still some time before we all get it. Fortunately, there's now Stranger Things: The Game to keep us occupied until then.
App Feels Like
$9.99
Thimbleweed Park
Terrible Toybox, Inc.
$10.99
Death Road to Canada
Rocketcat LLC
Visually, Stranger Things: The Game is full of beautiful retro graphics, just as you'd expect it would. After all, the first season takes place in the 1980s, the golden age of gaming. Even the icon resembles an old NES cartridge, which I adore. And while the pixel art style of the Stranger Things game feels classic, there's still a lot of details and textures packed in this digital rendition of Hawkins, Indiana.
The color palette ranges from dark and dim to muted earthy tones to bold and vibrant hues, depending on where you are and what the situation is. All animations are smooth and fluid on my iPhone 8 Plus with no lag, and it feels like the game runs at 60FPS. Even the text is easy to read, thanks to the large size. The chiptune soundtrack is haunting and reminiscent of the show, and the sound effects are well done. Overall, the developers did a great job making fans feel right at home in this game.
Since Stranger Things: The Game is an adventure game, there's a story behind everything. Players must also start in the beginning and work their way through to unravel the mystery and secrets that await in Hawkins, because this town is never normal. The game world is quite vast, and the developers have promised several hours of gameplay for players.
There's two game modes available: Normal (good for beginners) and Classic (hard mode). There are six areas to explore and 30 missions to complete. Seven characters are available to unlock as you progress through the story, with Hopper being ready from the start. Each character has a unique talent or skill as well, such as Lucas' Wrist Rocket or Nancy's collection of baseball bats.
The best part? There are no ads in the game, nor are there any in-app purchases. In this day and age, this kind of game would usually not be free, or push you to unlock the full game through an in-app purchase, so it's kind of shocking.
Controls in Stranger Things: The Game are simple and intuitive. To move, you just have to tap where you want your current character to go to, or just tap-and-hold to move continuously. To attack enemies or hit objects, just tap on them. When money, hearts, gnomes, Eggos, or key items drop, just run over to it to collect it. To activate switches and other interactive objects, tap on it like you would an enemy.
Even though it's an action adventure game, there are plenty of puzzles to solve. For example, in the beginning you have to disarm a laser security system by hitting the appropriate switches. But you'll have to find those switches first, and also eliminate all foes who are in the way. Some thugs are immune to normal attacks, so you'll have to outsmart them somehow and use the environment against them.
As mentioned earlier, each character has a special trait that you'll need to get past the puzzles. Lucas' Wrist Rocket is a ranged attack, so it can hit those switches that are beyond gaps in the floor. And sometimes you need the brute force of Nancy's bat swings to get past fallen logs.
Only one character is shown on the screen at once, so if you want to switch, just use the character swap buttons in the bottom right corner. This is also where you see what key items you're holding, your money, and your health points.
The game that only gets stranger
The Good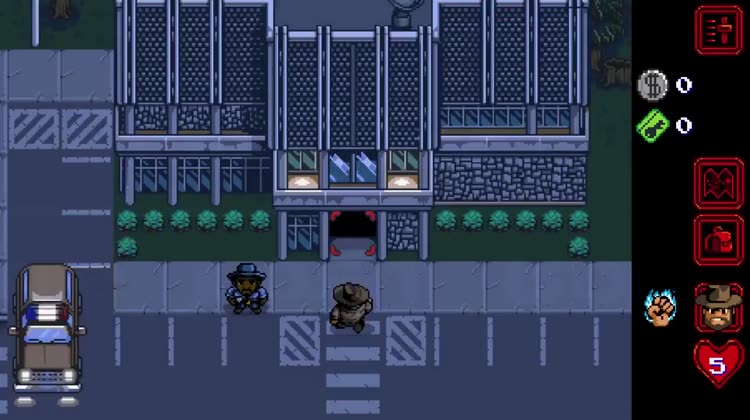 Stranger Things: The Game is a welcome surprise this week. With season two only weeks away, this is a great addition for any Stranger Things fan. The game's vintage pixel art style is nostalgic and soothing, and the chiptune soundtrack and sound effects stay true to the show. I love the fact that all of our favorite characters from the show make an appearance in this game, and they all play their part in the group. Controls are easy and responsive, making this a great game for anyone.
This is the kind of game that I would pay a few bucks for, so it's a bit surprising that it's free with no additional IAPs or ads. Of course, the whole game itself is a giant ad, technically, but it's one that I honestly don't mind.
The Bad

Stranger Things: The Game is a pretty solid promotional release, but it's not without some flaws. The controls work out nicely, but for larger devices like my iPhone 8 Plus, it can be tiring holding the phone in one hand and using my other hand to move around through taps and drags. I wish that there was a kind of virtual joystick option, or at least support for MFi controllers.
The verdict
Even though this is one big promotional release, it's Stranger Things, and it's a top-notch free game that has no strings attached, which is rare these days. The graphics are amazing and smooth. The eerie chiptune soundtrack is fun to listen to, and the sound effects make you feel like you're watching the show.
The game lasts for about 10 hours, and each character has their part to play when it comes to solving the puzzles. For the true dedicated fans, a secret trailer for Stranger Things 2 awaits you if you complete enough puzzles.
I've only just started playing so I'm still in the beginning. However, this is proving to be a worthy addition to my iOS game collection and one that'll keep me busy until Stranger Things 2 gets released.
Stranger Things: The Game is on the App Store as a universal download for your iPhone and iPad for free. There are no ads or in-app purchases.
FREE
Stranger Things: The Game
BonusXP, Inc.