Op-Ed
on
WWDC
2016:
What
We
Got,
and
What
We're
Still
Missing
The
keynote
is
over,
which
means
we
can
sit
back,
relax,
and
mull
over
everything
that
just
happened
over
the
past
few
hours
Apple Announces
June 13, 2016
And just like that, it's over. Apple CEO Tim Cook might have left the stage after making a slew of announcements during the WWDC 2016 opening keynote, but that doesn't mean we have to stop talking about the news. In fact, we're just getting started. Let's take a look back at the keynote that was, and recap everything Apple announced (along with all the stuff we're still missing).
watchOS 3
The wearable is about to get a lot better
watchOS 3
Apple opened its keynote conference with a moment of silence to acknowledge the recent tragedy in Orlando. After asking the attendees to stand in a showing of respect for the victims "and the people who loved them," CEO Tim Cook embarked on the keynote proper.
Kevin Lynch then appeared on-stage to talk about watchOS 3. The first thing he introduced us to was faster launch times for applications on the smartwatch. This is definitely something users of the Apple Watch are going to appreciate, with the sluggish nature of watchOS 1 and 2 being a key complaint among users. But Lynch was only just getting started.
He showed new messaging options, including Scribble: a feature that allows users to draw out messages letter-by-letter using a finger and the Apple Watch's touchscreen. Given the issues most of us are having with Siri on watchOS, this is a feature I'm really looking forward to testing.
There are new faces, and these can be switched between with an edge-to-edge swipe, and Control Center brings iOS-like settings to the Apple Watch via a swipe-up from the bottom of the screen. There's also a nice dock for your most-used watchOS apps, and the thumbnails for these appear live (and update in the background). And Lynch showed off an SOS feature for the Apple Watch, which makes it easier to call the emergency services from anywhere in the world. At this point, I was beginning to feel pretty impressed with Apple's watchOS 3 offerings.
Then Apple showed off some brand new changes for activity enthusiasts: Activity Sharing, and optimizations for wheelchair users. Breathe, too, is another new application that teaches users the mechanics of deep breathing, and syncs up with the built-in heart rate monitor to capture data on how your body is responding.
Did Apple deliver? I think so. In fact, I'm really impressed with the changes watchOS 3 is bringing to the platform. If the software performs as well on the Apple Watch as it appeared to do on stage, the updated OS is set to transform the smartwatch for users.
tvOS
A new look for your living room
tvOS
"The future of TV is apps," Eddy Cue said, walking on to the stage with a grin. I bought a fourth-generation Apple TV (my first ever Apple TV) a few months ago, and I've been enjoying the platform – even if I use a small number of tvOS apps. Cue did announce a bunch of others, including Sling, but none of them really caught my eye.
Then Cue started talking about Remote iOS app, and my interest was captured. Apple is releasing a brand new version of the Remote app that incorporates features from the Apple TV's Siri Remote, and this is a nice feature. Siri on the Apple TV will also allow users to search for movies based on category, and it also supports YouTube search, too (a nice addition). Cue also talked Live TuneIn and Single Sign-On for tvOS, and these sound great if you're based in the United States.
Dark Mode is a really nice addition, though. I'm pleased Apple is bringing this to tvOS; it'll perfectly complement the platform. All in all, it was a small update to tvOS, but nevertheless one that's pushing the platform in the right direction.
macOS 12
What's in a name, you ask?
macOS 12
Craig Federighi appeared on-stage to talk about OS X. And the first thing he announced was the one thing we were pretty sure we already knew: the name change to macOS. Federighi always goes a great job on the stage, and he got a few laughs from the audience as he worked through some of the new changes coming to macOS – with this release being called "Sierra."
Auto Unlock is a great change for users. This really is something I've been hoping Apple would bring to the platform for a long time, and it's the perfect fit for the Apple Watch. Provided you're wearing your Apple Watch, there'll no longer be a need to enter a password when you open up your MacBook. Universal Clipboard is also a wicked improvement (and gained a few gasps from developers in the audience), allowing users to share their clipboard between macOS and iOS, including text, images, and video.
I also love the sound of Optimize Storage, too. This is something your average Mac user is going to benefit a lot from, I think (the rest of us have been using apps like DaisyDisk to free up hard drive space on macOS).
Apple Pay on the Web is something I've already applauded, when we first heard it might be announced. Authentication via Touch ID (or Apple Watch) using Continuity is a nice, more secure rendering of the feature.
But Federighi saved the biggest new feature for last: Siri for Mac. You'll have to take a look at Brent's post for the full low-down on this, because there's a lot going on with Siri on the bigger screen. The intelligent queries, for instance, are a killer feature, allowing users to pin-point a very precide set of files. You can also perform Web searches and drag content, like images, into working documents. And of course, the usual Siri features, like messaging, are available. At this point, and as someone who's used the iPad Pro as his main computer for the last few months, I was beginning to think that macOS Sierra could be the OS release which brings me back to the Mac.
iOS 10
The next generation of Apple's mobile OS
iOS 10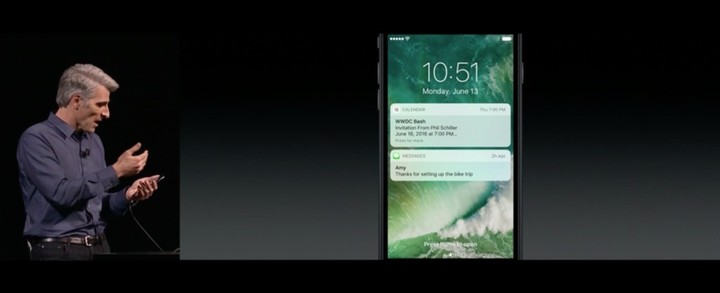 It came as no surprised to see Craig stay on-stage for iOS news: he's Apple's software guru, but he's also a brilliant presenter.
User experience was first on the cards, and Apple introduced a reimagined Lock screen for iPhone. Using a feature called Raise to Wake, iOS 10 allows folks to pick up their iPhone and check on notifications without pressing a button. You can also use 3D Touch in order to respond to notificaitons at the Lock screen, all without having to scan your fingerprint and arrive at the Home screen. Through leveraging smart widgets, users are going to be able to do more at the Lock screen than ever before.
Then Federighi said that Apple is opening up Siri to developers, and the crowd went crazy. Developers have been calling for this for a long time, and it's great to see Apple respond.
I'm not so interested in the changes to QuickType, although I will give the updated keybord a go. Before now, I've found that, despite using it for some time, QuickType's suggestions aren't particuarly accurate. Though I do think multi-lingual typing is a really nice addition to the platform.
I really like the look of Avanced Computer Vision for the Photos app, and I was relieved to see that the feature extended beyond advanced facial recognition (something I've never been too interested in). Memories, in particular, and the app's ability to auto-create mini movies based on the intelligent grouping of images and video, look great.
Eddy Cue jumped back on-stage to talk Maps. The proactive functionality looks interesting, but, like the audience, I didn't get too excited about the incoming changes. Apple Music and News have also received changes, but there's nothing revolutionary here.
Then Craig jumped back on and talked about a product close to my heart: HomeKit. After talking about HomeKit's feature set so far, Federighi introduced Home – a brand new app developed by Apple that allows users to control all their HomeKit-enabled accessories. This is something I've long been calling for (it's something I'm surprised Apple hasn't already developed), and it'll certainly make HomeKit more accessible for the general user. The app integrates with interactive Lock screen notifications, too, and it links with the Apple TV in order to offer secure remote access for users (along with geo-location features). Home is optimized for iPhone and iPad, along with the Apple Watch, and it's something I really can't wait to start using once iOS 10 is installed on my devices.
Voicemail transcription is an interesting feature; spam detection is a nice addition, too.
Then a really big change came to iOS: rich links for the Messages app. This allows users to see inline pictures and video from links pasted into a message thread inside the application. Plus, Tap to Replace for the Emoji Keyboard is like a gift from above.
Apple's changes to the Messages app in iOS 10 aim to turn iMessage into a better alternative to some of the IM applications on the market, but they also leverage the best of iOS in order to enhance the messaging experience for all users. I'm really looking forward to taking the updated application for a spin once I'm running iOS 10 on my iPhone and iPad.
The last iOS change Apple announced was Swift Playgrounds: an incredible new app that transforms how children (and adults) can learn to code. Apple is hoping to inspire the next generation of developers through this amazing application, and it really is an impressive feat. It's a lot like Scratch, a learn-to-code application that's popular among schools, but Swift Playground exists on the iPad (something more and more schools are investing in) and it teaches the fundamentals of a real, usable programming language. As a free app, Swift Playgrounds really is a gift from Apple to the world.
What'd Apple Miss?
The big thing Apple missed this time round concerned the iPad Pro line. I'd been hoping we'd see an enhanced version of iOS designed for the larger, more powerful tablet, but this didn't happen. The closest we got was Split-Screen View for Safari, meaning users aren't going to have to run Safari and a third-party Web browser (like Chrome) side-by-side in order to get two Web views up and running. I still think Apple needs to do something to the version of iOS it ships with the iPad Pro line in order to better take advantage of all that power.
The bottom line
This small qualm aside, however, I think Apple's WWDC 2016 was the best in years. The changes made to the company's four platforms, and particularly watchOS, macOS, and iOS, are pushing the Apple Watch, Mac, and iPhone forward in ways I hadn't imagined. I'm most excited for the Apple Watch, I have to say: it'd been getting the point where the smartwatch was feeling a little slow, tired, and sluggish.
It looks like this, and a lot more, is about to change come fall. I don't know about you, but I can't wait.