Say
Hello
to
iOS
10
With
Redesigned
Messages,
Maps
and
More
The
software
features
some
great
interface
improvements
Apple's Software
June 13, 2016
As expected, Apple took time to officially unveil iOS 10 during the WWDC 2016 keynote today in San Francisco.
10 major improvements
Apple is opening up Siri to third-party app developers.
You'll notice a new feature right off the bat with a redesigned lock screen and rich notifications that will show users more information without needing to unlock their device.
Siri is also getting smarter as the virtual assistant will available to developers to use for their apps. Quick Type is improved with intelligent suggestions on what to respond with and more.
The Photos app is taking a big step forward with automatic facial recognition. The deep learning technology will automatically create albums with specific people, all on the iPhone with your privacy settings intact. It will also provide Memories about your previous photos with topics, people, or dates. Apple's Craig Federighi took time to show off the new Memories app, and it looks great.
Maps is sporting a new look a number of other improvements like traffic incidents on your route and intelligent suggestions. In somewhat of a surprise, Apple is also opening up Maps for use to developers. That will open up a wide variety of new features. For example, you can order an Uber directly from the Maps app.
News has also gotten a fresh coat of paint with a clearer design. It will also automatically create topics based on what you've previously read. Two other additions include subscriptions and breaking news notifications on your lockscreen.
Interacting with HomeKit has also gotten easier with Apple's new Home app. That will allow anyone with a HomeKit accessory to interact with it. The feature is even built into the Control Center. Apple Watch users can also take advantage of the Home app on the wearable device.
Even the Phone app is getting better with voicemail transcription.
As previously rumored, Apple Music has also been redesigned. Our own Joe Wright runs down the changes.
Officially available this fall
Officially available this fall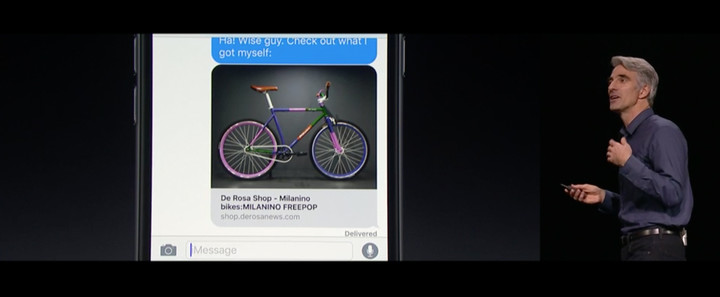 Messages is adding a ton of new features.
Last but not least, Messages is adding a plethora of new features including rich links, a better way to insert Photos, and emoji improvements. With bubble effects, you can change the size of your text to better fit what you're trying to get across. It even supports handwritten messages along with Digital Touch from the Apple Watch.
Developers will also get the chance to access Messages for use in third-party apps.
The first beta version of the software is available for developers today. It will be available to the general public sometime this fall.