Try
to
reach
the
rainbow
in
Cubes
-
Addictive
Puzzle
Game
Join
cubes
and
don't
let
the
board
fill
up
Pocket Gaming
April 12, 2016
For those who enjoy puzzles and are always in the market for a new one comes Cubes – Addictive Puzzle Game. Merge cubes, score high, and try to create the ultimate Rainbow Cube. Just do not let your game board fill up or you are done.
Cubes - Addictive Puzzle Game
INTELLIGENT APPS, LLC
Swipe to join cubes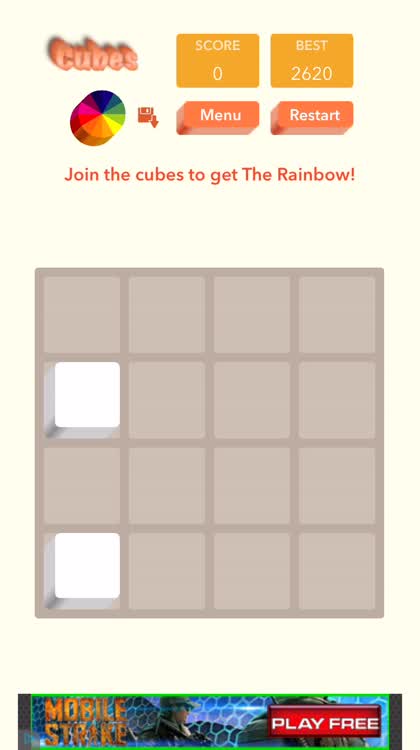 As you swipe, all cubes on the board will move in that direction until they hit the wall. When colored cubes are created, merge them with the same colored cubes to create new ones.
The more colors, the better
You continue to score as you join cubes and do not let the board fill up. See if you can create the supreme Rainbow Cube for the highest score.
Save your games
As long as the board does not fill up, you are in business. Just keep swiping and merging cubes to climb to the top of the Game Center leaderboard. If you have to stop playing, you can save your game and return later, just by selecting the icon at the top.
Get
Cubes - Addictive Puzzle Game
Cubes – Addictive Puzzle Game is not the first of its kind, but it is a fun game. You can easily get sucked into a lengthy game if you continue to do well, so having the ability to save your spot is a great feature. If you are up for a new puzzle game and think you can reach that Rainbow Cube, you can get the game for free on the App Store.
Cubes – Addictive Puzzle Game is designed for both iPhone and iPad. There is a $1.99 in-app purchase to remove the ads.
Free
Cubes - Addictive Puzzle Game
INTELLIGENT APPS, LLC