Unleash
Your
Inner
Street
Artist
in
Vandals
Leave
your
mark
across
the
city
in
this
challenging
turn-based
stealth
puzzler
April 14, 2018
Vandals ($3.99) by ARTE Experience is a turn-based stealth puzzle game that's all about promoting gorgeous street art. If you enjoyed games such as Deus Ex GO and Hitman GO, then you will love Vandals.
Life has been fairly busy for me lately, so whenever I have some time to spare I want to just sit down and bust out some games. It takes the pressure off for a while, and it's relaxing, you know? My favorite genre of game is puzzles, as they're stimulating but calming at the same time. When Square Enix released their series of GO games, I fell in love with them right away. There's just something about those minimalistic puzzles and the mix of stealth that are hard to resist. So when I saw Vandals, I felt it was reminiscent of those games, and I had to check it out for myself. I can definitely say that this one does not disappoint.
App Feels Like
$4.99
Hitman GO
SQUARE ENIX Ltd
$4.99
Deus Ex GO
SQUARE ENIX Ltd
$4.99
Lara Croft GO
SQUARE ENIX Ltd
$4.99
Monument Valley 2
ustwo Games Ltd
$1.99
Mr Future Ninja
Appsolute Games LLC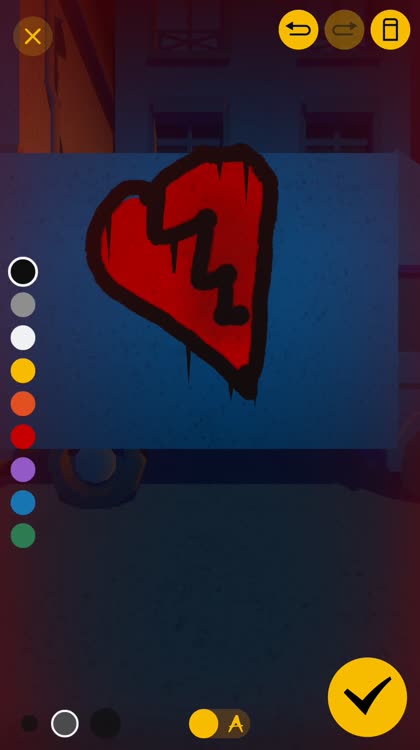 Visually, Vandals is truly stunning. The game features a visual style that reminds me of other games like Monument Valley and Mr Future Ninja with somewhat isometric graphics. However, unlike the dreamscape or futuristic settings of those other games, Vandals focuses on realistic and modern environments, based on real world locations. Each area you'll explore in Vandals showcases inspiration from the locales in real life, but they truly shine with the modern graphical style and lighting. Colors in Vandals are a nice mix of dark tones and bright and vibrant neons that provide excellent contrast with each other. Animations are smooth and fluid, so there's no issues of lag on my iPhone 8 Plus. The ambient soundtrack is rather atmospheric, and the sound effects are lifelike. Overall, the developers have knocked it out of the park here with the visual and audio design.
Since Vandals is a puzzle game, it's level-based like many before it. There are five chapters, each taking place in a major city from all over the globe. At the moment, Vandals includes Paris, Tokyo, via São Paulo, Berlin, and New York. Each locale has 12 puzzles to solve, and you must clear the previous one before you can progress. There are three stars to earn on each level, though one is technically a "bonus" that you can collect on the stage if you choose to, though it's usually out of the way.
The goal of Vandals is simple and straightforward: sneak around police surveillance and tag walls with your glorious works of spray paint art. However, it becomes harder and harder to do this when security becomes more intricate and trickier to get around.
Each puzzle consists of pathways on the floor that are represented by solid or dashed lines. Dashed lines are only for you to sneak by, and police cannot traverse on these. The dots on the paths indicate one space, and you can only move one space per turn. Just swipe in the direction you want to go. As you move, the police move as well, and the red line represents their eyesight. Don't be caught in the red, because that's when the police catch and arrest you. Your goal is to reach the space with the spray paint icon on it to paint the wall, and then reach the goal space, where you then sneak out of the area like nothing ever happened.
You're equipped with a whistle, which you can use when you need to distract the police. To use it, just tap on the icon in the bottom right corner. You can also pick up empty bottles on certain spaces, which can be thrown to another nearby space to distract the cops. With these two tools, you'll have to plan your moves strategically to spread your art and get out of there.
Again, up to three stars may be earned on a stage. You get a star for being invisible (not ever detected by the cops), another for completing the puzzle in a certain number of moves, and the last one can be collected on the stage itself. You need enough stars to gain access to the other areas, so try to get as many as you can.
The best part about the game is the street art part. Once you get to the walls, you're able to freely draw whatever you want, or you can just tag it with your name that you chose at the start of the game. Your creations get saved on each stage, and a photo gets put into your in-game Black Book. You can share your best artworks with others if you want, which is pretty cool.
In addition to challenging puzzles and the ability to create your own street art, Vandals has a lot of background info on the evolution of street art since the 1960s. As you play, you'll unlock more facts and tidbits from 40 experts, and these are accessible from the Black Book as well.
A turn based stealth adventure.
The Good
Vandals is an excellent stealth puzzle that rewards creativity. The visuals are gorgeous to the eyes, and the original music is immersive. Controls are simple enough for anyone to pick up, and the game can be played in either portrait or landscape modes, along with a left or right-handed option. Being able to weave in your own artworks into the game is a nice touch, and it definitely encourages creativity and uniqueness among each player.
The Bad
While there's a lot of good going on in Vandals, I think that the animation speed can be a bit slow and tedious at times. This is especially true when transitioning to the spray painting screen on a level you've already done, going through menus or stages, or if you need to retry a stage because of failures. I wish that there was a way to speed up some of the animations, or even skip them. Maybe the developers can consider that in a future update.
$3.99
Vandals
ARTE Experience