Merge
bears
and
unravel
a
heartfelt
story
in
Puzzle
Bear
December 16, 2015
Puzzle Bear ($0.99) by Pine Entertainment is a puzzle game that is oozing with cute charm and will be a hit for the entire family during the holidays. If you enjoyed games like Layer, Triple Town, or Alphabear, then you will like what Puzzle Bear brings to the table.
Even though I've gone through hundreds of games on my iOS devices over the years, there will always be the one genre that I keep coming back to for mobile: puzzle games. There really is nothing like sitting down with a good puzzle game that will keep you busy for hours, which is both relaxing yet stimulating at the same time. I have played pretty much every popular puzzle game out there, but I'm always on the lookout for more. As a bonus, I love adorable things as well. Naturally, when news of Puzzle Bear hit my inbox earlier this week, I knew it was going to be right up my alley, as well as any other cute puzzle game fan.
Visually, Puzzle Bear has an endearing cartoonish style that I am in love with. In fact, it even reminds me a bit of the bears from Triple Town and Alphabear, though the characters in this game still retain their own bouncy and cheerful personalities. In addition to the cartoonish aesthetic, the bears and other animals have a paper cutout feel to them, which makes it even more charming. The colors in the game range from soft to bright and vibrant, so it is a beautiful visual package. Animations are smooth and fluid, and the soundtrack is rather tranquil and calming, making this a perfect game to sit back and relax with.
Like other puzzle games, Puzzle Bear is based on levels that players must go through one-by-one. There are also several different "worlds" to go through, with each of them having their own set of stages. Only the first area is available to you from the get-go — the other sections must be unlocked by having enough stars. At the moment, there are 65 levels to solve, which should be plenty considering the price of the game. The developer is also promising more levels in the future, so there is something to look forward to as well.
The main objective is to merge all of the smaller bears into one bear, while collecting the stars along the way. Even though this sounds easy, it takes careful planning to accomplish this, as the bears can only merge if they are adjacent to each other with one space between them. To combine two bears, just tap on a square that has a dotted line outline — this means that two nearby bears can merge into that space. Repeat this process until there is only one bear left. If you make a mistake, you can rewind your moves by tapping on the green button in the bottom right corner. To reset the puzzle, tap on the red button. Each stage has a timer going so you can see how long it takes you to solve, but this will not have an impact on the stars since you collect those on the board itself. I'm a bit annoyed at the fact that restarting the level won't reset the timer though, as I think that it should. Not a big deal, but something worth noting.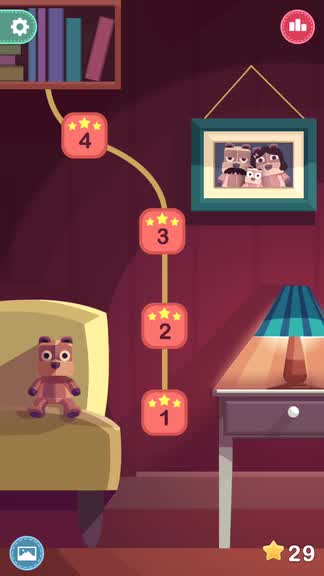 As you progress through the game, you will also end up finding "moments," which are photographs that feature the lovable bear as a baby and tells a story. Another thing to look forward to as you make your way through the different settings will be the variations of puzzle gameplay, as new mechanics and obstacles will be added later on. In addition, you can create special bears by meeting certain conditions, such as merging four bears together to create one moving bear, but it can only move once, so make it count. The new gameplay elements keep the game fresh and challenging, while also gradually increasing the difficulty level of puzzles. There is Game Center integration for leaderboards and achievements, which adds a bit to the replay value.
As a big fan of cute games and puzzles, Puzzle Bear is a new favorite of mine this week. The visuals are lovely, the music is soothing, controls are simple enough, and the gameplay is rather challenging. I just wish that resetting the puzzle would restart the timer, so hopefully the developer can change that in the future. I'm still keeping this on my device so I can play it whenever I have some spare moments, and I'm definitely looking forward to the upcoming levels.
I recommend checking out Puzzle Bear if you are in the mood for a sweet puzzle game that is friendly enough for anyone in the family. You can find Puzzle Bear on the App Store as a universal app for just $0.99.
Mentioned apps
$0.99
Puzzle Bear
Pine Entertainment
$1.99
Layer - simple is hard
Gamenauts
Free
Triple Town - A fun & addictive puzzle matching game
Spry Fox, LLC
Free
Alphabear: Word Puzzle Game
Spry Fox, LLC
Related articles