Get
your
funk
on
in
Riff
the
Robot,
a
unique
pachinko
game
June 5, 2015
Riff the Robot (Free) by Oh So Shiny is a colorful new pachinko-style bubble shooter puzzle game that is similar to the likes of Peggle, Peggle Blast, and Super Monkey Ball Bounce. If you enjoyed any of these marble shooter games, then you'll get a kick out of Riff the Robot.
Peggle is the definitive poster child for the classic pachinko genre. I remember when I first picked up the original Peggle for iPhone back in the day and spent dozens of hours just playing it and beating the game, then coming back for more because why not? It was one of my favorite games at the time (and still is), so I was pretty sad when I learned that Peggle 2 was never coming to iOS, and then we got the annoying freemium model that is found in Peggle Blast. When I saw the trailer for Riff the Robot, I had hopes, because it looked incredibly fun from the trailer. Now that it's out and I spent some time with it, I believe it's one that is worth checking out.
The visuals in Riff the Robot are gorgeous, especially on Retina screens. The game is filled with bright and vivid colors, super polished elements, and zany looking characters — plus, who can resist such a cute little robot ball? Riff reminds me of Eve from Wall-E, which isn't a bad thing. The stages all feature flashy nightclub-like backgrounds, colorful pegs, and bright lights, which fits the futuristic theme of the game nicely. The bubbly animations are smooth and fluid, so there is no lag on my iPhone 6. I'm also a fan of the funky soundtrack, as it is fairly upbeat and quirky. The sound effects in the game are also a delight.
Riff the Robot comes as your typical puzzle game fare, so it is based on levels, with 80 to go through. In order to advance, you need to clear the objectives of each stage and then reach the Warp Gate to complete it. Each level has up to three stars to earn as well, which is dependent on the number of points you acquired. There's a star threshold meter that you can easily refer to in the game to see if you're on the right track. You need to earn enough points for at least one star too, so you can't just hit all of the green pegs and call it a day, otherwise, it's a failure. This adds a new layer of difficulty to the game but keeps it enjoyable at the same time.
The stars also give you random rewards at the end of a stage through a spinner, so the more stars you get, the more bonuses you earn. Eventually, after some point in the game, you'll unlock power-up items that can be used before starting a level, and these can help you out immensely.
The controls in the game are simple and straightforward, though they do take some time to get used to since it is different from classics like Peggle. You launch Riff with the slingshot at the bottom of the screen, using the trajectory line to guide you, and it will take off, flying and bouncing off pegs, bumpers, sliding on speed boosters, and even sticking to magnetic launchers. To keep things interesting, Riff also has side thrusters built in on its body, so you can tap on the left or right side of the screen to make him fly or roll in that direction.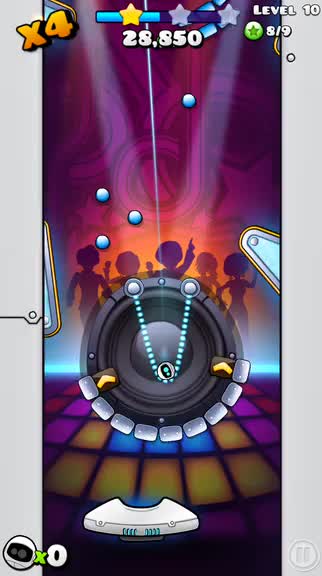 Additionally, Riff the Robot is unique in that you don't have multiple "balls" to use. Instead, you just have one Riff, and you just have to make sure that it doesn't fall beyond the slingshot at the bottom. There is a moving basket under the slingshot that can save Riff if you fall in it, but your aim has to be precise for that. If you miss the catch, then you lose Riff and you've failed the level.
So far, I'm loving the distinctive characteristics of Riff the Robot that set it apart from other bubble shooters and pachinko games. However, I'm a bit annoyed that the game is freemium — this is a title that I would have been happy to pay a few dollars for. Because of this, the game uses an energy system, which I wouldn't have an issue with if it was done better. Regardless of success or failure, each game will cost you one energy to play. You can purchase more energy (or power-ups) with coins, and if you are low on coins, those can be purchased with real cash. I would have preferred it be one energy until you fail a level, or at least let me pay to get rid of the energy (and ads) and play as long as I want without restrictions. Oh well — I can live.
Regardless of the energy cost for playing each level, I'm enjoying Riff the Robot a lot. The visuals are stunning, the funky disco music adds charm and personality to the game, and the controls are easy to learn (but difficult to master). The unique gameplay concept also makes this title stand out above the rest of the competition. There is also Game Center and Facebook integration for leaderboards, and a handful of achievements to obtain.
I recommend giving this title a try if you are even remotely interested in a new bubble shooter pachinko game. Riff the Robot can be found on the App Store as a universal download for free.
Mentioned apps
Free
Riff the Robot
Oh So Shiny
$0.99
Peggle Classic
PopCap
Free
Peggle Blast
Electronic Arts
Free
Super Monkey Ball Bounce
SEGA
Related articles