Show
off
your
moves
in
Ski
Safari
2
August 31, 2015
Ski Safari 2 ($1.99) by Sleepy Z Studios Pty Ltd is the much-anticipated sequel to the original Ski Safari that launched back in 2012. It joins the handful of other endless skiing games released this year, including the highly-acclaimed Alto's Adventure and Rad Boarding. Was it worth the three year wait?
I remember when Ski Safari first came out — it was definitely one-of-a-kind back then. It also seemed like everyone I knew on the Internet was playing it and even talking about it. Climbing to the top of the leaderboards was a tough thing since no one could stop playing, including myself. Yes, I spent hours and hours on the original Ski Safari, seeing how far I could go and trying to surpass my friends on the leaderboards. Then, after a few months, I just kind of forgot about it. However, when I first heard that they were coming out with Ski Safari 2, I was hit with a sense of nostalgia and became excited for the release. Now that it's out, I must say that I'm not disappointed.
While the original game had some good graphics at the time, it's okay to say that they are now dated compared to today's games. Fortunately, Ski Safari 2 has revamped the visuals, so even though the mountain and cabins look the same, the new graphics are much more polished. Character models look better, including the new female character and animals. Colors in the game are bright and vivid, especially in the two new environments that you can unlock as you progress. Animations in Ski Safari 2 are as smooth and fluid as ever, so I had no lag on my iPhone 6. The game retains the original quirky soundtrack and sound effects as well, so it should be welcoming to players of the original game.
While Ski Safari 2 sticks pretty close to the original formula, they did make a lot of changes to make it feel like a brand new game. At the core, this is an endless skiing game, where you see how far you can manage to outrun the inevitable avalanche behind you. However, now there are two characters to choose from, so you now have Sven and his sister, Evana. Both of them can use skis or the new snowboard, and there are plenty of accessories and new upgrades in the shop. While the outfits and scarves are purely cosmetic, the different types of skis and snowboards you can purchase will affect gameplay due to some special effects. The two additional worlds (Jurassic Lark and Twister Canyon) can be purchased once you have enough coins.
The controls in Ski Safari 2 are the same as the previous games, where your character moves forward automatically, but you just tap the screen to jump, and hold your finger down for them to perform a backflip while in the air. However, a new thing that they've added is the ability to do "tricks," and you can perform these by swiping vertically and horizontally when you're in the air. There are different tricks that you can do depending on whether you're just on your basic gear, on an animal, or even using a vehicle. Each trick will net you some points, so it's important to take advantage of them if you want to maximize your score on the run.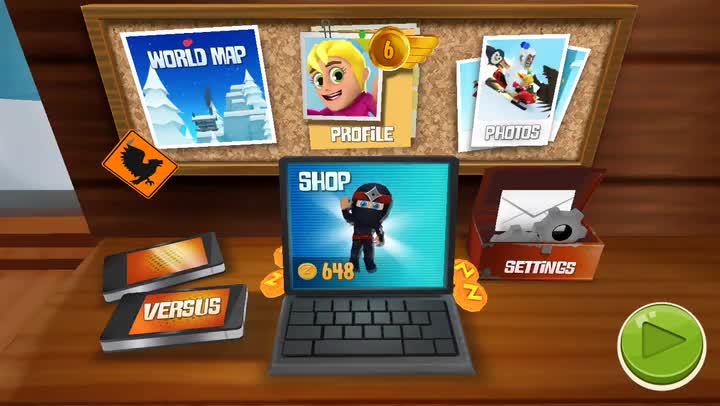 The game makes use of a rank system, where you need to complete objectives to earn a star, and when you get enough stars you level up. In Ski Safari 2, leveling up will earn you some bonus rewards like a bigger max multiplier, more coins to spend, and it unlocks new items in the shop. To keep things fresh and interesting, each world will have its own set of objectives for you to complete, so if you're getting frustrated with one, just try out another area.
Finally, the last major new addition to Ski Safari 2 is the new multiplayer mode. This allows you to compete head-to-head with a friend to see who can be the king (or queen) of the mountain. In this mode, you can grab power-up items like snowballs and flipping your opponent's screen upside down — all to give you the edge in making the quick escape. Unfortunately, the Versus mode only works locally, on the same Wi-Fi network. Players can either host the room or enter the game code to join an existing room. I would like to see some way of doing online battles in the future, if it is possible.
I've been spending a good amount of time on Ski Safari 2 since the weekend, and I must say, this is a great sequel. The visuals are lush and detailed, the music is delightful, the one-touch controls always feel natural and intuitive, and the challenging gameplay will keep you busy for hours, perhaps even days. Plus, with the amount of content that you can unlock, there is little reason to not keep playing.
I highly recommend checking out Ski Safari 2 if you were a fan of the original or enjoy endless runners in general. You can get Ski Safari 2 on the App Store as a universal download for $1.99. There are in-app purchases for more coins if you don't feel like grinding for them.
Mentioned apps
$1.99
Ski Safari 2
Sleepy Z Studios Pty Ltd
$0.99
Ski Safari
Defiant Development
$1.99
Alto's Adventure
Snowman
Free
RAD Boarding
Noodlecake Studios Inc
Related articles