Want food? Just Yelp it and have it delivered
Eat24 Food Delivery
by Yelp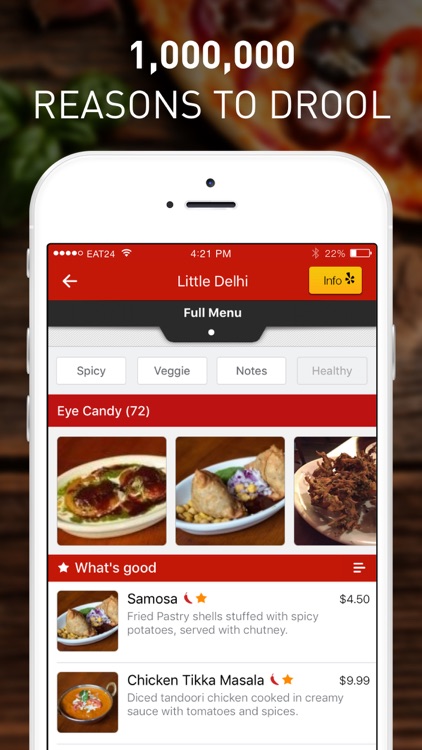 FREE

in the App Store
Yelp Eat24 is a food delivery app that is beautiful to look at and is directly integrated with Yelp's star rating system. You can filter nearby restaurant results through several different factors, and get offers exclusive deals to save some dough.
What is it about?
Yelp is something that everyone turns to for reviews of restaurants and businesses before trying something new. But now Yelp does so much more — they are now in the food delivery business. As they say, Yelp Eat24 is "like a food truck in your pants." The app itself is fairly beautiful, and it is rather easy to get some grub. Just let the app find your location, and it will pull up nearby restaurants who are delivering through Yelp. You can search for specific types of food, or just filter by top rated, distance, newest, minimum total for delivery, and other factors. The best part of Eat24 is the fact that since it's integrated directly with Yelp, you get to see Yelp star ratings, which is what most people go by nowadays anyway. There are even exclusive offers available through the Eat24 program, so it's always good to keep an eye out for those. Place your order through the app, and then you can either have it delivered or pick it up. Eat24 can save your payment information as well as multiple addresses, which is convenient and saves time. No matter what you're in the mood for, chances are you'll be able to get something good with Yelp Eat24.
For those who...
Love Yelp and need star ratings
Want a beautiful app
Like to have choice
Not for those who...
Don't care for Yelp
Prefer more choices for food
Aren't particularly interested in exclusive deals
Why we love it
It's beautiful and shows Yelp star ratings for every restaurant, which is an important factor these days when deciding where to eat.
App Store Description
Your iPhone can now feed you. No, your phone hasn't learned to cook but you won't have to either, thanks to the free, easy-to-use Eat24 Order Food Delivery & Takeout app.

Order food delivery from over 40,000 restaurants in 1,500+ cities, with more being added each day. Search 24 hours a day from wherever you are, or wherever you're going to be when you're ready for some food. The Eat24 app remembers your preferences, which saves you time, and gives you coupons on a regular basis, which saves you money. Oh, and because 24 is in our name, that means you can definitely order 24 appetizers for yourself and not feel the least bit bad about it. At least we're pretty sure that's how it works.

What can our app do?
- Search for specific cuisines, restaurants...even particular dishes.

- It has Yelp inside. See what the foodies of Yelp think about a restaurant without leaving the app.

- Eye Candy. Eat with your eyes and browse delicious food photos on the restaurant menu page. As if you weren't hungry enough already.

- In unfamiliar territory? Search by your current location, order, and the Eat24 app will have it waiting (well, really the restaurant will, but you get the idea).

- Like to play favorites? We understand completely (Mom always liked us best). The Eat24 app lets you save your favorite restaurants so you can find them more easily next time.

- Using filters to sort by distance, newest, top rated, delivery/pickup. Plus sort by personal preferences like spicy, healthy, and more.

- Do you enjoy entering your credit card numbers over and over again? That's a rhetorical question, no one does. Which is why the Eat24 app lets you scan your credit card directly into the app and securely stores your payment information for you.

- Hate credit cards? Use Apple Pay or PayPal!

- 24 Hour Live chat and order status support. If it isn't right, we'll make it right. No robots, no problem.

- Cash back for future orders through our CashCoupon rewards system.

- Exclusive offers and content through our Eat24Hours VIP program.

- Eat24 Notes. Write a note about your meal right on your phone and remind yourself to order/not order an item again. (Because hunger affects memory in mysterious ways)

- We added the popular Tweet My Meal function, because everyone knows that if you didn't tweet about it, it didn't actually happen.

Best of all, once your order's in, Eat24 handles every aspect of the delivery experience. Which means no more screwed-up orders. No more wondering where the delivery driver is. Just the ability to take back a few precious minutes of your day and enjoy. Something not quite right? Hit up our 24 Hours Live Support within the app and chat with a real human being about any issue or question you may have. We'll make things right.

Tap, Relax and Enjoy with the Eat24 app in Los Angeles, San Francisco, Seattle, Washington DC, Miami, Baltimore, Las Vegas, Boston, Chicago, New York City, San Diego, Houston, Denver, Atlanta, Phoenix, Austin, Philadelphia and almost every other U.S. city, with more being added every day