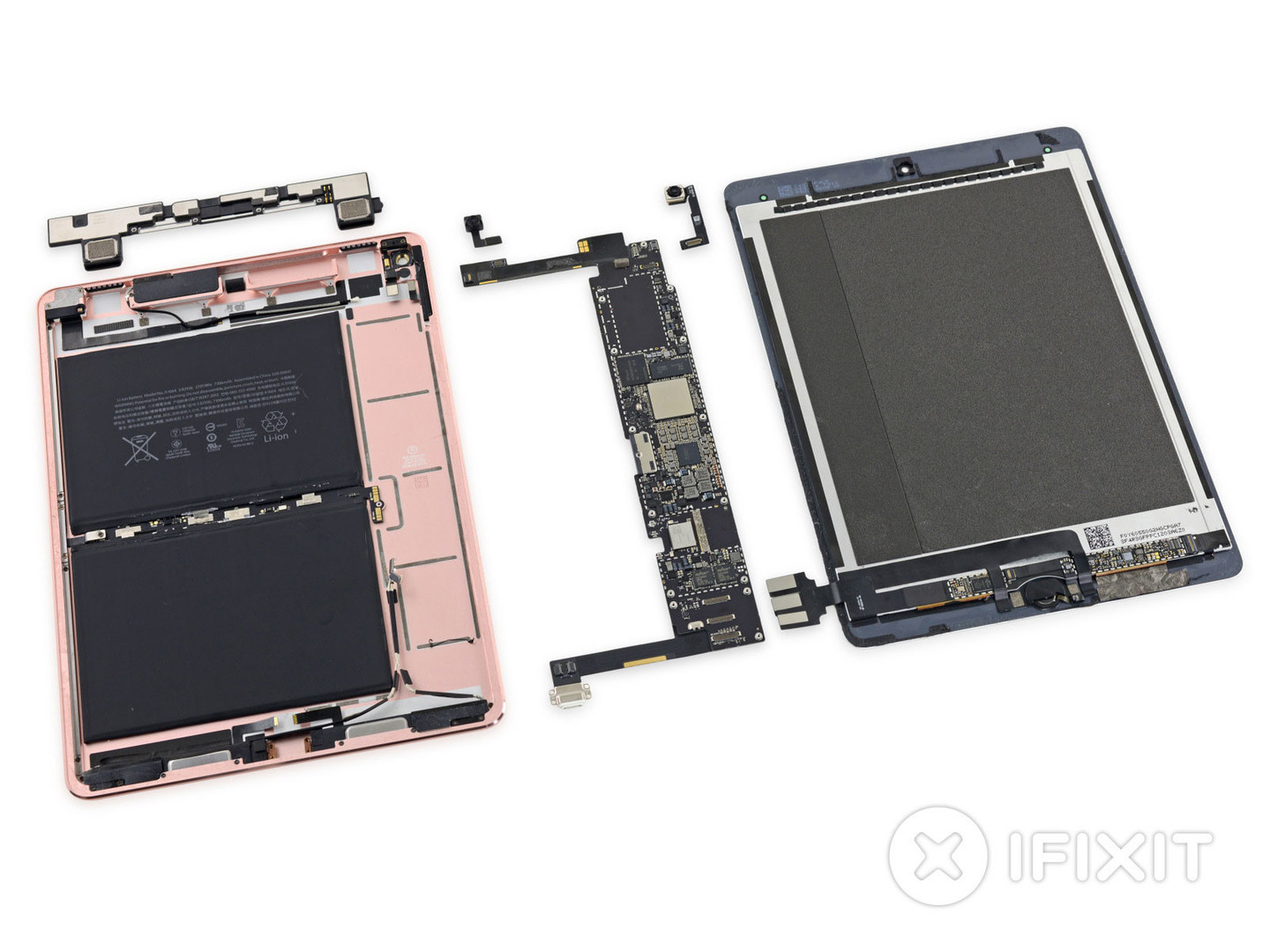 A
teardown
of
the
9.7-inch
iPad
Pro
shows
some
internal
changes
The
tablet
officially
hit
the
market
last
week
iDevices
April 4, 2016
An interesting teardown of the new 9.7-inch iPad Pro by iFixit shows that Apple needed to make some major changes to the tablet to fit in new technology.
A new look on the inside
In a new configuration, the display cable is located on the bottom right side of the tablet.
The smaller iPad Pro is extremely similar to the larger tablet that was introduced back in late 2015. But to house everything in a smaller space, the tablet's internals were redesigned. For example, the display cable is located in the bottom right corner – which is a new configuration. There are also new antenna interconnect boards.
Unlike the 12.9-inch iPad Pro, the speaker enclosures don't take up as much space as the logic board is placed on the side and the speakers are squeezed into the top and bottom.
And the entire package is held together by what the firm calls "gobs of adhesive."
Not surprisingly, the new iPad is powered by a 27.91 Whr battery, which is very similar to the iPad Air 2's 27.62 Whr cell.
The official repairability score is 2/10. That's less than the 3/10 score of the iPad Air 2.
True colors
The new iPad Pro starts at $599 for a 32GB model.
Officially launching late last week, the smaller iPad Pro's screen is 40 percent less reflective and 25 percent brighter than an iPad Air 2.
And most notable is the new TrueTone feature. It measures the color temperature of the ambient light and changes the display to match.
Like its larger sibling, it does feature four speakers and is powered by an A9X processor and an integrated M9 motion processor. That means it will also support the always-on "Hey Siri" command.
The entry level price for the device has jumped up $100 compared to the iPad Air 2. A 32GB Wi-Fi version is $599 while a 128GB edition is $749. A first for the company, a 256GB model, is $899.
Buyers can select from four different colors – space gray, silver, gold, and for the first time rose gold.
Wi-Fi + Cellular versions are also available. The 32GB edition is $729 while the 128GB and 256GB versions are $829 and $1,029, respectively.