In
iOS
10.3,
It's
Easier
Than
Ever
to
Manage
Your
iCloud
Settings
iDevices
April 4, 2017
On your iPhone, the various configurations for iCloud used to be scattered throughout your device's Settings app. If you wanted to change your security preferences for iCloud, you'd go to one place. To modify your iTunes account information, you had to go somewhere else. If you wanted to manage the devices connected to your iCloud account from your iOS device, you were plain out of luck. I use the past tense here because a quietly announced change in iOS 10.3 has brought all of your iCloud settings together into a unified pane.
Shuffled Under 'Other Improvements and Fixes'
Shuffled Under 'Other Improvements and Fixes'
Even if you're one to read release notes for new versions of iOS, you might have missed this one. The new iCloud settings view is only briefly mentioned, buried within "Other improvements and fixes" of the release notes for iOS 10.3. The second item reads, "New Settings unified view for your Apple ID account information, settings and devices."
Everything That Was Scattered Is Now Together
Everything That Was Scattered Is Now Together
You'll find the new iCloud configuration link conveniently located at the top of the Settings app. Just look for your name and profile picture, along with text that lets you know you can configure your "Apple ID, iCloud, iTunes & App Store." Tap on it to go to the new unified settings view, and we'll take a tour of the new settings pane.
Within this settings page, one of the first things you can do is quickly and easily change your profile picture. Just tap on the image, and you'll be prompted to either take a picture or choose one from your Photos library. It's a very nice way to personalize your iCloud experience.
You can also set up your contact information, such as telephone number and email address. You'll also find options to opt in or out of certain Apple announcements, recommendations, and news updates.
Under Password & Security, you'll find the option to change your iCloud and iTunes password. You can also enable two-factor authentication from here, as well as change your trusted phone number. Finally, there's a link to get a verification code to sign in on another device or at iCloud's web page.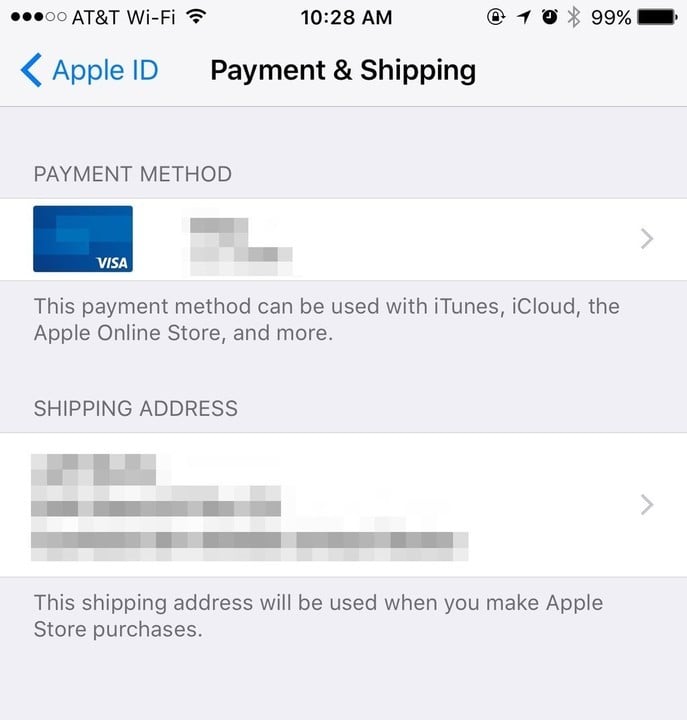 Next, we have Payment & Shipping. In this section, you're able to configure your default payment method as well as your shipping method. It's a great way to personalize your shopping experience with the Apple Store app.
The original iCloud settings pane that used to be hidden further down in the main Settings page has been relocated here. This is where you manage your iCloud storage, and configure which apps can use the cloud service. You can also turn iCloud Drive on or off from here, as well as set whether apps like iBooks, Pages, Numbers, and more Apple and third-party apps can store documents and data in iCloud.
After that, you'll find the iTunes & App Store settings. Here, you can sign in or out of iTunes and the App Store. This is also where you should look if you want to enable automatic downloads of new purchases. You can configure whether or not your iPhone should use cellular data for those downloads from here.
Something New and Different
Something New and Different
A new feature has also found its way into the iCloud settings. You can now see all of the devices that have been signed in using your iCloud account. For iOS devices, you're able to turn Find My iPhone and iCloud Backup on or off. You can also view important information about your device, such as the model, version, phone number, serial number, and IMEI. You'll also find your Apple Pay information here, with an option to remove the card (in case your device is stolen, for example.) See a device you don't recognize? Remove it from your account, right from this page.
For macOS devices, you get access to a bit less information, but it's still quite useful. You can view the model, version, and serial number. You can also launch Find My iPhone to locate the device. Finally, you once again have the option to remove the device from your account if you don't recognize it.
A Nice Addition to iOS
The unified settings view for iCloud is a welcome addition to iOS 10.3. The fact that Apple has placed it prominently at the top of the Settings app is also nice, since you don't have to hunt for it any longer. I'm also a big fan of all of the control over your iCloud account that settings app provides you, even allowing you to remove devices from your iCloud service if you don't recognize them.