Unleash
your
inner
warrior
and
match
your
way
to
the
top
in
Color
Heroes
Saga:
The
Cube
War
May 21, 2015
Color Heroes: The Cube War (Free) by Galante sp. z o.o. is a block matching game that is unlike anything you've played before. If you want to test your matching, coordination, and reflex skills, then Color Heroes Saga is the perfect little mobile game to play in your spare time.
For me, when it comes to mobile games, I prefer titles that can be enjoyed in short bursts throughout the day. For this, the natural fit are puzzles or matching games, which happen to be some of my favorite genres already. However, it seems that the market is oversaturated with the match-three genre lately, so I end up more drawn to games that have unique concepts and mechanics compared to the competition. In this case, Color Heroes caught my eye when I first learned about it on our GamingSoon site, and I was eager for the release. Now that it's out, I got my hands on it and am having a hard time putting this one down.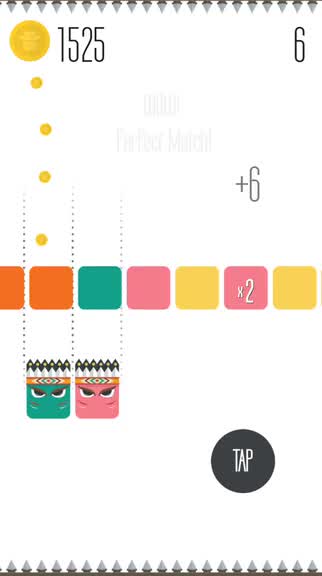 Color Heroes has a flat and minimalistic look to it, which should appeal to anyone who is a fan of this popular design trend. The game has a stark white background that complements the vibrant and rich colors of the blocks nicely, as it provides contrast and visibility — nothing gets lost, and there are dotted lines to help you align your matches up. Each warrior that you can play as has their own distinctive appearance and fighting style, though the basic gameplay doesn't change much with them. Animations are smooth and fluid in the game, so I had no lag on my iPhone 6. The game features soothing tunes in the background that fit with the "warrior" theme, but each character has their own soundtrack as well, so there is a nice variety of background music to listen to. Overall, Color Heroes is a nice visual and audible treat.
There is only one game mode in Color Heroes, and it is a survival mode — how long can you survive? The gameplay mechanic is simple: you control a block-shaped warrior who must punch and strike like-colored cubes in order to make a match. After each match, your warrior's color will change, and another block gets added to you. When there are multiple blocks to match up, things get complex and the stakes get raised. The game ends when your warriors hit a different colored cube.
The controls in the game are straightforward, only requiring one touch on the screen. Your warrior starts out on the left side of the screen, and will start floating upwards, but there are spikes on both the ceiling and floor. You tap on the screen to have the warrior hit like-colored blocks along the moving belt in the middle, and then you'll end up below the belt, slowly falling to the ground. You have to make matches quickly to have your character alternate between the top and bottom halves of the screen, without hitting the spikes or wrong blocks. It sounds easy, but it gets difficult later on as things speed up.
Fortunately, there are some power-up blocks that may appear on the moving belt of blocks. Some blocks have a plus symbol on them, which means you just get that many more coins if you hit it, others will have a multiplication symbol and number, which multiplies your score, and then there are the slow-mo blocks that slow things down for a brief amount of time. If your warrior matches the color of any of these power-up blocks, make sure to get them for their useful bonuses.
The moment your warriors hit the wrong blocks, and you have no more warrior blocks left, then the run ends. Your score is determined by the number of blocks that you successfully matched, so while it starts off a bit slowly, you'll be racking up the points when things pick up.
The coins that you earn can be spent in the shop to unlock more warrior types, as well as getting decorations for their fort. These items don't affect the gameplay in any way, which I was a bit let down by, but it is nice to see a fully-furnished fort for your warriors once you obtain all of the items. It's the sense of achievement that keeps you motivated.
As if the gameplay itself wasn't enough to keep you coming back for more, there is full Game Center integration for leaderboards and achievements. The replay value of this game is high, and guaranteed to keep you busy for a while.
To kick off the launch, Galante is also holding a contest for one week, with the prize being a $500 iTunes gift card. This contest begins May 21 and runs until May 27, 2015, and all you have to do is download the game, log in to Game Center, and get your high score on the leaderboards. Then share your score on Twitter or Facebook (needs actual proof) with the hashtag #CubeWar. The person with the highest score will win the gift card. For more information about the contest, check this link.
I love challenging matching games, and Color Heroes Saga is my top pick for the week. The visuals are fantastic, the music is delightful, and the one-touch controls mean you can pick this up and play it anywhere, anytime. The gameplay itself is fun, different, and fairly addictive. I highly recommend checking this one out if you're a fan of matching games.
Color Heroes: The Cube War can be found on the App Store as a universal download for free. There are no in-app purchases.
Mentioned apps
Free
Color Heroes: The Cube War
Galante sp. z o.o.
Related articles