Outrageously
Ride
the
Shining
Sea
in
Run-A-Whale
May 16, 2017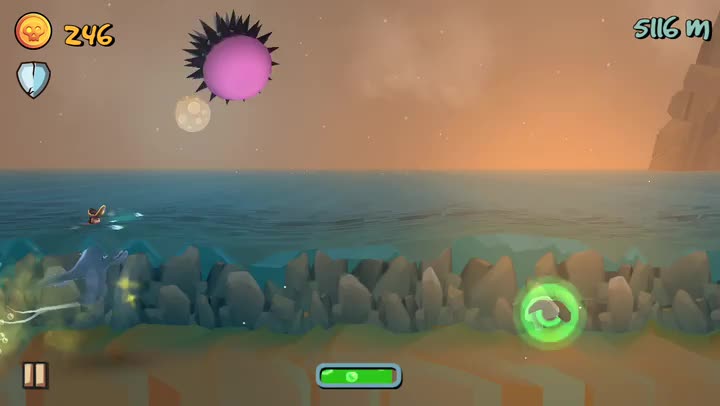 Run-A-Whale ($0.99) by Guillaume Loquin is an infinite runner adventure that allows you to ride a whale in three different ways, almost like a skateboard. If you enjoyed games like Alto's Adventure and Tiny Wings, then you will appreciate having Run-A-Whale.
While infinite runner games started off strong in the early days of the App Store with titles like Canabalt, they have definitely waned off in popularity in recent years, with a few exceptions like the more recent Alto's Adventure. I know I started off in the beginning by downloading most of the endless runners, but of course, my interest in them dropped significantly after realizing that most of them were just rehashes of each other. But I'm not saying that every infinite runner that comes out is the same thing as before, because there are some developers who think outside the box and differentiate themselves from the norm. Run-A-Whale by Guillaume Loquin is one of those titles. If you need a game to relax to this week, do not hesitate to pick this one up.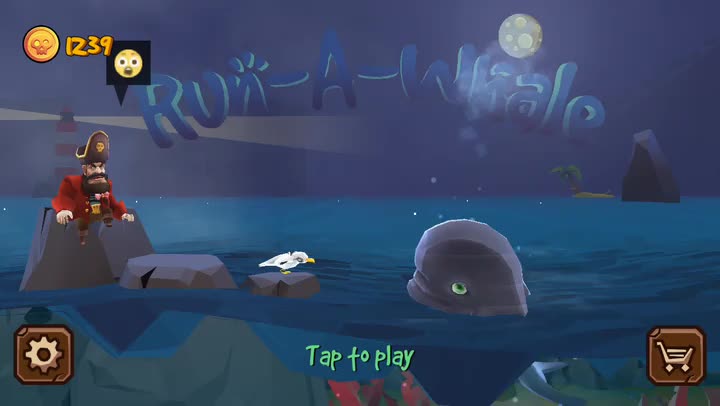 Visually speaking, Run-A-Whale is stunningly gorgeous. The game is rendered in 3-D with a low-poly graphical style that amazingly still looks smooth on Retina screens. The sea landscapes are dreamy and calming, until you get to the boss battles, that is. Run-A-Whale has a beautiful color palette that features a mix of soft pastels, bold and vibrant hues, and even darker tones when it's at night. The backdrops are usually simple fare, like lighthouses, cliffs, or even ports, and sometimes there's a dreamy fog in the distance that makes it look and feel even more surreal. In the foreground, you'll see the crystal clear depths of the ocean and all of the sea-life that it holds in crystal clear detail and textures, and all of the character models and movements are fairly realistic, despite the over-the-top nature of the game. Run-A-Whale features pragmatic water animations so that what's under the surface of the water appears to move with the waves, and there is a dynamic day and night cycle along with real weather effects. Animations are smooth and fluid with no lag on my iPhone 7. There is also an ambient soundtrack with whimsical tunes playing in the background, as well as tranquil nature sounds like birds chirping, waves crashing, and much more. Overall, for a first release, this developer has done a top-notch job with Run-A-Whale's visual and audio design.
Since Run-A-Whale is an infinite runner game, there is only one mode, naturally, and the objective is clear: see how far you can get on each run. To keep the game from being stale, there is a goal system in place, where players have three tasks to try and complete. Once one of these goals is accomplished, you get a star. When you have three stars, you'll level up. The levels matter only for facing the boss battles, and there are a total of five to fight, with a new boss appearing every five levels. With that said, the game has 90 goals for players to go for, so there is plenty of replay value to be had here, so you do get your money's worth.
The controls in Run-A-Whale are simple and intuitive, clearly made for touch screens. You're a pirate who happens to grab hold of a whale and then goes on the ride of a lifetime. Your whale can swim (duh), slide, and fly, so the pirate can totally ride in style. The whale starts off automatically by swimming, but you tap-and-hold anywhere on the screen to have the whale dive below the surface. A bar at the bottom of the screen shows the whale's oxygen meter — when it reaches red, your oxygen is low and if you're out, the run ends. Your whale will jump once you lift your finger off of the screen, so it's all about timing and precision here. There are also bouncy balls, cannons, and other things that you can come across in the water that can help you gain enough momentum to take flight, so keep an eye out for those. On top of everything, there are wooden piers that will be along the way that your whale can slide on if they jump and land on them, kind of like grinding a rail on a skateboard. It's also a lot of fun to watch the people on the dock run when they realize a whale is sliding towards them. But with all of the cool stuff in the water, you'll want to avoid obstacles such as boxes, rocks, spikes, mines, and more.
As you ride the whale across the sea, you'll find many shiny gold coins scattered about. You'll want to collect as many as you can on your runs because they can be spent in the shop to get different hats for your pirate, or you can go for cooler looking whales. Some hats are locked until you reach a certain level though, so be warned. Whales are also significantly more expensive. The game even has power-up items that you can collect during each ride to help you out, such as shields to protect you from a single hit, or coin magnets to make gathering coins easier.
I've only started Run-A-Whale recently, but so far I'm finding the experience to be rather enjoyable, despite the decline in popularity for infinite runners in general these days. The visuals in Run-A-Whale are downright exquisite, especially all of the realistic effects such as the water rippling and affecting what you see below the surface, as well as the dynamic day, night, and weather cycles. The music and nature sound effects will bring you pure zen, and the controls work out well for the touch screen. The goals keep you coming back for more, and some of them are rather hard to do, which just means you'll just keep trying until you get them, and the addition of bosses is a nice touch. And to top everything off, Run-A-Whale has zero in-app purchases — you pay the dollar and get everything in the game! The only way to get enough coins for everything is to play the game.
I recommend giving Run-A-Whale a try if you want something to help you unwind after a long day. Run-A-Whale is on the App Store as a universal download for your iPhone and iPad for just $0.99. There are no in-app purchases but there is an iMessage sticker pack included.
Mentioned apps
$0.99
Run-A-Whale
Guillaume Loquin
$4.99
Alto's Adventure
Snowman
$0.99
Tiny Wings
Andreas Illiger
$2.99
Canabalt
Last Chance Media, LLC
Related articles