Make every day wonderful
My Wonderful Days : Daily Journal/Diary
by haha Interactive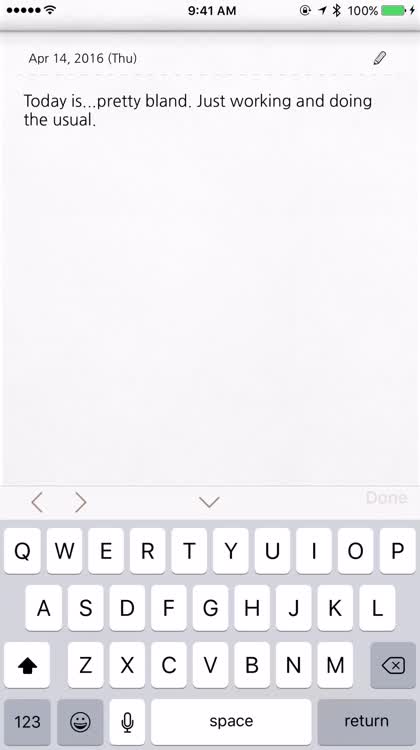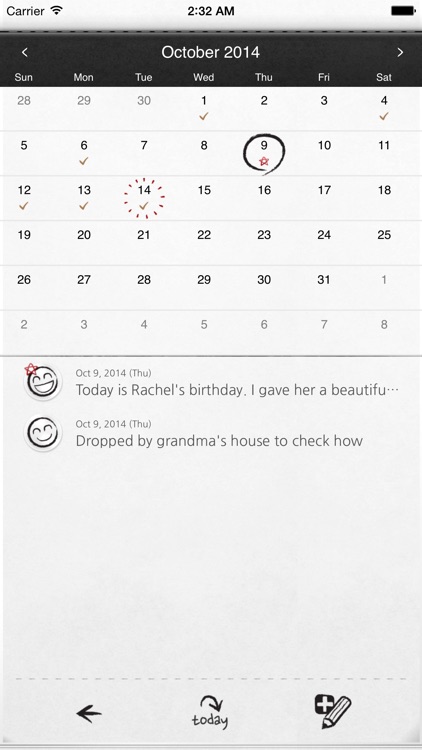 $2.99

in the App Store
My Wonderful Days is an attractive app that has many great features, including iCloud sync, PDF export, reminders, and a mood rating system. However, these features are implemented oddly, and somehow combine to make the app less usable than that list of features would suggest. The interface is clean but not intuitive enough, so it's possible to get frustrated using it.
How was your day? My Wonderful Days is a simplistic journal app that allows you to capture your mood and memories. Adding new entries is an easy task, as it is just a tap away. Then, start writing whatever you want — how your day was, what is on your mind, jot out those random thoughts, or just recap on today's events. Pour your heart out! Then you can use the slider at the bottom to record your current mood, whether you're sad, pissed off, content, or super happy about whatever happened in life. My Wonderful Days even lets you add in photos and videos to fully relive the experience later.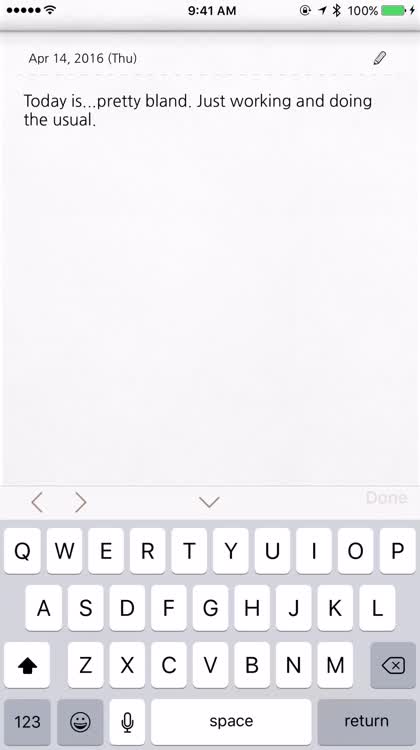 Add some flair. No matter what happened during the day, it's important that you record your thoughts and feelings or just recap on what is currently going on in your life. Trust me — you'll feel a lot better. My Wonderful Days lets you record your mood for each journal entry, but you can also add cute little icons to represent the day. Up to two can be added per entry, and it is a great way to symbolize what the day's events mean to you.
Calendar and stats. My Wonderful Days does a great job of keeping your entries organized with the calendar view. You can see how many entries you made each month (Lite version has a limit of 10 a month, upgrading to full version can be done without losing any data) in case you ever go back and want to revisit Memory Lane. Plus, My Wonderful Days keeps track of how many times you were angry, sad, happy, or whatever else. Each mood is tracked and there is a tally count. You can also see how many entries you've wrote and your total number of days using the app. Perfect for the data nerds.
What is it about?
My Wonderful Days is a simple and somewhat skeuomorphic take on the journaling app. It has a basic interface that is pretty straightforward to use, where you just create a new entry, type in whatever you want, add some photos or video, record your current mood, add some icon flair, and save your memory. There is iCloud sync and PDF export so your memories go with you no matter what. However, it's not the most intuitive app around and it lives in the golden days of skeuomorphism, but this should appeal to anyone who wants a pretty barebones app. The Lite version gives you the ability to add 10 entries a month — upgrade to the full version for a few dollars and you can export your data into it without worries.
For those who...
Want a simple and barebones app
Want to record their mood
Like stats
Not for those who...
Want a more intuitive app
Prefer more powerful features
Want an app that is more reliable
Why we love it
It's simple and fun to use and the ability to record your mood gives you some valuable insights.
App Store Description
* My Wonderful Days is a diary you can easily write on. Full of analog features, 2-in-1 iPhone+iPad universal app fully supporting iCloud, searching, photos and a lot more. Get it now on this surprising price and start your wonderful days.


* One day has one face :: When we look back at our days, memories about one certain day normally start with one feeling. Whether it was good or not. Then if it was, how much? My Wonderful Days was made to remember our days by simply swiping how you felt today and putting in how your day was.

Afterwards, focusing on main thoughts, we've crafted it to make it better and better to gain more satisfaction. Some are,

- Notices on time to write a simple note without any load, which makes a great habit.
- Passcode to protect your private words.
- Photos to put in a note, and some stickers.
- Special days can be starred. It can be seen separately on search page. Also sorting by happiness, mostly viewed and more can be done to take out memories easily.
- To make it feel like your own journal, sound has been added and the papers on notes you've seen many times gets old.
- You can see wonderful statistics of your own.
- Air Print your entries and keep your days on your hand.
- Supports both iPhone and iPad by universal app. Automatically syncs data through iCloud.

Many are using it everyday to keep the moments. Every moments, every days of your life are so valuable. Write about small things and big events. Keep your memories and keep on your wonderful life now with My Wonderful Days. :)


* For users before v2.0,
If iCloud is enabled, data might take some time to come back to your app. Please be patient! Your data is all safe and right in place. More your data and photos written before, more time it'll take. But everything will be magically come back! Thanks for your patience and keep on your wonderful days! :D

If you need support, e-mail us at [email protected] We'll get to you right away.