2018
Predictions:
What
We
Hope
to
See
in
the
New
Year
iDevices
December 28, 2017
2017 was a huge year for Apple thanks to the arrival of the iPhone X. Will next year feel like a letdown? Here are our 2018 predictions.
New iPad Designs, Features
New iPad Designs, Features
In 2017, consumers once again fell in love with iPad thanks to the arrival of three new tablets during the year. To keep the momentum going, we expect Apple to introduce at least two new tablets in 2018. The first, a redesigned 10.5-inch iPad Pro, will look a lot like the iPhone X and include Face ID, the removal of the physical home button, and more.
For the price conscious, watch for Cupertino to unveil its lowest priced 9.7-inch iPad to date. Priced at around $250, the new tablet could arrive in March and replace the aptly named iPad, which was released in March 2017.
Biggest question mark: With iPhones getting bigger (see below) will this be the year Apple officially drops the iPad mini from the lineup? 
New iPhones: What's in a Name?
New iPhones: What's in a Name?
In 2017, Apple introduced a record three new iPhones. In the new year, expect more of the same.
In September 2018, Apple is likely to announce two new OLED iPhones, including a second-generation iPhone X and an all-new 6.5-inch "iPhone X Plus." A 6.1-inch LCD iPhone is also likely to arrive.
All three models are expected to feature a full-screen design and include a TrueDepth camera.
With Apple electing to use the iPhone 8 and iPhone X names in 2017, it will be interesting to see what the new phones will be called. iPhone 9? iPhone 11? The new iPhone?
Mac Pro
With the iMac Pro finally here, attention on the Mac front now turns to the second-generation Mac Pro, which Apple promises will arrive in 2018.
We should also see next-generation MacBooks and regular iMacs launch too.
Will the deathwatch finally end on the MacBook Air and Mac mini? Perhaps.
iOS 12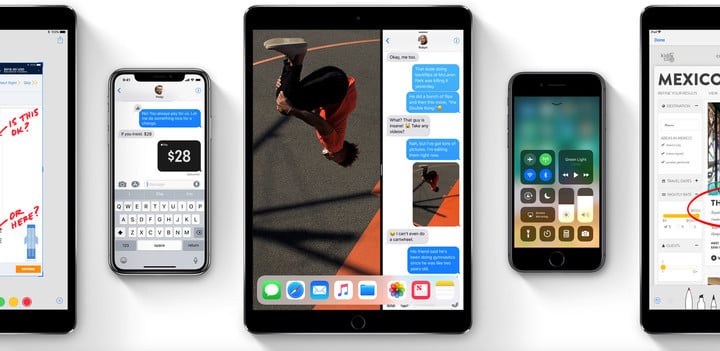 With iOS 11, Apple finally gave tablet users tools exclusive to iPad. In the upcoming "iOS 12," the focus should once again shift to iPhone.
The next versions of iOS, macOS, watchOS, and tvOS should be unveiled in June at the annual Worldwide Developers Conference (WWDC). The biggest highlight here could be the introduction of a new iOS/macOS hybrid tool for app and game developers.
HomePod Mini, AirPods 2
The Siri-based HomePod speaker should finally go on sale in January or February. Soon after, watch for Apple to introduce another new speaker, which we'll call the "HomePod mini."
The new year should also bring with it next-generation AirPods that might be available in more than one color.
Apple Watch Series 4
A thinner Apple Watch will probably make its arrival in September. Soon after, landfills across the world will fill up with Apple Watch bands that don't work with the new model.
The so-called "Apple Watch Series 4" will focus on new health-based features, although there will be plenty of tweaked fitness tools for users to enjoy. There will also be another Apple Watch partner announced that will bring more premium models to market.
Why About You?
What do you want to see the most from Apple in 2018? Let us know below. 
What do you want to see the most from Apple in 2018?

— AppAdvice (@AppAdvice) December 28, 2017