Unravel
Abstract
Designs
and
Colors
in
Dissembler
February 23, 2018
Dissembler ($2.99) by Ian MacLarty is a minimalistic puzzle game about unraveling bold, abstract designs, one color at a time. It's like a match-three game, except for the fact that no more tiles come to replace the ones you clear out. If you enjoyed recent titles like Stack & Crack, Invert, and Crystal Cove, then you'll like what Dissembler has to offer.
Though most of my time is taken up by Monster Hunter: World these days, I still love my puzzle games. In fact, I still prefer them when I just want to do nothing but relax, as it definitely helps take my mind off of the more stressful things going on right now. And while it feels like I've gone through most of the different types of puzzle games on the App Store, I can't help but keep an eye out for more, as I can't get enough. When I saw Dissembler on the App Store, I knew it was another one that I needed in my collection, and when I saw it was by the guy who made Boson X, it just confirmed it.
App Feels Like
$0.99
Stack & Crack
Jambav, Inc
$2.99
Invert - Tile Flipping Puzzles
Noodlecake Studios Inc
$1.99
Crystal Cove
Andrey Spencer
$2.99
Boson X
Ian MacLarty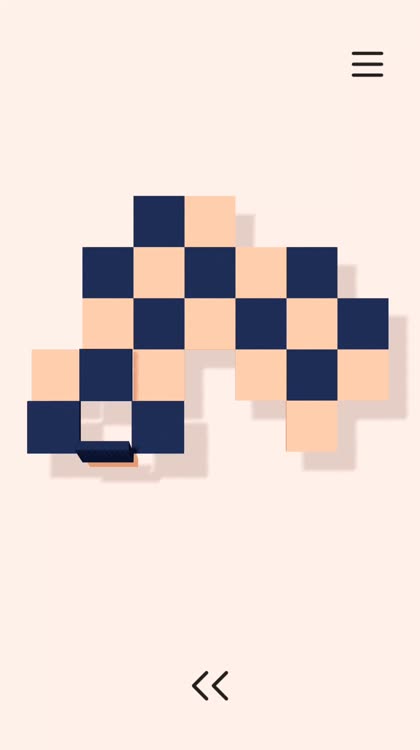 Visually, Dissembler is pretty simple and clean. On the surface, it looks just like a 2D game, but with the shadow effects and how the tiles flip, there's more layers of depth to it than meets the eye. The creamy beige backdrop provides great contrast for the colored tiles that you're matching, and the tiles are bright and vibrant. Animations are smooth and fluid on my iPhone 8 Plus, and the game features an ambient soundtrack that helps with relaxing your mind. If you're colorblind, the default colors may be a bit hard to see, so fortunately, the developer implemented a colorblind mode as well. The clicking sound effects are fun to listen to, at least for me, and remind me of wind-up toys. Overall, the developer did an excellent job with the visual and audio design for Dissembler.
Dissembler has three game modes: Puzzle (Default), Daily, and Infinite. In Puzzle, players go through a series of various designs, figuring out the correct sequence to make the matches (at least three or more) of tiles in order to clear them all out and have a clean slate. Daily has a new set of puzzles for each day, meaning something new to look forward to. The puzzles in these two modes start out simple enough, but become more intricate and complex as you go, requiring some thought and planning to make sure no tile gets left behind.
Infinite is slightly different than the other two modes. Instead of dealing with single-colored squares, you'll have squares with three rings of color to them, all arranged neatly in a square grid. There's the outer, middle, and inner rings, which are all different colors. You'll be matching the outer ring color first, and then the middle ring expands to fill the outer layer, the inner ring becomes the middle, and a new color shows up in the center. You'll make matches until there are no more possible moves. Infinite also has Relaxed and Hard modes, so you can pick the flavor that best suits the mood you're in.
Controls in Dissembler are easy enough for anyone to understand, and it's pretty intuitively designed for touch screens. Honestly, it would be hard to play something like Dissembler with physical button controls, so this is the perfect platform for it. To swap a colored tile with an adjacent one, just swipe on it in the direction you want to swap it with. If it's a viable move, then the two become a single piece and "flip" over. Otherwise, they just return to their original position.
Remove all of the colored tiles by flipping tiles to make matches.
The Good
Dissembler is a unique matching puzzle that is not your typical match-three. It demands strategizing and planning to figure out the correct sequence to make your matches in, almost like a brain teaser. And while it's proper to go through the puzzles in order, there is an option to Unlock All, so you can play them in any order that you want, which is nice for those who get stuck easily.
The Infinite mode is the most fun, though. I like that it offers this, because I usually just prefer to play endless games and just try to best my own scores. Having the personal challenge keeps me motivated to play.
On top of it all, Dissembler has some great minimal aesthetics and charming sound and music. Like the developers other games, this is another one that's well designed.
The Bad
Honestly, it's hard to find anything negative about Dissembler. But if I had to pick out a flaw, it's the fact that a game about colors doesn't let players change the color theme. There's only the default option and colorblind mode. I would like to see a variety of color palettes added in the future, which could spice up the game to suit everyone's favorite hues.
$2.99
Dissembler
Ian MacLarty