Building a smart home is getting easier and easier with each passing year. We're highlighting some great smart home devices that work great with your iPhone, iPad, and in many cases even the Apple Watch.
Stimulate Your Mind With These Tile Lights
The Nanoleaf Modular Smart Light Panels is a group of tiles you place on your wall to give you an impressive and unique lighting effect. This starter pack includes nine panels. You can purchase extender tile packs to increase your number of titles to as many as 30. Control the lights with the free Nanoleaf app.
Modular Smart Light Panels
Modular Smart Light Panels
Color-changing light -choose from 16.7 million colors.
Tunable 1200k-6500k white light ranging from a soft warm Sunset to bright white daylight.
Double-sided mounting pads for no-holes, no-hassle installation.
Works with Apple HomeKit and Siri, Amazon Echo, Google Home, Google Assistant, IFTTT, more.
$219.99
available
on Nanoleaf
* price at time of publishing was $219.99
Control with Siri
The Friday Lock securely connects to your phone wirelessly, giving you the ability to lock or unlock your door as you leave or approach. Share access with family and friends with ease. With several finishes and materials, there's a Friday Lock for every type of door - and since the shell can be replaced at your will, you'll never have to settle for one style.
Friday Smart Lock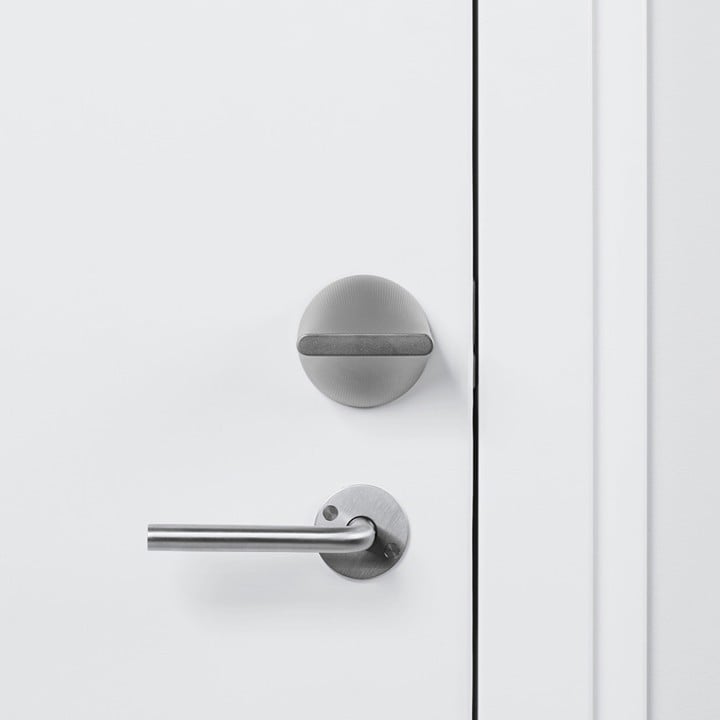 Friday Smart Lock
Several finishes and materials are available.
Can share access using a companion app.
$199.99
available
on Friday Labs
* price at time of publishing was $199.99
A Combination Surveillance Camera and Spotlight
Ring's Spotlight Camera Wired offers homeowners another great option that combines motion-enabled LED lightning and a high-definition video camera. It also offers two-way audio to speak with anyone in the view of the camera. Along with providing alerts to the companion smartphone app, the camera will capture anything in its 140-degrees of view. Any motion within a 270-degree field will automatically switch on the lights.
Ring Spotlight Cam Wired
Ring Spotlight Cam Wired
Users can create and customize specific motion zones.
A battery-powered version is also available.
$180.00
available
on Amazon
* price at time of publishing was $180.00
This Whole-Home Wi-Fi System Turns Your Internet to 11
Make Wi-Fi dead spots and other problems with your wireless Internet a thing of the past with the eero Home Wi-Fi System. Buyers receive one gateway and two smaller beacons that can be placed around a home. Using mesh technology, the system provides fast and reliable Internet to every square foot of your home. The companion app allows users to control and set up the system.
eero Home Wi-Fi System
eero Home Wi-Fi System
Designed to cover a 2-4 bedroom home.
Users can create profiles to limit access on certain devices, like a child's iPad.
$349.99
available
on Amazon
* price at time of publishing was $349.99
Featuring Both Apple HomeKit and Amazon Alexa Support, the ecobee4 Smart Thermostat is a Smart Choice for iOS Users
The headlining feature of the new thermostat model is support for the popular Amazon Alexa voice service and similar far-field technology found on the Echo line of speakers. Thanks to built-in Alexa, the thermostat is basically an Amazon Echo that also happens to control your home's heating and air conditioning system. From across the room, you can ask Alexa to change the temperature or access the growing list of skills, which is currently at more than 10,000. Just like the previous model, the Ecobee4 fully supports Apple's HomeKit protocol so you can interact with the thermostat through Siri or through Apple's Home app.
ecobee4 Smart Thermostat
ecobee4 Smart Thermostat
Features a built-in speaker and microphone that can be used to converse with Amazon's popular Alexa smart assistant.
Compatible with HomeKit and can be used in the Home app and Siri.
Comes with one remote sensor that can help keep your home more comfortable. Additional sensors are sold separately but definitely worth the investment.
$236.90
available
on Amazon
* price at time of publishing was $236.90
This Is One Robot Vacuum You Don't Want to Miss
Dyson has always been known for high-quality vacuum technology, and its first robot version definitely lives up to expectations. The Dyson 360 Eye features special Radial Root cyclone technology that separates dirt and dust. The headlining 360 eye vision is designed to see everywhere in a room and intelligently map where to work. The brush bar spans the width of the vacuum for maximum coverage of both hard and carpeted surfaces.
Dyson 360 Eye
Dyson 360 Eye
Use the companion iOS app to control and schedule the robot and view cleaning data.
Compatible with Amazon's Alexa so you can start or stop the vacuum with a voice command.
$979.74
available
on Amazon
* price at time of publishing was $979.74
In This Case, Little Assembly Required
IKEA's entry into the smart home market begins with this TRÅDFRI Gateway Kit, which includes the required gateway, remote control, and two E26 LED light bulbs (large base) with white spectrum. Add other TRÅDFRI-compatible products with ease.
TRÅDFRI Gateway Kit
TRÅDFRI Gateway Kit
Use with the free TRÅDFRI app.
With gateway and app, create several groups of light sources and control them in different ways.
Requires internet connection.
$79.99
available
on IKEA
* price at time of publishing was $79.99
One of the First HomeKit-Enabled Cameras Provides An 180-Degree View of Any Room
Along with keeping an eye out at your home, the D-Link Omna 180 Cam HD Camera can play nice with other Apple HomeKit devices. Thanks to a motion detector, the camera can be tied in with other products. For example, if the camera detects motion, it can automatically activate a specific scene or other specific devices like smart lights. All video is kept on-site and the camera itself provides clear, HD video to any iOS device.
D-Link Omna 180 Cam HD Camera
D-Link Omna 180 Cam HD Camera
Fully compatible with Apple's HomeKit protocol and can be accessed in the Home app.
Doesn't record to the cloud and instead uses a built-in microSDXC slot.
Can see up to 16 feet away in complete darkness using night vision technology.
$199.95
available
on Apple
* price at time of publishing was $199.95
The Market Leader Unveils its next Echo Product
Watch video flash briefings and YouTube, see music lyrics, security cameras, photos, weather forecasts, to-do and shopping lists, and more. All hands-free—just ask.
Echo Show
Echo Show
Talk to family and friends who have an Echo or the Alexa app.
See lyrics on-screen with Amazon Music. Just ask to play a song, artist or genre, and stream over Wi-Fi.
Turn on lights, control thermostats and more with WeMo, Philips Hue, ecobee, and other compatible smart home devices.
$229.99
available
on Amazon
* price at time of publishing was $229.99
Your Smartphone is Now a Smart Key
The August Smart Lock is a great way to make the lock you currently have installed just a little bit smarter. The auto-unlock feature allows you to set up your lock so that when you or someone you trust comes home, the door will simply auto-unlock for them. Nore more fiddling to find your keys. It also provides you with a log of who's come in and who's come as well as the ability to send people a one-time access link to entry your house. It is also compatible with Apple HomeKit so it can be controlled with Siri or the built-in Home app.
August Smart Lock
August Smart Lock
Locks and unlocks your door with your smartphone.
Lets you control who has access and when, from anywhere.
Knows who enters/exits with 24/7 activity log.
Compatible with most standard deadbolts.
$149.99
available
on Amazon
* price at time of publishing was $149.99
First Alert's Onelink Smoke + Carbon Monoxide Alarm is a HomeKit-Enabled Device with a Great Purpose
The first HomeKit-enabled smoke and carbon monoxide alarm/detector, the First Alert Onelink is available in both a hardwired or battery-powered version that are designed to last 10 years without any need to change the battery. The companion app can be used to test the unit and silent nuisance alerts.
First Alert Onelink Smoke + Carbon Monoxide Alarm
First Alert Onelink Smoke + Carbon Monoxide Alarm
Detects both smoke and carbon monoxide.
Easy to install and setup.
$119.00
available
on Amazon
* price at time of publishing was $119.00
This Socket Can Turn Any Bulb Into a Smart Device
The iDevices Socket is a quick and easy way to bring smart technology into your home. Just screw it into an existing socket and then place in the standard lightbulb of up to 60 watts. Along with control through Amazon's Alexa or Apple HomeKit, you can also interact with the socket through a companion app.
iDevices Socket
iDevices Socket
Works with both Amazon Alexa and Apple HomeKit.
No hub required to use.
$49.95
available
on Amazon
* price at time of publishing was $49.95