Word
and
Logic
Combine
in
Sidewords
This
is
a
word
game
unlike
anything
you've
tried
before
July 21, 2017
Sidewords ($2.99) by Milkbag Games is an original title that is part word game and part logic puzzle. If you enjoyed recent titles like TypeShift and Antitype, then you will love what Sidewords brings to the table.
As someone who makes a living off of writing, I have a soft spot for word games. Even though I always got beat pretty badly in Words with Friends, I still liked to play it just for the fun of it. I've also acquired many other word games over the years, including some favorites like Letterpress and Capitals. But in an oversaturated App Store, most word games end up being Scrabble or Boggle clones, which gets tiring. So when Sidewords hit the App Store this week, I became intrigued and had to give it a try myself. Needless to say, it's one of the more unique offerings out there and does not disappoint.
App Feels Like
Free
TypeShift
Zach Gage
$1.99
Antitype
BorderLeap, LLC
Free
Words With Friends – Best Word Game
Zynga Mobile
Free
Letterpress – Word Game
Solebon LLC
Free
Capitals - Multiplayer Word Battle
NimbleBit LLC
$7.99
SCRABBLE Premium
Electronic Arts Inc.
Free
Boggle With Friends
Zynga Mobile
$2.99
Threes!
Sirvo LLC
In terms of visuals, Sidewords features a completely minimalist design that's also customizable to the player's wishes. Upon the first launch, players get greeted with a simple game menu that's laid out in a square grid. The background's set to letter tiles that move, but you can change that to nothing, or just have the animation stop. The other options include changing color themes (four to choose from) and toggling haptic feedback.
During gameplay, players will find simple grids composed of squares. For the most part, the game is rendered in 2-D so things look flat, but there's a bit of depth to the tiles so they slightly pop out.The typography is a bit on the thinner side, but I think it's still fairly legible since the letter tiles are bigger.
Grids range in size, from 3x3 for the easy puzzles up to 6x6 for the tougher ones. Letter tiles arranged along the top row and first column, kind of like a graph, and are what you're using to spell out words to fill the rest of the grid. Selected letters end up highlighted in a contrasting color so it's easy to tell them apart from what you haven't picked out.
All animations in Sidewords are pretty subtle, though they're still smooth and fluid on my iPhone 7. I had no issues with lag or choppiness, and the haptic feedback worked wonderfully. The game doesn't have any tunes playing in the background, but there are some whimsical sound effects that are fun to hear as you spell out words and solve puzzles.
Since Sidewords is a puzzle game, it's level-based with various collections to go through. Each collection features a handful of puzzles that vary in size and difficulty. While some collections feature what look like random words (the letters you're using), others have set themes, such as "Entertainment: Television Shows" and "Potpourri: Food."
In addition to the puzzle collections, there's a bonus game mode called Quads. It involves sliding letter tiles in from the sides of the grid (think Threes! style) and then spelling words with tiles that are adjacent to each other. Quads is more of high score chaser, and you can play endlessly until the grid fills up and it's impossible to spell out more words. However, the only way to earn points in Quads is to spell out words that are adjacent to the Quad Tiles, and a point's earned for each Quad you clear out.
Controls in Sidewords are easy to pick up and intuitive for the platform. In Puzzles, players simply tap on the letter tiles they want to use to spell out words, and then tap on the checkmark button to submit it. Spelled words then occupy the spaces on the grid that line up with the tiles used, and words cannot overlap. If you change your mind about a word and want to get rid of it, just tap on the word itself and it clears out. This is necessary when it's impossible to spell out another word with the current setup.
The controls for Quads works a bit differently. First, you'll have to slide your finger on the screen to make the tiles slide towards that direction, and then more tiles come in from the sides. You repeat the process until the tiles you want to spell with are adjacent to each other, and then just tap on them to select them. There's no need to worry about overlap in this mode, but you need to remember that you only get points once a Quad piece disappears.
Sidewords is truly not like other word games you've played before. It's a combination of word and logic, thus creating a unique experience that is hard to replicate.
Sidewords is a combination of word and logic, thus creating a unique experience that is hard to replicate.
The Good
Sidewords is a definite must for any word game fan. The minimalistic graphics are appealing to anyone, and the sound effects are delightful to hear. The controls are simple and easy enough for anyone to pick up. However, the best part about Sidewords is the distinctive gameplay mechanic. It's interesting and provides challenging puzzles of various difficulty levels when the logic factor plays in. It's a standout amongst many similar word games that are already on the App Store, and for good reason.
The Bad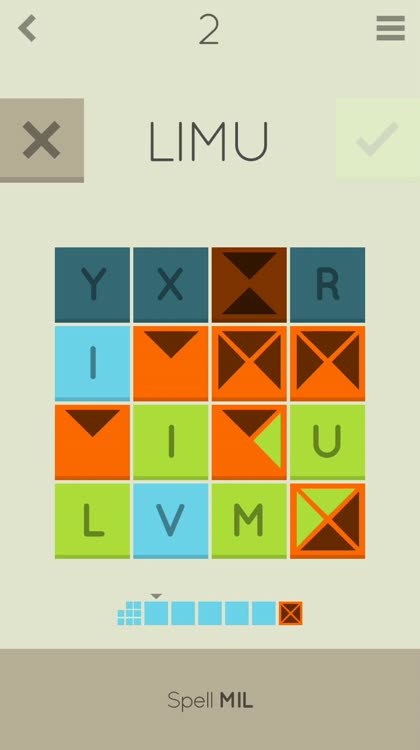 While Sidewords is pretty great, it may not be for everyone. If you already aren't a fan of word games, then Sidewords isn't going to change your mind, especially if you don't care for logic puzzles either. I would also like to see more themes available, and perhaps maybe an option to change the main background depending on the theme. Otherwise, the game is fantastic.
The verdict
As a big fan of word games, Sidewords is one I'm truly enjoying so far. I love the simple and clean aesthetic, and the sound effects are fun to listen to while playing. The word and logic elements mashed together create a special experience that I've never seen before in a word game, which is refreshing. Sidewords is definitely one game that should be in everyone's game collection.
I recommend giving Sidewords a try if you're into either word or logic puzzles. Sidewords is available on the App Store as a universal download for your iPhone and iPad for $2.99. There are no in-app purchases.
$2.99
Sidewords
Milkbag Games