Make smarter investments.
Best Financial News Apps for iPad
Whether you're a big shot investor or an average joe looking to know the happenings of the financial world, these apps can help give you the lowdown on finance news.
Essential Apps
CNBC Real-Time for iPad
CNBC Real Time is quite an impressive app visually. When you open the app, you are greeted with a scrolling ticker symbol bar as well as a neatly laid out interface for various options. The news in this app is very good, with various gestures to help you navigate the news more naturally. This is definitely worth the download if you are looking for a solid experience.
TheStreet – Stock Market News, Charts & Technical Analysis
The Street is an all-around excellent app for financial information. The interface is great and the way that the app gives news is fantastic. What it does is present the top stories when you initially open the app; then you have the option to get specific news tailored to a specific stock. The Street also gives stock charts of your portfolio and videos of the top stories for the day. If you are serious about getting the latest and best financial news, then you should take a look at The Street.
Bloomberg for iPad
Bloomberg is known to many as a reliable place to get financial information. It lives up to its name with this fantastic iPad app. Like other apps in this category, Bloomberg gives stock and currency information. But what separates it from the pack is its news coverage. I liked the way the app initially presents news when opening it but the real wow factor comes when you open the news section. Here you will find a vast variety of categories that include topics such as health care, municipal bonds and insurance. This app is undoubtedly for the serious financial whiz, but even if accounting isn't your forte, you can still find a lot of use out of Bloomberg for iPad.
Notable Apps
FOX Business for iPad
Fox Business is your standard financial information app. When you first open it, you have an overview screen that has financial news, videos and some stocks. As you dive further into the app's tabs you can see your stock portfolio, more financial news, and videos taken from the Fox Business channel. Overall, Fox Business is a great app for those who need an app to see the latest happenings in the financial word as well as their stock portfolio.
Barron's
Barron's is well known for its reliability in the financial world. This app proves that with its magazine app optimized for the iPad. Unlike the other apps that report news by the minute, the main focus of Barron's is to report news every Friday. The advantage of this is that the articles are written by the best professionals who often give advice within the article itself. Barron's also has you covered by putting current news in the side when opening the app. Unfortunately, the biggest con of Barrons is the price. At $150 a year for the magazine, this app is geared toward a serious investor and is probably not what an average person wants for financial news.
MarketWatch
Although more of a stock tracker, Market Watch can be an excellent source for financial news. The interface is great and the realtime stock graph is especially cool. Another great thing that this app does is display the stocks that have been in the news, which of course helps a potential buyer of a particular stock. Even after paying for this app, there are enough ads to annoy you quite a bit. I think that this is the main downfall of this app, but if you can live with the ads and don't mind paying a few bucks, then give Market Watch a run.
Decent Apps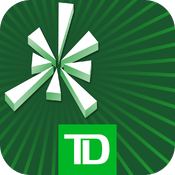 TD Ameritrade Mobile Trader
While TD Ameritrade Mobile does present quite a bit of news and stock information, the interface is clunky and not very intuitive. Not much can be said about TD Ameritrade except to stay away from it and use one of the apps listed above instead.
StockSpy HD - Stocks, Watchlists, Stock Market Investor News, Real Time Quotes & Charts for iPad
StockSpy HD is an ok app at a very high price. Since most apps in its category are cheap or free it shocked me to find this app at a price of twenty dollars. What shocked me more was that StockSpy wasn't all that impressive. Sure, its stock and news coverage is good, but there really was no wow factor to it. With so many free options, I would recommend choosing another app over this one.