Do your grocery shopping more efficiently.
Grocery list helpers
Going to the grocery store and maintaining a list of what you need can be a headache. Don't stress, though, there are apps to make it easier and more efficient with barcode scanning and cross-platform syncing. This AppGuide will help you cut through the aisles and provide you with the best grocery list helpers.
Essential Apps
Grocery Gadget Shopping List - shop groceries, scan, sync share with family, track prices, save or use as checklist.
Grocery Gadget is the ultimate app for sharing grocery duty. You can enter your lists in the app or online and share the list with others. Prevent grocery errors by using your iPhone to take photos of items and scan barcodes for your list. Grocery Gadget will even keep track of how you mark things off your list and reorder the items for easier shopping later. Grocery Gadget is perfect for households with multiple roommates, serious shoppers, and families. It really is one of the most well-rounded shopping list apps, with features that make it easy for you to shop however you want to.
Buy Me a Pie! - Grocery Shopping List for Family
Buy Me a Pie! is a fantastic app that is an essential grocery list app for multiple reasons. It is packed with a ton of features that aren't useless and you don't have to memorize what seems like fifty gestures to use the app. Simply tap an item to cross it off, swipe an item to the left to edit or delete it, and swipe off-screen to navigate between lists. You can add items by manually typing them in and then assigning each item a color for sorting or by adding an item from a pre-meditated list that are already color-sorted. You can also send your lists to others or have it saved to iCloud. This app is everything you want in a grocery list app.
Notable Apps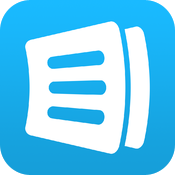 AnyList – Grocery Shopping List & Recipe Manager
There are a ton of recipe apps that also have shopping list functionality. AnyList Grocery List is a shopping list app that has a very decent recipe function. Simply find a recipe from any site and you can dump the ingredients into your list. The really awesome part of this app is its integration with Siri. AnyList can be associated with a list in Reminders. So, you could simply tell Siri, "Add circus peanuts to the shopping list." The next time you open AnyList, those Siri-added items will be added to your list, with or without a prompt. For Siri-enabled devices, this app offers a new way to do shopping lists.
Smart Shopping List A LA CARTE
This well-featured app has everything needed to manage a shared shopping list with two extra awesome features. First, it has a budget feature to keep your spending under control. Then they added a great feature that just makes sense. You can manage food expiration dates right from your shopping list. You can add the budget manager, remove ads, and add color schemes through in-app purchases.
Decent Apps
Groceries Grocery List
For basic shopping needs that only require one list, there is Groceries Grocery List. However, this app gives you a lot of control over that one list. Too much control, perhaps, for the casual shopper. The steeper learning curve of this app will be frustrating to some, but worth checking out if its extra control of data is what you're hungry for.
Pushpins Grocery Coupons & Lists
Out of the many, many shopping list apps with basic features, Pushpins Grocery Coupons and Lists has a good balance of features for a free app. You get coupons that stay out of the way, some Passbook integration, and the ability to scan items into your list. Recipes can be added as well. It's also not too bad on the eyes. It is worth looking at if you are trying to get something useful for free.
Groceries - Smart Shopping List - create, edit and share your grocery lists and recipes
Groceries - Smart Shopping List is another app that allows you to create multiple shopping lists. This one, however, will give you a percentage of completion for each list when you are viewing them from your shopping lists screen, which sets it apart from the rest. Each item that you add can be sorted and filtered with a single tap. You can also create your own items and categories, making it a very personal grocery list app. Sharing your lists is also possible in this app. To mark items off of your list, you simply need to swipe them to the side.