Learn All About The Phases Of The Moon With These Lunar Apps
Moon Phase Apps
The moon is a beautiful sight to behold. Have you ever wanted to know when the next full moon will occur? Would you like to know when the moon will appear on the horizon in order to plan a romantic walk? Perhaps you are interested in photographing the moon against the evening skies. Thankfully, the App Store has many moon phase apps with at least one that's sure to delight you. We compare our favorites in this AppGuide.
Essential Apps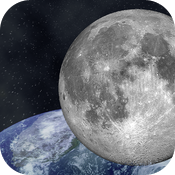 Moon Calendar
Moon Calendar is a gorgeous, universal app. Choose any place that you are, or would like to be, and this app will provide a complete moon calendar for that area. No matter what day or month it is, Moon Calendar will accurately provide you with the moon's phases. The app also allows you to find the azimuth and elevation of the moon. Moon Calendar is simplistic, yet essential.
Phases of the Moon
Phases of the Moon is a universal app that features moon images that were created with the help of NASA. The app is very detailed, and shows incredible visuals of the moon itself. NASA spacecraft collected data during its Lunar Reconnaissance mission, making it painstakingly real. The surface of the moon itself is a simulation which shows you the phases of the moon. You can see what the moon looks like in the past and in the future with left or right swipes of your fingers, access a complete lunar atlas, look through a calendar to view phases of the moon for any future dates, and more. This app is essential for those interested in moon phases.
Notable Apps
Deluxe Moon Pro - Moon Phases Calendar
Deluxe Moon Pro - Moon Phases Calendar is not just a visually appealing app. The app is educational and easy to use. There are many features included: moon phase statistics, lunar eclipse dates, red night mode for those interested in astrology, and even gardening tips for each moon phase. This app is made for those looking for style and modernism. There is a compass, azimuth, GPS positioning, info on how moon phases affect zodiac signs, and much more. The app supports 20 languages, and has an iPad version called "Deluxe Moon HD - Moon Phases Calendar" (linked below). If you are looking for a wealth of moon information, this app delivers. If you want more traditional information, we would recommend one of our two essential app choices.
PhotoMoon
PhotoMoon is a great app for letting you know when the moon is visible. A full moon phase calendar is included. You also get information on sunrise, sunset, moonrise, moonset, and details on how long the moon will be visible from your location. The app is universal, and is perfect for those who would like to photograph the moon against the evening or night skies.
Moon.
Moon. is another notable option. The app is beautiful and free. You can view the lunar phase, and for each phase there is a description for what that means. There is a distance to moon feature, which calculates how close the moon is to you. The app can even add full moons to your calendar. There is also a 3D model of the moon, allowing for a more detailed view. Information such as lunar azimuth, altitude, and distance to the moon are included as well. If you are using an iPad, the app will give you a moon phase timeline. There is also a companion app called Moon+, which is linked below, that features far fewer ads than this version.
MoonPhase - moon info
MoonPhase - moon info is another good app. The app is universal, beautifully made, and very simple to use. It includes all of the standard features such as a moon phase calendar, moonrise/set times, sunrise/set times, and the moon's location in the sky. Full moon alerts are a good addition to make sure you will not miss out on seeing New or Full moons. The app works great offline as well, and includes dates from 1900 to 2100.
Decent Apps
Moonrise
Moonrise is a nice, free app. There is iAd integration, which some may not like. The app is also very basic. It has things like the moon phases, quick access to the next full moon date, and the ability to look into the future as far as 2099. This is a decent app for those not wanting too many frills. You can find the paid version linked below.