Teach class with the help of apps on your iDevice this school year.
Apps for teachers
As summer comes to a close, teachers are preparing for the new school year. Apps can be helpful for those who are interested in organizing their attendance records, presentations, and other classroom management tools. This AppList highlights our picks for teachers who are dedicated to their students and their profession.
TeacherKit
A teacher's job begins with taking class attendance and keeping an organized grade book. If you are looking for a way to keep track of these things, then TeacherKit is your answer. The universal app has a clean user interface and is a useful app. Record attendance, grades, and student behaviors. Teachers will be able to access summaries of attendance, customize grade book reports, save behavioral records, and more. If you are in need of additional grade book report items, there is an in-app purchase available.
Essay Grader
Give your students feedback and grade papers easily and quickly using Essay Grader. Essay Grader features a pre-written set of comments, which may not be appropriate for all students, but some teachers may find this to be a decent option. When you are finished using the tabs and checkboxes used to grade an essay, a document is provided in email format. Send the finished email to your students, yourself, or export the finished product to your computer. The app is universal, but may not be for every teacher or student. Please make sure that this is appropriate for your class or classes before downloading.
WPS Office: View and edit word documents, presentations and spreadsheets
Make presentations to better students' futures using WPS Office. This is another universal app which will also allow you to create spreadsheets and other documents. Compatible with Microsoft Word, Excel, and PowerPoint, WPS Office also supports 24 total file formats. You will feel like you're using a PC and not your iDevice due to the colorful formatting features. Once you have made the presentations or documents of choice, open and edit them with your choice of cloud servers. If you would like to share what you have made for your class with other students who have compatible devices, you can do so using AirDrop, AirPlay, DLNA, or Wi-Fi.
GoodReader 4
Manage your PDF documents and student files using GoodReader 4. You will be able to read, annotate, and email your PDF files with this universal app. The app also features Google Drive auto sync, page previews, and more.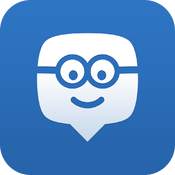 Edmodo
Get your students involved using Edmodo. Interact with your class by sending group messages to all involved, manage assignments, and become a more resourceful teacher by doing these things. Keep track of all progress without missing a single thing, which is incredibly important when it comes to the lives of your students. Get the whole group involved in a discussion that will change the way everyone looks at what you are learning about, bringing your classroom to life. Edmodo is a universal app.
Box for iPhone and iPad
Organize and store your classroom files with Box for iPhone and iPad. You will have each and every file needed right at your fingertips, and they are accessible online on your computer or iDevices. Get and give reviews (who doesn't need reviews and feedback?) as much as you want because this app comes with 10 GB of free storage. Search for what you want to teach your class within your saved Word, PowerPoint, Excel, and PDF documents. Everything will be safe due to strong security and encryption measures, so no need to worry about your materials getting lost or corrupted.
Calendars 5 - Smart Calendar and Task Manager with Google Calendar Sync
Sync your daily classroom calendar with Calendars 5 for a streamlined schedule. Viewing daily, weekly, and monthly events will give your workday even more structure. The app works with your local calendar or Google Calendar with the added ability to work on or offline. Track and organize to-dos, events, and tasks you have planned for your students. Calendars 5 is a universal app.
Super Note: Recorder, Notes, Memos, Photos. free.
Finally, even teachers need to take good notes about their students. You will be watching their behaviors, work, and every step they take in your classroom. Put that information on virtual paper with Super Note. College professors love to record audio and lectures, which are organized automatically by category or by color. If photos are included, there is a multi-photo import option. We hope that you will make great use of these apps while giving your students a most enriching semester this school year.