Best Games for Non-Gamers
Gaming apps offer the most variety and fun available in the app store. More and more people who wouldn't normally fall into the category of gamer are getting in on the action. Whether you're on a train or just sitting on a park bench, people of all ages can be seen playing their favorite games on their iPhones. A great example of this new class of non-gamers is baby boomer parents who missed the great video game revolution of the 80s and 90s. The emergence of the iPhone and the gaming app has introduced a whole new generation, or should I say old generation, to the excitement of playing videogames. Here's a list of games that have proven to be sure bets among the "non-gamer" crowd, or at least according to my mom.
Stupid Zombies
Stupid Zombie is a game that's great for everyone. I've seen two year olds and grandmothers alike get hooked on this game. The game involves shooting zombies from a stationary position. Each level is like a maze, with obstacles blocking the zombies from the eye of your gun. Stupid zombie requires you to use your head by thinking of creative ways of bypassing each obstacle to hit each of those stupid zombies.
Monster Dash
Monster Dash is what we call an endless runner game. The objective is to run nonstop without running off cliffs or into the myriad of monsters that litter each level. The game is pretty simple and can get a little boring after a few rounds. There are only five distinct levels that repeat over and over. The only thing that changes is the speed at which your character runs. Nonetheless, Monster Dash is the perfect introduction to the endless runner genre.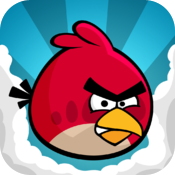 Angry Birds
Arguably the most famous app on this list, or on any list for that matter, Angry Birds has definitely earned its place at the top of the gaming podium. Every person I have ever introduced to this game has become an instant fanatic. The game involves catapulting small (angry) birds into elaborate structures, often inhabited by little green pigs, causing each structure to fall down. The more damage you create, the more points you receive. As you progress in the game, levels become more difficult to complete. The game also offers a variety of angry birds that do different things once catapulted like creating explosions or shooting out like bullets. And with regular updates, Angry Birds never seems to get dull.
MONOPOLY
Board games occupy a special space in most of our hearts. They remind us of a simpler time filled with family game nights and sleepovers; and Monopoly is often considered the grand daddy of them all. Surprisingly, many of the classic board games translate well to the iPhone platform. Monopoly on the iPhone is played exactly the same way as the traditional board game format, but with many advantages. Playing Monopoly on the iPhone allows you to take the game with you on the road and eliminates the mess.
Snake Classic™
Snake was one of the first games available for cell phones. It's kind of like the original cell phone app. There are many Snake apps available for the iPhone, and most of them are a lot of fun. I'm a fan of the original game, so I recommend Snake Classic by Zing! Apps. It's very similar to the Snake you may have played on your old Nokia but with improved graphics and a few added features.
TETRIS®
Another oldie but goodie, Tetris has been around for what seems like forever. It's a game that has always been popular with gamers and non-gamers alike. Tetris for the iPhone has been given a huge facelift, with lots of new features. One cool new feature is one-touch marathon mode, which allows you to stack Tetris pieces with a finger tap. This new feature also allows you to see your options for piece placement ahead of time. Tetris for the iPhone is unlike any Tetris game you've played before.
Where's My Perry?
This game is great for everyone, and shouldn't be missed by fans of the show Phineas and Ferb. Where's My Perry follows Perry the Platypus, also known as Agent P, as he tries to escape his transportation tube with our help. Using water in its different forms (liquid, ice and steam), we have to guide the water to generators that power the transport tubes, allowing Agent P to escape.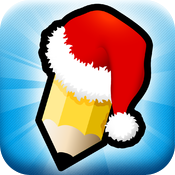 Draw Something Free
Draw Something is very similar to pictionary. It requires you to guess what the word or phrase is based on your opponent's drawing. Except, you're not really playing against the other person. When you guess the other person's drawing correctly, both of you get coins. These coins can then be used to purchase more colors, clues, or special words.Draw Something is most fun when you play with friends, exchanging horrible attempts at art with one another.
Scramble With Friends Free
Scramble with friends is like a crossword puzzle with a twist. This game is all about making words any way you can. It doesn't mater if the words are backwards or zigzag, as long as the letters forming the words are adjacent to each other. And to make things a little more interesting, all of the action is timed. So sliding your finger across the screen in every direction possible makes for a very exciting, fast paced experience.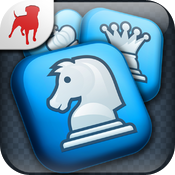 Chess With Friends Free
Chess with Friends allows you to simply play chess with friends, hence the name. This is great for non-gamers because it takes a timeless game played by many and puts it in the palm of your hand. Chess with Friends has some great features like in game chat. You can communicate with your opponent as you battle it out, just like playing face to face.