Organize the best Independence Day celebration ever!
Fourth of July Apps
Get out your apple pies, picket fences, and red, white, and blue! When in the course of human events it becomes necessary for one people to celebrate Independence Day, the Laws of Nature require that they should fire up the grill and gather with their loved ones to have an awesome time. Enjoy American greatness this Fourth of July with your iPad or iPhone to make all of your grilling, fireworks, and patriotic fun the best that it can be.
Declaration for iPhone and iPod Touch
First of all, let's not forget what we're commemorating this July 4th. Review some American history and the power and beauty of our founders' words with this app. Read the Declaration of Independence transcribed into text or admire the original document. This app is also available for iPads under "Declaration for iPad."
NOAA Hi-Def Radar
Before you start telling your friends and family to meet you in your backyard for a sun-filled cookout, you should probably check the weather. NOAA Hi-Def Radar accurately tracks the weather in real time via animated radar images and lets you save multiple locations. So, if you bookmark your home along with your friends' homes, you can track that oncoming storm front and decide which backyard is optimal for celebrating.
Grill-It! XL - Recipes for the Grill
Rain or shine, something needs to be grilled on July 4th. No matter whether your day will be celebrated inside or outside, Grill-It XL provides tons of recipes to satiate friends and family. Categorized by protein, course, burgers, and vegetables, this app will inspire both grill experts and novices.
Speakeasy Cocktails: Learn from the Modern Mixologists
Now that you've got all that mouth-watering food sizzling away on your grill, you deserve a drink. You've got friends and family around you, why not impress them a little and go beyond the standard mojito? Speakeasy Cocktails has a collection of standard and "new standard" drinks, collected from modern mixologists around the nation. On top of the recipes, this app also has chapters on bar tools, techniques, and components to help you mix up a drink like a pro.
Beer Wizard
But then again, nothing's like a cold beer with that perfectly grilled burger. No matter what you're craving in a frosted brew, Beer Wizard is sure to please. You can filter your search by hop bitterness, color, and alcohol content. If you're looking for a specific beer to pair with your food, you can easily do that too.
Songza Radio
Your great drinks and food need great music. Songza lets you select playlists according to mood, activity, time of day, and genre. Set the mood for your July 4th bash with a playlists from awesome playlist categories like Sunshine Indie Pop, American Rural Traditions, and Delicious Vinyl.
ScoreCenter for iPad
Oh no, you're enjoying the beautiful weather outside, but you also want to keep tabs on all the games that are on. Have no fear, ScoreCenter XL gives all of the sports fans at your party live play-by-play, in-game stats, video highlights, and more. Now, no one will have to wander inside to check the TV every five minutes.
July 4th Fun, Facts & Trivia
Now that the food is ready and your drinks are cold in hand, it is now time for the fun to begin. Start off the festivities with a game of trivia on your iPhone, but not just any trivia game. Stay in the patriotic mood with July 4th Fun, Facts, & Trivia. Who was the Declaration of Independence mainly written by? Wow your friends with your knowledge and satisfy your competitive side all while celebrating Independence Day.
BANG! [HD] 4th of July
Fans of the card game BANG! will rejoice to learn about BANG! 4th of July. This special edition version plays exactly like its wild-west themed predecessor except with a slight change in characters. Instead of the Lawful versus the Unlawful, this version focuses on the Patriots versus the Loyalists. The roles are still the same, but with different characters. Take on the roles of the historical George Washington, Thomas Jefferson, or Deborah Sampson and watch as the fun begins to unfold. This version is for the iPad, but there is an iPhone version as well.
4th of July Solitaire
Perhaps competition isn't your niche? No worries. Enjoy a peaceful game of solitaire with this Fourth of July themed app.
Independence Day Colouring Book for Children: Learn to draw and colour icons of the United States of America
Since the Fourth of July is a family holiday, some of us may have little ones that need entertaining. The kids have eaten, but the fireworks haven't started yet. They see the adults having fun with their trivia and card games, but are still too young to understand how to play. Let them color without having to scavenge for crayons and paper. This app is the perfect way for the children to have fun and still be in the patriotic spirit.
Fireworks Arcade
It's that time. The fireworks will be filling up the night sky. Often times we are left wanting more at the end of the show. If you haven't had enough explosions in the sky, then download Fireworks Arcade. Touch your screen to record your own fireworks show or play some arcade games to get that iDevice lit up. Nothing beats a sky full of crackling chrysanthemums, but your electronics will soothe that empty space in your heart until next year.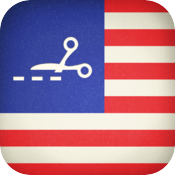 ScrapPad - Stars and Stripes - Patriotic Photo Album
Still not feeling the patriotism in the air? ScrapPad - Stars and Stripes lets you create a scrapbook of all your Independence Day photos with beautifully designed, patriotic backgrounds, borders, and embellishments.