Ring in the new year with these amazing apps!
New Year's apps
As 2014 comes to a close, we'll be celebrating with family and friends. Make the most of your New Year's Eve and the new year ahead with these hand-picked apps. With everything from toast-helpers to resolution-keepers, you'll be sure to have a fun, safe, and meaningful passage into the new year!
Times Square Official New Year's Eve Ball App - 2014
Enjoy the Times Square New Year's celebration from wherever you may be with the Times Square Official New Year's app. Join the millions of viewers for the opening ceremonies, live performances, and celebrity appearances during the world's largest New Year's Eve celebration right from your iPhone. Even share your own New Year's Eve celebration with the rest of the world by submitting photos to the app for a chance to be featured on the Toshiba big screen right in Times Square!
LiveHotSpot NYC
If you're a part of the lucky bunch to make the trek to New York City for New Year's Eve, make the most of your trip with Live HotSpot NYC. LiveHotSpot uses both aggregated and crowd-sourced info to deliver the happenings in the city 24/7. Get up-to-the-minute updates on events around each neighborhood, down to the wait times, cover charges, and celebrity sightings at each location.
New Year Countdown‼
What's New Year's Eve without a countdown? Not a New Year's at all! This app makes counting down to midnight easy and absolutely personal. Choose your own background, add a filter to it if you want, choose your font style, and you can even attach a song to it. Countdown to midnight with style.
Glasses Up by Tullamore Dew
New Year's Eve celebrations are a perfect time to reflect on the good company, the past year, and the opportunities for the year ahead. Make the most fitting New Year's Eve toast with Glasses Up. This app is loaded with memorable quotes, cultural traditions, and standard procedures for proper toast-making. You'll be sure to inspire guests and fellow party-goers with the perfect toast.
Clink! ~ Cheers to you!
The party toasts should include everyone. How about the designated driver? Or perhaps your guests do not drink, but they still want to toast in the New Year? Clink! is a fun and clever app that allows you to choose your drink of choice. Once you've done that, bump your phone with someone as if you are toasting and your phone will make the infamous clinking sound and even vibrate. This is definitely a neat app to have that'll let you partake in the festivities without having a hangover the next day.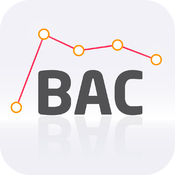 BAC Alcohol Calculator
The party is winding down. Being a responsible host or friend at a party means being sure that nobody drives away who has had too much to drink. BAC Alcohol Calculator is a great app to determine if you or others can safely leave. By entering in your stats and adding the drinks and the time frame consumed this app will graph your intoxication, providing the time that you will be sober again. This app is very easy to use and we highly recommend it be part of your party life. However, keep in mind, no app is a substitute for common sense. Please celebrate safely.
Curb (prev. Taxi Magic)
Hailing a taxi can be a nightmare on big nights like New Year's Eve. And yet, sometimes you just need a taxi. Don't fight the crowds, and secure your own safe ride home with TaxiMagic. The app pinpoints your location using your phone's location services, and will update you as soon as your driver is in route. No cash on you? TaxiMagic will let you even pay for your taxi directly from your phone. After a long night out, you'll be glad to have your own safe ride waiting for you out front.
Fireworks Arcade
If you missed the fireworks or you aren't planning on going out to see them, be sure to have Fireworks Arcade on your iDevice. This app provides fun and entertainment for all ages. You can watch a digital fireworks show or turn on physics simulation mode. It also includes an arcade mode, where you can play 3 different games, making it different from all the other fireworks apps.
Commit
Sometimes it takes little daily (even twice daily) reminders to keep us on track with our new year's resolutions. Commit lets you input your commitment, set the time frame, and create a friendly reminder to help you reach your goal. With its simple interface, Commit will help track how well you're maintaining your goals by selecting "Yes I did it" or "No I didn't."