Do your banking right on your iDevice.
iPhone Bank Apps
Everyone uses a bank. Tons of banks these days have their very own apps. We round out the best bank apps for the iPhone in this AppList. If we missed your bank, please let us know.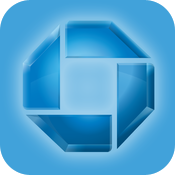 Chase Mobile (SM)
The Chase Bank app for iPhone is one of the most advanced apps for banking on your iPhone. The app will let you locate nearby ATMs, deposit checks, and even alert you when your account is low through push notifications. Also included is a way to contact your bank, pay other people through the QuickPay method, view your accounts and transfer money, and even see your reward status for credit cards. The Chase Bank app for iPhone is a great app that every Chase bank user should have.
USAA Mobile
USAA is the bank that military personnel and other government employees use. Taking a picture of a check and depositing it was first done with this app. More functionality is included in this app than any other mobile banking we have seen. Such features include viewing your accounts, paying your bills, and transferring funds. You can also access claims assistance, your auto circle, and your home circle. The home circle lets you find properties for sale, find properties for rent, and even contact your real estate agent. There are tons of features in this app and it is the best banking app out out there yet.
PNC Mobile Banking
The PNC Mobile Banking app allows you to access your banking information from your iPhone. You are able to check your balances, view transactions, pay bills, transfer funds, and locate PNC banks with this app. PNC is an app that is very bare-bones and leaves a lot to be desired.
Citizens Bank Mobile Banking
The Citizens Bank app provides bare-bones functionality that could be done through the website itself. Included in the app is the ability to access and manage your bank accounts, see account balances, access recent activity, transfer money between accounts, track payments and deposits, and receive account alerts. With the latest update, you can also view your credit card history. We hope that Citizens Bank updates their app with tons of new features such as check depositing like the Chase Bank app does.
Capital City Bank OnLine - Mobile Banking App
The Capital City app is by far the most basic of bank app out there. The interface is very elementary. What is included are features such as view account balances, transaction history and alerts, and you can even initiate account transfers and pay bills with this app. The developers have a long way to go to make this app something everyone would want to use.
First American Bank Mobile
The First American Bank app provides some nice functionality, but leaves a lot to be desired. The limited functionality includes the ability to view account balances, transfer funds, check on account activity, and receive account alerts. We hope in the future the developers add more functionality to make this app actually useful.
Charter One Mobile Banking
Charter One provides a fairly good banking app for their customers. Users of the app can locate nearby ATMs and banks as well as contact the bank. You can also access the bank accounts that you have with Charter One, view account balances, see recent activity, transfer money between accounts, track payments, track deposits, and receive account alerts. The interface is well-designed and makes the app a pleasure to use.